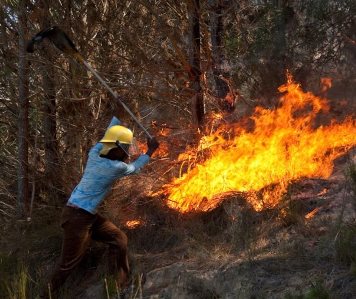 THE Zimbabwe Republic Police has been hailed for assisting in efforts to reduce incidences of veld fires countrywide.
Speaking during the Fire Management Awards ceremony held at Morris Depot to honour the Zimbabwe Republic Police (ZRP) for the role they are playing in reducing veld fires, Environmental Management Agency (EMA) chairman, Professor Sheunesu Mpepereki said there was a significant drop in the lives and hectares lost to veld fires.
He said continued stakeholder participation was critical to further reducing incidents.
"Stakeholder participation is vital for a well managed environment and the ZRP is playing a pivotal role in promoting sustainable development by enforcing environmental laws and upholding the country's constitution," said Prof Mpepereki.
"I greatly commend the ZRP for the sterling work towards zero tolerance on veld fires."
The 2013 fire season saw a 10,68 percent decrease of area burnt from 1,32 million hectares burnt in 2012 to 1,179 million hectares in 2013.
Prof Mpepereki said the number of recorded deaths as a result of veld fires dropped from 16 people in 2012 to four in 2013.
"The reduction of fires in 2013 can be attributed to increased awareness on the dangers of veld fires in communities and increased fire management capacity which was achieved through the ZRP taking the initiative to hold awareness meetings with communities, establishing fire fighting teams as well as prosecuting offenders," he said.
Most veld fires have been caused by human activity through the smoking of bees, careless disposal of cigarette stubs and unattended fires.
Fires continue to negatively affect the growth of the economy and the environment, by destroying properties ranging from plantations and agricultural produce, farm implements and household property.
In 2013 property lost amounted to over US$180 000.
Professor Mpepereki said every citizen must be responsible by preventing veld fires.
He said EMA fully supports the Zimbabwe Agenda for Sustainable Socio-Economic Transformation (Zim-ASSET) food security and nutrition cluster because a healthy environment promotes agricultural production for the country's economic growth."
The fire risk prediction done by EMA indicates that 69 percent of the country is in high and extreme categories in terms of vulnerability to fires as compared to 65 percent in the 2013 prediction.
This, according to EMA is because of the good rains received in the 2013/2014 season which led to an increase in vegetation growth.
Hot-spot areas are Mashonaland West, Mashonaland East, Mashonaland Central, Midlands and parts of Manicaland.
Police Chief Superintendent (Staff Officer Press and Public Relations) Paul Nyathi said the police will continue supporting arms of Government in protecting lives and property.
"We will continue to work with EMA in ensuring that lives and property are protected," he said.
"As police we are doing awareness campaigns to the general public on veld fires."
ZRP Bindura Rural station came first in the awards and received seven bicycles and a shield, 40 beep reflectors and a certificate, while ZRP Beatrice police station came second and received four bicycles 30 beep reflectors, a shield and certificate.
ZRP Chivhu and Guruve police stations tallied and were awarded with three bicycles per station, 15 beep reflectors, a certificate and shield.
Meanwhile, the Minister of Environment, Water and Climate, Saviour Kasukuwere has appointed a new Allied Timbers Holdings Board.
The nine- member board will be chaired by conservation and tourism guru, Emmanuel Fundira.
Allied Timbers, a government parastatal currently sits on timber covering more than 42 000 hectares and has plantations in Penalonga and Chimanimani.
However, the company is facing many challenges that include Illegal settlements in its plantations that have resulted in the destruction of timber. Some 3 531 people have occupied about 3 000 hectares of land in Penhalonga and Chimanimani and are wantonly cutting down timber in preparation for the agricultural season.
Minister Kasukuwere said the new Allied Timbers Holdings Board must immediately seek solutions to the challenges.
"The board comes at a time when the timber sector is facing challenges such as poaching, uncontrolled fires and illegal settlements within plantations," he said "These challenges require a visionary and competent Board to give Allied Timbers the much needed strategic direction.
"The board is expected to oversee the implementation of this plan and where necessary review and align it with the company's aspirations as spelt out in the Zimbabwe Agenda for Sustainable Socio-Economic Transformation (Zim-ASSET).
"Allied Timbers has a critical role in enabling the ministry to contribute to the success of Zim-ASSET and we should stand guided by that document as we review our strategies."
Other members in the Allied Timbers Holdings Board are Conrad Jericho Gotora, Tendai Mavhunga, Itai Ndudzo, Anne Mutsa Madzara, Mohammed Hussein Omar, Eve Mkondo, Caleb Garura and Charity Sally Moyo.