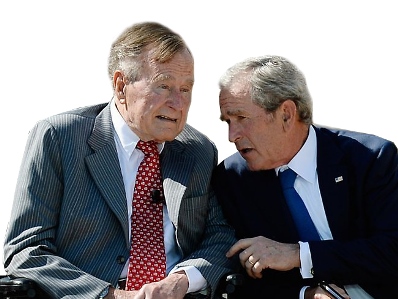 POLITICAL dynasties are not a new phenomenon in America.
In fact as one of the older democracies, political dynasties have been the order of the day, way before even entities like Zimbabwe were envisaged.
The transfer of political power through relation and nepotism in America has become a perfected craft in which society has been conditioned to expect some families to have the special qualifications and qualities to be elected into political office in their genes.
The Clintons and the Bushes may be the most recent family powers that come to mind when one speaks of dynasties in America.
But there are many American politicians who have made it into Congress because of what their last name is.
Some argue that familiar family names crop up in politics because running for political office requires money and connections.
According to a study published in the Review of Economic Studies in 2009, when it comes to political power in democracies preferences for an individual coming from a 'political family' is a result not of that individual's skills, but rather of contacts and name recognition.
The Bush family needs no introduction, as everyone is aware of George W Bush Senior and Junior as American presidents.
There is also speculation that Jeb Bush may be making a presidential run in 2016.
The Bushes' family involvement in politics goes beyond these three.
Jeb Bush's son, George Prescott Bush, is also making a run for the commissioner of the Texas General Land office.
When candidates like Jeb and his son run for office, they are campaigning with the full support and muscle of the Bush dynasty.
One has to look at it from this angle, just how many powerful names are in the Bushes rolodexes can be counted on to support and bankroll their office bids.
The Taft family's political history stretches back further than that of the Bushes. First came, President William Howard Taft in 1908, then his son, Robert
Taft took a senatorial seat with the hopes for the presidency, unfortunately he did not succeed.
Robert's son, Robert Jnr took a seat on the state legislature of Ohio and eventually made it to Congress.
Another Taft became Governor of Ohio in 2005.
The Kennedy Family could be considered American political royalty.
President John F. Kennedy's grandfather, John F Fitzgerald, held a mayoral office in Boston and served in the House of Representatives.
President JF Kennedy began his political career as a US Representative, and then became a Senator, before landing the highest office in the land.
His brother Robert Kennedy acted as JKF's Attorney General and was running for President after John was killed.
Their younger brother, Edward Kennedy was a Senator until his death in 2009. Robert Kennedy's daughter, Kathleen Kennedy Townsend became the Lieutenant Governor of Maryland in 1995, while her brother was a member of Congress for 12 years.
The Udalls have their tentacles all over the West, with members of the family serving as Senators from New Mexico (Tom Udall), Colorado (Mark Udall) to, Oregon (George Smith) and Utah (Mike Lee).
It all started in Arizona, where the Udalls have provided two mayors of Phoenix, four state legislators, two state Supreme Court Justices and a US Secretary of the Interior.
When one looks at the political history of each of America's states, one can trace particular families as wielding the political clout to always have a family member in office.
I have been following the recent developments in the ZANU PF Women's League and the ensuing by analysts, commentators, politicians, political scientists, and anyone with their two cents to say.
From the entire din, it is apparent that Zimbabweans have become specialist at making mountains out of anthills.
The endorsement of Amai Grace Mugabe as the Secretary for the Women's League–designate, has attracted all sorts of comments. One lawyer turned politician Tendai Biti recently claimed that the Presidency was fast becoming a title for the Gushungo clan.
Some analysts have said Amai Mugabe lacks the political expertise and backbone to navigate the complexities in ZANU PF and others claim she is being used for the political expediency of some in ZANU PF.
I, for one, applaud Amai Mugabe for her courage and ambition.
It takes a lot of courage to step up and seek political office, especially for someone who for so long has been attacked locally and internationally by the media, the opposition and Western governments and yet she has not been active politically in her own right.
Amai Mugabe has been on the top of the sanctions list together with her husband, in fact one can say, her demonisation and negative characterisation has created a profile for her which makes her suitable for political office.
Very few local politicians have been scrutinised and discussed like Amai Mugabe.
If our 'betters' and I use that term sarcastically, have qualified her as befitting to be placed on sanctions list despite her playing no apparent role in their allegations of human rights abuses except her being President Mugabe's wife, then using that same premise we can also expect her to reap the rewards that come from her relationship with the President.
For her to be condemned as not having the political clout of experience to navigate ZANU PF politics is laughable because she was thrown into the deep end and has had to endure standing by her husband against a 15-year-old onslaught by the West.
Coming to the remarks by some opposition figures that Amai Mugabe is eyeing the presidency, I ask, is there anything wrong with that?
Hillary Clinton will again be throwing her lot to vie for the American presidency for the second time in 2016.
Using the logic of some in Zimbabwe, she should not exercise her right to seek office because her husband, Bill Clinton, already had his turn.
If one world's greatest democracy can accept that a wife can run for an office that her husband previously held, why should a young democracy like Zimbabwe not accept the same?
What is good for the goose should be good for the gander.