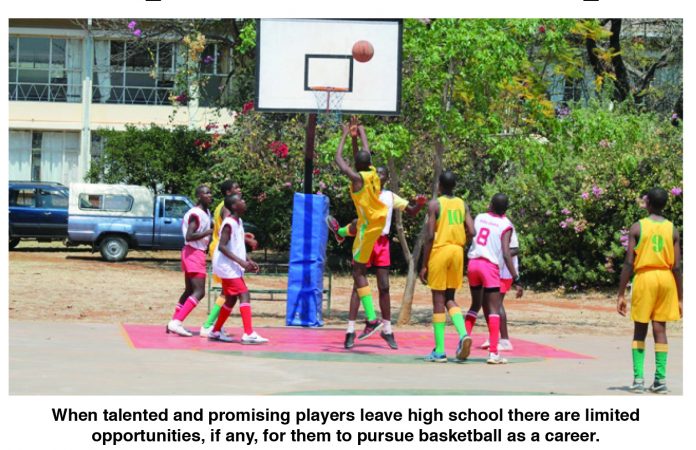 By Anesu Chakanetsa
THE recent qualification of the Zimbabwe National Basketball Under 18 Boys and Girls' teams for the Junior (Under18) FIBA Afrobasket to be held in Rwanda and Egypt respectively, in September, would have ordinarily been a springboard for the players to graduate to the basketball league.
But that has not been the case.
When young talented and promising players leave high school, there are limited opportunities, if any, for them to pursue basketball as a career.
Despite establishing solid developmental structures for junior basketball in schools around the country, lack of support systems to harness that talent has hampered Zimbabwe's efforts to become a force on the international scene.
The girl's team beat Botswana 77 – 43 to book their place in Rwanda, while the boys beat Botswana 101 – 35 in the first match and 70 – 37 in the second match.
The boy's team went on to defeat a stubborn Mozambique side in another double header, 61 – 44 and 67 – 43 respectively.
Commenting on the win, boys' team assistant coach Valentine Muvindi said the triumph belongs to the dedicated boys and girls.
He, however, lamented the limited opportunities for the boys and girls, saying more needs to be done to establish comprehensive structures to harness emerging talent.
"These guys are dedicated, some of them come from as far as Bulawayo, leaving their school work to come and serve their country," said Muvindi.
From 2013, schools basketball tournaments have been on the rise and this has given opportunity for young talented players to be discovered.
The victories exhibited by both boys' and girls' teams is testimony Zimbabwe basketball is developing in schools.
But sadly, after school, that talent is abandoned and forgotten.
Bob Tournament Basketball president and Basketball Union Zimbabwe (BUZ) marketing and promotion member, Tendai Zhakata, gave credit to schools which provide players for national duty.
"We have more support from school basketball programmes from primary level and we even have an Under-14 national basketball team," said Zhakata.
"Basketball is becoming a national sport since more schools have endorsed it."
National Secondary School Heads (NASH) came up with a number of different age groups that create a number of basketball tournaments throughout the year.
Besides the compulsory NASH tournaments, some corporates have come in to organise and sponsor tournaments which have led to the popularity of the sport.
While this is appreciated, the question remains why there is no corporate sponsorship for basketball after high school?
Some tertiary institutions have tried to legitimise the game.
Notable teams that take part in National Leagues are Varsity Leopards, Harare Polytechnic, Chinhoyi University of Technology and Midlands State University.
But besides taking part in the league and Zimbabwe Tertiary Institutions Sports Union (ZITISU) games, there is no other sponsored tournament they participate in.
Zhakata, however, claims BUZ is coming up with programmes to improve the standard of the sport in tertiary institutions.
"We are trying by all means to increase basketball activities in colleges and also providing basketball scholarships at colleges," he said.
Several high schools provide scholarships for talented basketball players.
Only a few talented players are lucky enough to get college scholarships beyond the country's borders.
And some of the talented players, after finishing high school, cannot even proceed to tertiary institutions.
Zimbabwe basketball leagues are grouped into regions, but lack of sponsorship is a major challenge.
Zhakata said the qualification of Zimbabwe's senior men team to Afrobasket Tunisia 2015 was a starting point.
"This qualification has led to more seriousness and dedication to the sport, especially for young upcoming players who wish to play in the senior national team," said Zhakata.
Despite the fact there is no hope for these young stars, the boys' team assistant coach is promising fireworks in Rwanda.
"We are looking forward to Rwanda and we want to shock the continent and nation with our performance," said Muvindi.
"Maybe this will bring more attention to the sport."
This time around, Basketball Zimbabwe had several regions to choose players from unlike in previous years when most of the team was chosen from Harare schools.
For the first time, four of the players in the boys' team are from Bulawayo.