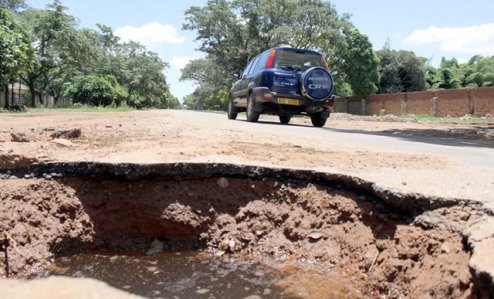 EDITOR – OUR roads are now unbearable.
As a motorist, I must say I am disappointed with relevant authorities who are supposed to maintain our roads.
The potholes have now turned into craters.
We now have 'boreholes' on our roads and they are damaging our vehicles every day.
Surely, something must be done urgently because the more we delay, very soon there will be total chaos on our roads.
Surprisingly, there was a time last year when we would see City Council employees with their pothole filling machines, but it seems as if this is now all in vain because serious potholes now exist on those same places they were fixing.
Why can't we come up with permanent solutions to fix our roads?
Are we missing something, or is it that there are people who are lining their pockets at the expense of maintaining our roads.
Driving in Harare has just become horrific.
Whether it's in Budiriro, Glen Norah, Mufakose, Masasa Park, Warren Park, Mbare, Greystone Park, Borrowdale, name it, there are craters everywhere.
It's a terrible situation that must be addressed now. Someone sent me a message about potholes in Harare and it read, "Iko kuwanda kwaita mapothole muHarare ungati kuneWorld Cup yenhodo."
So yes people are actually making jokes about our dilapidated roads, but the truth is potholes are slowly becoming death traps.
Concerned Motorist
Glen Norah, Harare.