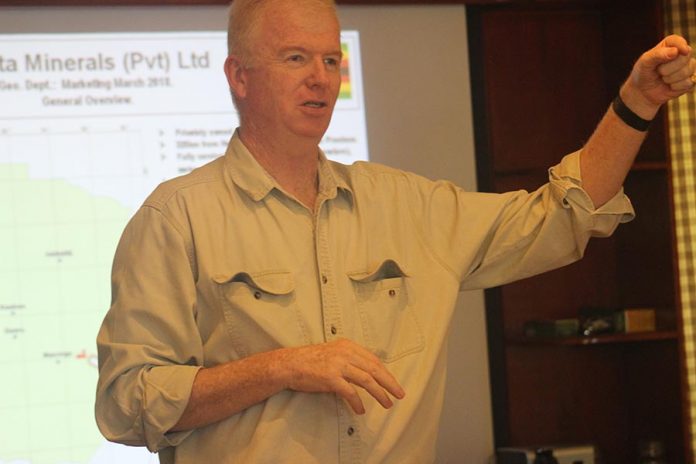 WHEN The Patriot was invited by Bikita Minerals for a media tour of its operations, this writer, having done an investigative piece on the miner, reckoned this was an opportunity to know more about the mine's operations.
But alas, an attempt to paint a picture of a 'do gooder' and a responsible corporate entity turned into a nightmare.
Following a story published in this paper titled 'Lithium robbery', Bikita Minerals, through their public relations consultant Precious Innovations Corporate Communication organised a media tour and from what transpired, obviously for damage control and not to give us facts.
The nightmare began with the public relations consultant.
Public relations is defined by some scholars as 'a strategic communication process that builds mutually beneficial relationships between organisations and their publics.'
And it seems Precious Innovations Corporate Communication missed PR101.
An article in the Forbes business magazine describes public relations as "…the persuasion business. You are trying to convince an audience, inside your building or town, and outside your usual sphere of influence, to promote your idea, purchase your product, support your position, or recognise your accomplishments".
And what a job Precious Innovations Corporate Communication did!
All invited journalists were asked to be at the Harare Main Post Office along Julius Nyerere way by 5: 30am.
And by 5: 30am, I was at the rendezvous.
It was still dark; some street kids were beginning to rise from sleep.
The commuter omnibus, which was to depart for Bikita at 5:30am, was nowhere in sight.
The journalists fearing for their safety hurdled together, strength in numbers was the strategy we had to employ until the bus arrived.
And about 45 minutes later, some bitty green and white commuter omnibus parked a few metres away from us. We did not pay much attention to it, we were waiting for 'our bus'.
But the scrappy green and white commuter omnibus was to be the transport to ferry the journalists from Harare to Bikita.
Maybe we had expected too much, times are hard!
But an explanation or apology for failing to keep time would not have been amiss.
We took it in our stride.
But it got worse.
Had we been asked to bring our own breakfast we would have gladly packed our lunch boxes.
But Bikita Minerals, through Precious Innovations Corporate Communication, were feeding us.
And for breakfast, apples that had long become hosts to tiny wiggly creatures and stale muffins were duly served.
The food looked like left-overs from a long gone function, cling-wrapped for better appearance.
If this is not taking fellow professionals for granted, I do not know what is.
The food was returned to the public relations consultant employee who, apparently, had no idea what the definition and reason for an apology meant.
To compound our woes was a speeding driver taking instructions from the consultant to get us to their pay master on time.
And some 20 kilometres before Gutu's Mupandawana Growth Point, the front tyre burst.
All I can say is that the Creator was just not yet ready for us.
This could easily have been a tragedy not just for our families but the various media houses we work for.
The business desks across the industry would have been severely affected.
Despite our traumatic experience, the trip continued — duty called.
And again no one had the courtesy to find out how we were after the harrowing experience.
Eventually we arrived at the mine.
The company officials were at pains to explain that they were engaged in various corporate social responsibility programmes.
They were offering support for educational programmes.
For example, human resources manager Munyaradzi Mapeture said the company used over US$3 500 to buy drum majorettes uniforms for pupils at Bikita Minerals primary school in the area.
Not more than 20 pupils had the uniform.
The miner said it had channelled US$8 000 for art designs in the ECD blocks.
All in all, Mapeture said about US$25 000 had been injected into the ECD block.
However, our own quotations established that drum majorettes uniform prices range between US$35 and US$45 for a three-piece set.
Costs of art drawings on walls range from US$75 to US$100 for three blocks.
The paper also established that Mapeture had pegged school fees of the primary pupils at US$15 but parents who spoke to this publication said they were paying US$20 school fees while buying books and other school stationery.
Parents complained that the mine had raised the school fees to US$20 when other schools in the district were charging US$15 and providing books.
To its credit, the mine built a science laboratory and donated equipment such as microscopes, bunsen burners, funnels, beakers and test tubes at Fashu High School,.
But villagers said the mine had to contribute more towards the development of the area.
Land reclamation is an exercise the community wants the operators to carry out.
Instead, the mining operations are endangering their lives.
The belly of the earth in the community is being disembowelled by heavy machinery.
The mine uses all mining methods in its operations from open shafts, deep and running tunnels, to mountain top removal.
Soon, they say, the terrain will be left with 'tumours' and 'wounds' from which it will not recover.
Rural settlements rarely shift, but one particular village, Ndoruma, which is closest to the mine, is relocating to avoid being 'swallowed' up into the earth.
They say they find it painful to watch as the once picturesque landscape gradually turns into unsightly craters and gullies.
However, Chief Marozva tried to sanitise the operations of mine, saying it drilled a 'community' borehole at his homestead and he is personally receiving 100 litres of fuel every month from the mine.
The tour came to an end and it was time to head back to Harare.
And the return leg had its own fair share of drama suffice to say the journalists refused to be dumped in the city centre near midnight.
Meanwhile, Bikita Minerals chief executive officer Grant Hudson said the company is carrying out an exploration of the spodumene resource which contains about six to eight percent lithium which is essential in battery making.
From 2015 up-to-date, they have drilled 34km in exploration.
"These are very exciting times for Zimbabwe and the lithium industry," said Hudson.
"We believe we have spodumene here. Watch the space for some good news."
It seems the miner has deviated from last month's statement that they would only move into spodumene mining when the market justifies development.