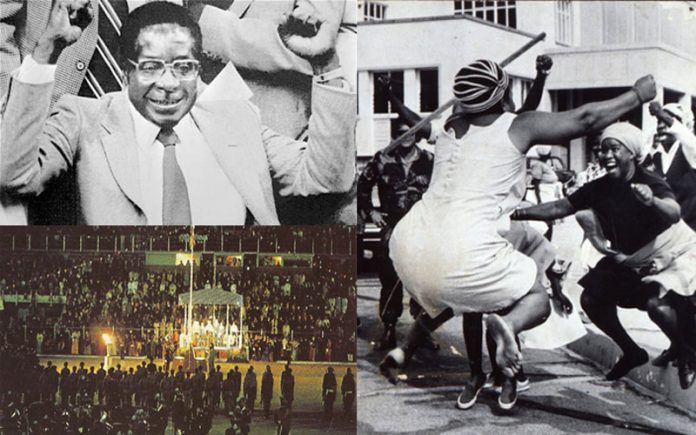 BY mid-morning of April 17 1980, a huge crowd had already gathered at Unyetu Business Centre, waiting for transport to Independence Day festivities in Enkeldoorn or Ingiridhori (today's Chivhu), as we used to call it then.
A week before, the rumour mill had made us believe the festivities would be at Unyetu and Government would avail several beasts for slaughter by our party branch.
Mai Gandira, who at pungwes was consistent with her slogan: 'Pasi naJanet Smith nemapitikoti ake!', had become cynical and convinced 'independence' would be for 'makoronyera ekuHarare'.
When news later filtered that festivities would be in Enkeldoorn, Mai Gandira felt partly vindicated.
Most youths, however, disagreed and looked forward to the Enkeldoorn travel adventure.
I was a Form Two student in Mutare and on holiday break in the village.
I was determined not to miss on the fun.
Extracting my mother's consent had been the easier bit.
Physically, I was in the vulnerable group among those hoping to jump onto the lorries that had been promised.
The crowd was dominated by war-hardened mujibhas and chimbwidos whose morale was at an all-time high.
In this group were a few married women who, exploiting freedom of absentee husbands, were not to be denied anticipated youthful pleasures in Enkeldoorn.
Mai Sylvia and another nicknamed 'Chinhamba' were in this category.
A story had done the rounds earlier that there was going to be a reunion that evening with the comrades who had operated in our area and were now mainly confined to Dzapasi Assembly Point.
In the village, the great day's approach was something of an anti-climax.
The war had ended with the suddenness it started.
In-between was a dump of horrific stories.
The elections which followed were special; elections to forever end the war.
Many had never voted before.
And when results started filtering through the few who had wireless transistor radios, the village erupted in joy.
The next big occasion was announcement of the first Cabinet.
This meant little to most of the villagers.
Among the exception was Mukaka who laughed his lungs out on learning Comrade Joshua Nkomo had been made Minister of Home Affairs… "Aitwa wedzimba nemapoto!"
Very little by way of joy had been reserved for the actual Independence Day.
Village heroes…Nimo, Munaro and Manhando were at Dzapasi Assembly Point.
The village-wise, including sabhuku, stayed behind, perhaps fearing humiliation during the stampede for space on the lorries.
They sat around the seven-day brew in my grandmother's kitchen, waiting for updates on the independence festivities.
With the late afternoon bus arrived a message that the Enkeldoorn festivities had been cancelled.
The celebrations would be at Sadza Business Centre on the morrow, April 18.
Each sabhuku was to bring 20 of his subjects.
Cattle for slaughter had reportedly already been penned at Sadza.
With my friend Phillip, we got home faster than the news.
Sabhuku was excited and assured the two of us we would top his list.
We happily repaid the favour by roasting green mealies for the drinking party.
In the Harare Township of Salisbury (Harare), Mai Machobana was getting admitted to Edith Hopperman Maternity Clinic that evening.
The ambulance that transported her had to negotiate access through a crowd trekking to Rufaro Stadium.
It was partying mood; brown bottles flew and smoke from roasting meat filled the atmosphere.
Rufaro Stadium was fast-filling, awaiting arrival of the two Bobs; Robert Mugabe and Bob Marley.
In our neighbourhood of Dangamvura in Mutare, Mabho must have been playing the Jairosi Jiri single, 'Take Cover' as he mocked Bishop Abel Muzorewa and Reverend Ndabaningi Sithole's supporters over their loss.
The downtrodden were palpably excited and looked forward to a new and happy era.
The independence eve in the village soon became an evening of reminiscences.
Sabhuku was in a celebratory mood, sensing the return of his powers.
The message had clearly said Sabhuku and not party chairman was to bring his people.
The village-wise, oblivious of our presence, admonished the youth for seeking to sideline elders.
They spoke, maybe for the first time since the outbreak of the war nearly three years before, of their long walks on the political landscape.
Perhaps there had been no time during the war to share such experiences.
It became an evening of flashbacks.
Sabhuku, for the first time, happily shared his ZAPU life.
He spoke about the Nkomo hatina zvikoro chorus, sang about Tsurowe naNkomo, chronicled detention days at Gonakudzingwa and fondly remembered Chinamanos, Silundikas, Nyandoros and Chikeremas of yesteryear.
Retired teacher Madzvimbo spoke of his activism in campaigning for a 'No' vote against the Pearce proposals in then Marandellas (Marondera).
Jailed nationalist leaders had tasked Bishop Muzorewa to campaign for a 'No' vote against a British Government attempt to recognise Unilateral Declaration of Independence (UDI) through cosmetic constitutional changes.
Blacks sent a loud message to the Pearce Commission that nothing short of 'one-man-one-vote' was acceptable.
It was the platform on which Bishop Muzorewa had built his political career.
Mudhara Gonyora reckoned that the Unyetu battle had been a defining moment in the liberation struggle.
He felt war was in the genetics of the Njanja.
Their defiance of white authority was legendary.
Apparently kwaGwena they had, in 1895, sjamboked and shot at a party of British South Africa Company (BSAC) tax collectors and mbanje ban enforcers.
Mudhara Gonyora reckoned that incident marked the beginning of the struggle for independence.
He claimed it was because of these heroics that plans had been mooted that at ceasefire Cde Mugabe would walk from Mozambique to Sadza to address his first comeback rally.
As it turned out, however, Cde Mugabe flew into Harare and addressed his first comeback rally at Zimbabwe Grounds.
Chikonamombe disputed Gonyora's version.
He claimed the Njanja had co-operated with Charter settlers and that resistance against whites in the then Charter District, Chikomba.
The First Chimurenga had been led by Bhonda, Sango, Maromo and Mutekedza.
Mutekedza, a muHera and Maromo, a Chikonamombe, were chiefs while Bhonda was a Mwari priest and Sango, son of Gwangwava, was a Rozvi headman and spiritual figure.
A fifth influential name came from outside the district; this was of Chief Mashayamombe from the neighbouring Mhondoro.
The mention of Gwangwava brought down the house in laughter and with it cleared the tension that was building between Gonyora and Chikonamombe.
Apparently, a spirit medium who went by the moniker Gwangwava had resided in the village in the 1960s to early 1970s.
He had had his fair share of stories around married women of the village.
In one such story, a Gwangwava replica, very light in complexion among other cited attributes, had been born to a village family.
Very dark in complexion was this family and the arrival of the baby had sent tongues wagging.
In good humour, stories degenerated into infidelity tales, especially in farming and mining compound settlements.
From the fireplace I kept churning golden roasted cobs.
My friend Phillip had long left.
Was I not paying attention to this adult gossip?
Mbuya took over the maize roasting and I retired to happily looking forward to the big feast at Sadza Business Centre.