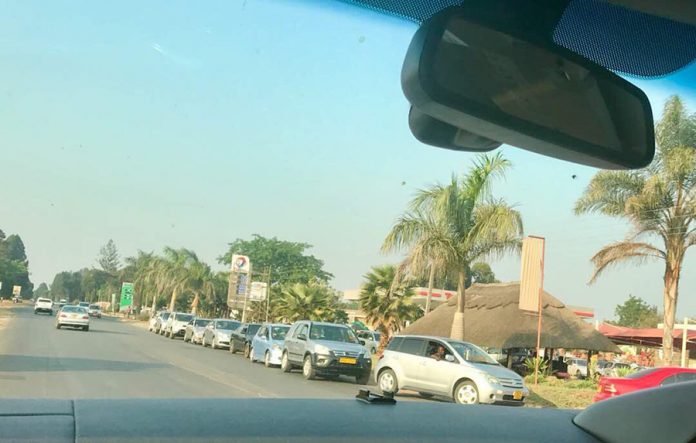 THE markets turmoil last weekend happened while I was attending a traditional function, nyota, at a friend's village in the eastern part of Chikomba.
I had taken a walk to the local township to get some dilutions for spirits as well as 'retrieve' whatsapp messages.
The latter did not disappoint — over 100 unread messages.
Most of the messages were on the unfolding economic drama in Harare; grocery full trolleys, petrol queues and adverts for currency swaps.
A photo of a two-litre bottle of cooking oil marked US$9 was particularly chilling.
I had last seen this product retailing for US$3,15.
The local shopkeeper was unaware; her cooking oil was retailing for US$3,50 and all her products had normal prices.
Panic is a natural instinct.
I felt the urge to buy everything in that shop.
As fate would have it, this drama was all playing out before pay day and the little I had in my account was already over-budgeted for the next week.
Millions of other Zimbabweans were in worse off positions. Only a few filthy rich citizens could exercise the hoarding option as could be seen by the trolleys carrying their loot.
I blamed myself for not acting earlier when I still had a bit of cash in the account.
I had spent the last two weeks complaining about some wild pricing on some products in the two supermarkets my family most frequents in Harare.
One is at Fife Avenue Shopping Centre and here I had been shocked to see a crate of eggs going for US$7 instead of US$4,50.
The other is at Westgate Shopping Complex and here stewing beef had rose to US$7 from US$5/kg.
Was the ghost of 2008 back, I wondered.
I don't even know how I survived 2008.
Every evening we discussed the madness with my wife but had decided to protest by boycotting the wildly priced products.
I tried to console myself; the harvest in the village this year was good.
Maize and groundnuts are plenty.
In Harare our little vegetable garden is flourishing.
So survival was not an issue.
Memories of life struggles in Rhodesia were triggered.
For breakfast we had left-over sadza (munya), with hint of peanut butter spread.
For lunch we had boiled dry maize (mangai).
Dinner was sadza and munjonjo, vegetables without oil. Occasionally we would have sadza and nhanha muto, salty water.
This happened at the height of the Rhodesian economic boom of the early 1970s.
It was a boom for the rich and white.
Just like me in the village shop and the multiple trolley-pushers in Harare last Saturday.
I got depressed.
Back at the nyota function I decided to drown my sorrows in the generously provided brews.
I was not going to spoil villagers' night by being a purveyor of bad news.
The sun set to infectious mbira and drum sounds.
So did my worries about the economic havoc in Harare.
I had not experienced such naturally choreographed mbira dancing.
Not since Erisha's sessions in our village in the late 1970s.
One gentleman stood out in his suit.
He was a born mbira dancer.
During breaks, he gave deep but soft sermons on hunhu/ubuntu.
I later learnt he was a teacher and an elder from the local Bethsaida sect.
I admired how he effortlessly travelled between two spiritual zones. It is a reflection of our lived experience.
This reminded me of a sadaka we had at my in-laws last Christmas.
It was the first such Christmas with them.
That Christmas was special as it coincided with a huge homecoming party for my wife's maternal uncles who had been lost to the family in Mozambique for over three decades.
A big sadaka was hosted for them on Christmas Day.
Sadaka is Swahili for Sadaqah, which is Arabic for a voluntary offering to Allah.
My in-laws had an Islamic ancestry though they had since converted to Catholicism.
On this day sadaka became the culture and Catholicism the religion.
Like the Bethsaida elder we all carved our comfort zones and enjoyed Christmas merrymaking.
All good things eventually end.
The bira went into the early hours of Sunday.
I slept late but as soon as the alcohol receded, I woke up early to ponder Harare's nightmare.
By lunchtime I was in my notorious supermarket in Harare.
Our usual basics were selling at close to normal prices, but there was no cooking oil or eggs.
The service stations were dry except for one that was only selling to prepaid customers.
On Monday fuel had become widely available but there were long queues in my neighbourhood.
Forty-eight hours is what it takes to correct madness.
When President Robert Mugabe on arrival from UN Summit in New York said the madness would end in 48 hours, the conviction in his voice and body language was re-assuring.
Today the fuel queues have disappeared in my neighbourhood.
Prices have adjusted to near normal levels.
I also finally got eggs, and at normal price too!
Cooking oil is, however, still playing games with our sanity.
There were one-litre bottles selling at US$3,85!
Remnants of the madness these are.
With garages teaming up with groceries, you and me are going to buy at our own pace.
But the madness is clearing up!