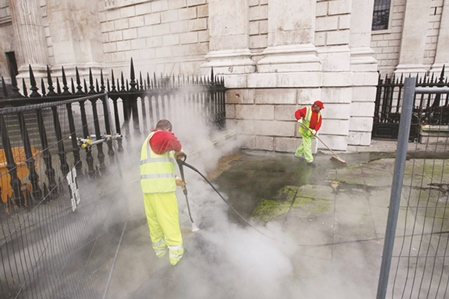 UP until last week, I spent two weeks in Zimbabwe.
The messages and questions that I am getting from people; it's as if I had gone on a fact finding mission.
In Zimbabwe, I met ordinary people, young people, some politicians and businesspeople, all hardworking Zimbabweans.
In Mvurwi, I saw the benefits of land redistribution as many new farmers boasted their bumper harvest.
I saw plenty of agricultural produce (nyimo, potatoes, tomatoes some as big as the heads of new born babies, a variety of vegetables etc) in major shops and sold by vendors by the roadsides.
I also tasted a variety of peanut butter and new brands of cultured milk (lacto/hodzeko) that are now being made by enterprising Zimbabweans.
On the way to and from Mvurwi, we came across vans and lorries laden with tobacco bales going to the auction floors in Harare.
I saw sprouting new suburbs all over Harare; some with very big houses.
I also noticed that many families have countered water shortages by drilling boreholes in their yards or by storing water in large barrels or water bowsers.
The electricity situation had also improved from what I experienced in 2010 and last year.
I only experienced an electricity power cut on my third day, with the duration of the power cut also relatively shorter than before.
In a nutshell, Zimbabwe is on the road to recovery although most roads remain in deplorable conditions with potholes and lawless drivers all over the roads that I sometimes became scared to leave the house.
I also think that street lightning needs to be improved, especially in the city centre where it is dangerous for pedestrians and cyclists who in most cases will not be wearing any reflective clothing.
My 13-year-old daughter has a different tale to tell about her experiences in Zimbabwe.
Having been born and raised in the UK, I took her to Zimbabwe for the first time.
Before the trip, she had been apprehensive of Africa (and Zimbabwe) because of the negative media reports that they are shown on the news and in schools.
She was fascinated by the big houses in Zimbabwe and the abundant land that most houses are built on that she spent most of her time taking photographs of Zimbabwe and posting them on social media much to the amusement of her friends in the UK.
However, yesterday she came back from school disappointed that some of her classmates asked her if people in Harare cooked their meals in mud huts despite seeing the photographs of her playing tennis and swimming at her uncle's place!
Although new farmers were happy with their produce, some people were complaining about unemployment and the liquidity crunch.
Those without patience were blaming the government for taking time to deliver on its election promises.
This was also reinforced to people through the Western media, for example the HardTalk (May 14 2014) which I watched with my family in Zimbabwe.
Zeinab Badawi, interviewing Deputy Minister of Media Information and Broadcast Services Supa Mandiwanzira, described Zimbabwe as a country, "staring economic catastrophe in the face less than a year after the ruling ZANU PF won another term in power".
"State coffers are virtually empty and potential investors are being scared away by seizures of land and foreign owned assets."
But there is nothing unique about Zimbabwe's current economic situation, which mirrors what is happening globally including Europe, which is also looking 'East' and borrowing money from China.
British companies are closing and moving to the Far East and many people are also being absorbed in the informal sector.
Zimbabwe should be understood from a global perspective and not in isolation.
For example, youth unemployment is a global issue and not unique to Zimbabwe.
This month the UK's Office for National Statistics (ONS) announced that unemployment figures have fallen by 133 000 to 2,2 million between January and March this year.
However, the BBC (May 14 2014) reported that, "the number of people working for themselves reached a record high of 4,55 million, with self-employment jumping by 183 000 in the quarter to March, compared with a rise of 375 000 over the past year," which also explains why the rate of unemployment may have 'fallen'.
In Zimbabwe (same as in most African countries), many people are engaged in the informal sector as part of economic empowerment and indigenisation which is a national policy for economic recovery.
Youth unemployment is also a global issue.
In the UK, the number of unemployed young people (16 to 24-year-olds) is high at 868 000 (almost a million) in March this year.
In Europe, too, most countries have youth unemployment of at least 25 percent while countries like Croatia, Greece and Spain have youth unemployment rates of over 49 percent with some countries as high as 60 percent.
The Organisation for Economic Co-operation and Development (2011 report) also noted that over 15 percent of young people in Europe were not in training, employment or education.
In some African countries like Nigeria, youth unemployment is also a major issue.
In 2012, the National Bureau of Statistics (NBS) estimated that 54 percent of youths in Nigeria were unemployed.
During my visit I heard some people complaining that universities in Zimbabwe were producing youths that struggled to find jobs.
I found it difficult to convince people that even in the UK, people with degrees were either unemployed or worked as cleaners or in supermarkets stacking shelves with goods!
In February 2014, the UK Independent reported that 40 percent of university graduates in the UK were still looking for jobs six months after they had left universities.
The Guardian (November 2013) also noted that more than half of the UK university graduates were doing jobs that did not require university education.
Josh Chigwangwa, a Zimbabwean who is the New Labour Party candidate for a ward in Welwyn Garden City, Hertfordshire, believes that the problems confronting Zimbabwe should be understood from multiple reasons including the impact of sanctions, using the US Dollar (which itself is also not performing greatly against the British Pound Sterling and the Euro), and the national debt.
He said, "Here in England for example, many companies are closing down and moving to Scotland where the conditions are more favourable.
"People are absorbed in backyard industries while major companies are closing.
"The Barclays Bank announced recently that it is cutting 20 000 jobs in the UK.
"About 60 percent of the shops in my area (Welwyn Garden City) have been reduced to charity shops because major shops are closing down."
So for those asking me about the situation in Zimbabwe, I would like to remind them that there is not much difference between Zimbabwe and the rest of the world.
Those of us resident in foreign countries are in fact living in a fool's paradise and lagging behind in terms of real development.