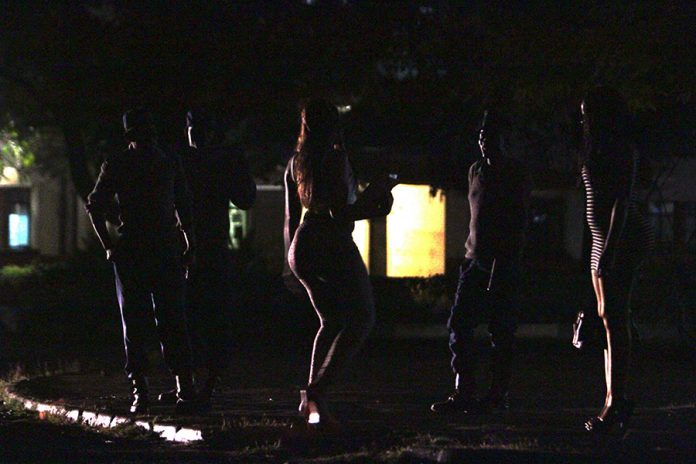 IT is destressing to read newspaper headlines constantly justifying prostitution on the basis of 'poverty'.
They call it 'sex work', an anathema to our culture.
The term 'sex worker' does not originate from among our people. It is borrowed from Western capitalists who reduce the human to a commodity that can be bought and sold.
Here, in Zimbabwe, we want to raise God-fearing children.
We have to raise children who respect themselves and others, while understanding that they have to work for their upkeep.
We want to raise girls who will work for Zimbabwe and who will raise for us beautiful families.
This is who we are as a people. Prostitution is not part of Musikavanhu's design for us.
A woman is precious.
She has all that is necessary to grow a great nation and must not cheapen herself.
The soul of Mbuya Nehanda cannot rest if her daughters condemn themselves to prostitution.
That is not the example she left.
Hers was an example of self-determination at all costs.
She chose to die fighting rather than become a slave.
Who dares then say that her daughters should become prostitutes for whatever reasons?
In Zimbabwe, when we face problems, we choose to confront our problems with honour and that is why we chose to fight the white menace rather than acquiesce.
This is what we need – to teach our children that no matter what happens, do not disgrace yourself, family, nation and the world. To use poverty as an excuse for prostitution is to devalue and reduce the female to a helpless victim.
It is to steal from the female the inborn capacity to determine her own destiny.
Those who peddle and defend such theories are enemies of women and should be exposed for what they are.
Such males are 'pimps' who want to reserve a class of females for sexual slavery and abuse by themselves and other men with deep pockets. They are not friends of women and are not protective of these women.
They are patronising them for their own purposes; assisting these females to dig their own moral and physical graves.
The calling of mankind is to be human and not objects.
The girl-child never needs to be confused about her humaneness, her ubuntu/hunhu.
She is human and must know that she can never countenance reducing herself to an object. The moment she accepts to be an object of male sexual abuse, she loses her original beautiful self.
Prostitution is not an option for the Zimbabwe girl-child.
Those who justify and defend prostitution are defying the ethos of this nation. This pre-occupation with prostitution is not Zimbabwean.
There are nations for whom prostitution is normal, but Zimbabwe is not among them. For a woman to claim she is in prostitution because of poverty is to refuse to be responsible for one's life.
The excuse that there are no jobs is not valid. We have land in Zimbabwe and anyone can subsist on land. Millions of Zimbabweans do but others choose the easy way out.
They do not want to subsist on the sweat of their brow but prefer to sit in the sun the whole day and then prowl the streets during the night to seek money through evil and then try to cleanse it by calling it 'sex work'.
It is not work, but sexual debauchery which thrives on depravity.
Work is uplifting; it is decent and enables the worker to grow and mature.
There is no need to make it seem normal that people cannot look after themselves.
Anyone can look after him/herself without sinking into such sepsis.
People are capable and should fight hard to make it in life in an honourable manner.
Sungura maestro Alick Macheso in his song 'Charakupa' advises: "Mwari vanoziva zvavakatisikira, pagumi pane chimwe chauchabuda nacho."
Out of the multiple intelligences each human is endowed with, one can use one or more of these to make it in life.
What prostitutes need to learn is that labour is the source of all human livelihood.
Recently, Mrs Marry Chiwenga was in Dema distributing sewing machines so that women can make sanitary wear.
This is a way of helping women stand on their own. This was particularly remarkable because it disproved the fallacy that the Zimbabwe girl-child should depend on donated sanitary ware.
If these women can make a success of this project, tomorrow they will improve their own livelihoods and should be able to use their own income to buy more machines and make this a thriving business.
In the just-ended month of May, Mrs Chiwenga went throughout the country donating sewing machines and other goods to help women help themselves.
If anyone truly wants to help oneself, these are good examples of what one can do with one's life. Prostitutes need to get rid of this mentality that they are victims of society.
The truth is, they are victims of their own mentality that refuses to self-sustain; that refuses to be self-reliant.
Those who defend prostitutes are not pursuing a Zimbabwean agenda, but their paymasters' agenda from the West.
People with moral rectitude are not easy to control. All these crocodile tears about the misfortunes that force females into prostitution are meant to fester this rot among our people so that it engulfs the whole society and in the end, saps us of all strength and vision and then those who have always coveted what is ours can manipulate us and steal from us once again.
We did not build Zimbabwe through prostitution and by the same token, we cannot sustain it through prostitution.
This 'poverty therefore prostitution' mantra is mischievous.
Are women the only victims of joblessness?
No-one has to be a prostitute.
It is an insult to our people and does not help us build a great Zimbabwe which can defend itself, morally, ethically and aesthetically.