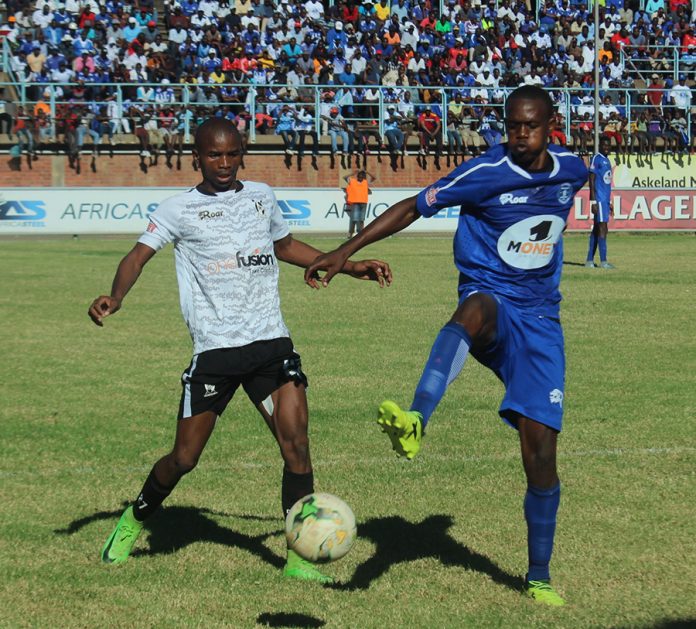 WEEK 21 of the Castle Lager Premier Soccer League begins this Friday, ending on Sunday.
However, fans will have to wait much longer for the blockbuster match between perennial soccer rivals Highlanders and Dynamos as the PSL postponed the high stakes match.
Initially the league was scheduled for a one week break but post-election disturbances affected the resumption of matches.
The break gave teams more time to prepare for the crucial stage of the league that will determine who survives, wins the title and faces the chop.
For fading giants Dynamos, the postponing of the 'Battle of Zimbabwe' comes as good news.
Facing Highlanders at their weakest moment would have spelled doom for Dynamos who are trying not only to stamp their authority in the league but survive.
The out of sorts Harare giants need to win their remaining matches to get out of the relegation zone.
Currently, they have a paltry 22 points from 20 matches.
They are on 13th position, just two places shy of relegation.
It's sad for a big team like Dynamos to struggle with form as it is always expected to produce the sparks that light up the league.
The postponement of the 'Battle for Zimbabwe' will give Dynamos the opportunity to sort out paperwork for Kingston Nkhata.
To add to the woes of the struggling team is the number of players in infirmary who may not be fit to play in the blockbuster.
Marshal Machazane and Blessing Moyo are nursing injuries and the deferring of the match might be to their advantage.
On the other hand, Bosso, during the just-ended transfer window, secured strikers Tinashe Makanda, Tafadzwa Sibanda and midfielder Denzel Khumalo.
Highlanders needed more options in the strikers' department as Newman Sianchali has not been consistent when it comes to scoring.
The new signings may breathe some life into Bosso who started the 2018 league campaign well but later fizzled out.
In the start of the season, Madinda Ndlovu's lads showed great potential and were tipped to be contenders to the title, but the lads' form dipped.
Meanwhile, Harare City welcome fellow municipal-run side, Mutare City Rovers, at Rufaro Stadium today (Friday). Harare City have been playing well since their return to the top flight.
For a team who were about to play in the First Division and fight their way back to the top flight, Harare City have done exceptionally well, occupying seventh position on the 18-team log.
Hosts are the favourites to win the match as Mutare City Rovers are struggling.
With the way the side is performing, they might retrace their steps to First Division at the end of this season. From 20 matches, Gusha Bhora, as they are affectionately known, have just 11 points.
They need to at least win the next five matches to increase their chances of survival.
Tomorrow Chapungu welcome Bulawayo Chiefs at Ascot Stadium while CAPS United face-off with army side Black Rhinos at Rufaro Stadium.
The Green Machine have been playing well this season and a top four finish is most likely, judging from their current form.
Struggling Bulawayo City play host to log leaders FC Platinum at Barbourfields Stadium tomorrow while other league contenders, Ngezi Platinum Stars, clash with Nichrut at Baobab Stadium in Mhondoro-Ngezi.
On Sunday, Shabanie Mine welcome Chicken Inn at Maglas Stadium in Zvishavane while Yadah and Herentals clash in a Harare derby with Herentals at Rufaro Stadium.
Friday
Harare City FC vs Mutare City Rovers FC (Rufaro Stadium)
Saturday
Chapungu FC vs Bulawayo Chiefs FC (Ascot Stadium)
CAPS United FC vs Black Rhinos FC (Rufaro Stadium)
Bulawayo City FC vs FC Platinum (Barbourfields Stadium)
ZPC Kariba FC vs Triangle United FC (Nyamhunga Stadium)
Ngezi Platinum Stars FC vs Nichrut FC (Baobab Stadium)
Sunday
Yadah FC vs Herentals FC (Rufaro Stadium)
Shabanie Mine FC vs Chicken Inn FC (Maglas Stadium)
Highlanders FC vs Dynamos FC (Barbourfields Stadium) Postponed.