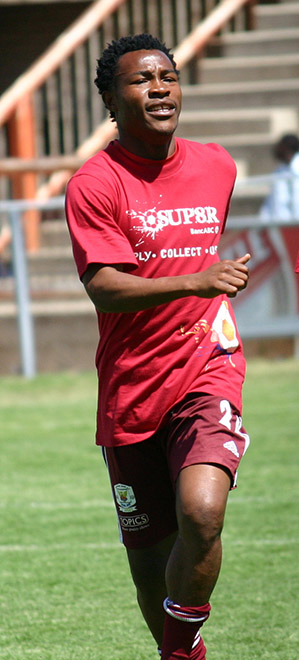 THIS week we continue with Part two of Castle Lager Premier Soccer League (PSL) season's preview of the teams in the 2014 season expected to kick off on April 5.
Some teams may need to beef up their players in the mid-season transfer window as all teams look strong on paper.
However, football is played in the pitch and not on paper.
Shabanie Mine
Rating: Nil
Prediction: Relegation
The Zvishavane side are going through a rough patch.
They lost almost an entire team.
Inspirational coach Luke Masomere was the first to leave before the flood gates opened.
Eleven players left the Chinda boys.
Pervington Zimunya, the dead ball specialist joined CAPS United, Caleb Masocha and Peter Musondo will be at ZPC Kariba while the trio of Eria Phiri, Frankson Bushiri and Tafadzwa Mombeshora followed Masomere to Buffaloes.
Striker Tarisai Rukanda crossed the floor to join FC Platinum while Valentine Ndaba and Fungai Chirinda moved to Highlanders and How Mine respectively. The duo of Blessed Mbavarira and goalkeeper Roy Mazingi are now part of league returnees Chapungu.
However, Shabanie made numerous recruitments mainly from First Division which makes the team a surprise package.
The BancABC Sup8r champions have recruited Chegutu Pirates top goal scorer Simbarashe Domingo and Ashley Mokoena, Nyasha Mpofu (from How Mine) Edmore Tsoro (FC Platinum), London Zulu (from ZPC Hwange), Xolani Ncube and Patrick Mpofu (Town United), Ryan Mabhena and Marvellous Dikinya (New West).
With the new look Shabanie, the team needs to defy all odds and survive this season.
Hwange
Rating **
Prediction: Top 10
The coalminers have been consistent in the league but have been breathing hot and cold in the last season.
They managed to survive the relegation chop though.
They have a number of seasoned players in their camp like Farai Vimisayi, Gilbert Zulu, Eric Chipeta, David Boriwondo and goalkeeper Timothy Sibanda among others.
Former Tripple B marksman Aleck Marime is now at Hwange and his shooting precision is expected to deliver glory to starved Hwange fans.
Rodwell Chinyengetere who had been on the sidelines for two seasons is reportedly training and the former captain's full recovery is a big boost to Chipangano.
With the names at Hwange, the team may provide yesteryear glory when the Colliery Stadium was a slaughter house and no team came out with maximum points.
The task lies with Nation Dube if he delivers the team to the Promised Land.
Black Rhinos
Rating: Nil
Prediction: Relegation
While they survived relegation by a whisker last season, the team may find themselves deeply rooted at the bottom of the log again this year.
They have made a few changes to last year's squad.
Nesbert Saruchera who was head coach at the beginning of the season was shown the exit before former Mwana Africa gaffer Arthur Tutani took over.
So far, Chauya Chipembere have roped in services of veteran Charles Chiutsa to complement the squad.
Survival might seem to be their main worry this year as they have maintained the same team.
However, the team will need to work more on finishing – the team's Achilles heel.
Chapungu
Rating: Nil
Prediction: Relegation
ZIFA's Central Region Division One teams have found it tough in the top flight for the past two seasons.
Hardbody FC the premiership in 2013 joined for one season before Tripple B were promoted the following year.
Both teams found the league tough and were booted out.
They are reportedly failing to register in the lower division.
However, Chapungu have been out of the premiership for about six years. They are returnees like their fellow army counterparts Black Rhinos.
Credit must be given to the airmen for their effort to get promotion into the elite league.
They have added only five new players to the team that did the job in Divison One.
Most teams fire the entire team after promotion.
Former Hwange striker Tongai Mamina, former Shabanie Mine goalie Roy Mazingi and defender Blessed Mbavarira, midfielder Maxwell Mavhuto from relegated Tripple B and Liberty Kim are the new recruits for Chapungu.
Chapungu have produced soccer greats like Maxwell 'MaRhino' Dube.
Triangle
Rating **
Prediction: Top 12
Biggie Zuze is the new head coach for Triangle after Gishon Ntini left the sugar producers.
Maybe Zuze will be the sweet connection Triangle expect this season as they seek glory.
His immediate assignment will be in a 'Sugar War Part I' against Chiredzi FC in the second week of the premiership.
Triangle's biggest loss is of midfielder Walter Mukanga who moved to Harare giants Dynamos.
A couple of players from Monomotapa joined the sugar manufacturers.
The Monoz type of football is expected at Triangle.
Monoz used to play a distinct passing game which was a marvel to watch.
David Sengu, Blessing Chimwamuchere and Richard Kawondera are some of the senior players at Triangle that might form the nucleus of the team.
Chiredzi FC
Rating: Nil
Prediction: Relegation
Moses Chunga is one of the most respected coaches in Zimbabwe.
He guided the now Chiredzi FC to their maiden premiership berth in the Eastern Region Division One League.
He is a coach with guts as his team is made up of rookies.
At Gunners he had such a policy with an average age of 23 years.
Well, life at Chiredzi is different as the club was weaned by Tongaat Hullet as they now had two teams in the premiership.
Therefore Hippo Valley was given to the community to bankroll the new premiership side.
Youngsters David Temwanjira, defensive linkman Kudzai Nyamupfukudza, winger Malvern Gaki, Munyaradzi Chiwara, centre- back Jimmy Dzingai and Abel Gwatidzo are part of Chunga's young arsenal.
Norman Moroto, Rowen Nenzou and Fidelis Mangezi are the seasoned players at Chiredzi FC to do the job.
Chunga has saved several teams from relegation but this one might be another victim of relegation after Gunners were axed during his days as coach.
Above all good luck to Bambo!
Bantu Rovers
Rating **
Prediction: Top 12
'Tshintsha Guluva' is their nickname.
They are not new to the premiership as they have been in the game before. Their entry was as a result of a pact they signed with Bulawayo Chiefs who had got promoted into the top flight.
Under the agreement Chiefs are now Rovers' developmental side in the first division in the Southern Region Division One League.
Methembe Ndlovu joined the league returnees together with several seasoned players with premiership experience like former FC Platinum centre-back Zephania Ngodzo, Lawson Nkomo and Obadiah Tarumbwa among others.
Teenage Hadebe, Tafadzwa Maipe Ngwena, goalkeeper Brighton Chipula, Ocean Mpofu, Moses Majika, Proud Zireni and Joseph Museve are part of the Bulawayo side.
ZPC Kariba
Rating **
Prediction: Top 12
Saul Chaminuka is in charge of 'Gwenya ReChamhembe'.
He is an experienced gaffer with an interesting type of play.
They have roped in services of Norman Togara, Tawanda Nyamandwe, Tawanda Munyanduri and Norest Mukwezvaramba among others.
The team won the Northern Region title powered by Tineyi Chitora, a man who banged more than 16 goals in the First Division to propel the power utility side to their maiden premiership berth.
Much is expected from the Kariba-based side to stay afloat in the top flight and have residents of the resort town enjoy football.
The team will be using Gwanzura Stadium before the completion of renovations at Chaminuka Stadium in Kariba.