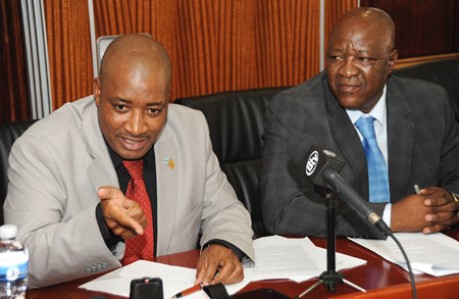 Last week we explained the imperative of QA systems in today's higher education given the challenges that come with massification and globalisation of education.
This week we wish to share with you what Zimbabwe and the SADC have done in respect of this noble goal. The establishment of Zimbabwe Council for Higher Education (ZIMCHE) in 2006 through an Act of Parliament underlines the seriousness Zimbabwe gives to matters of quality in our education system.
Section 5 (1) of the ZIMCHE Act states that the mandate of Council is to promote and co-ordinate education provided by institutions of higher education and to act as a regulator in the determination and maintenance of standards of teaching, examinations, academic qualifications and research in institutions of higher education.
Section 21 (1) of the Zimbabwe Council for Higher Education Act (Chapter 25:27) requires every institution of higher education to prepare and submit to the Council "an annual report of its activities within six months after December 31 each year; and a detailed assessment at such intervals as the Council may determine, of the steps it has taken towards the achievement of the aims and objectives for which it was established".
Key activities of ZIMCHE are: registration and accreditation of institutions, accreditation of new programmes, qualification assessment and academic and institutional audits. To date ZIMCHE has accredited almost all the 16 universities in the country (10 public and 6 private).
On the other hand SADC has just launched the Southern African Quality Assurance Network (SAQAN). The First Southern Africa Sub-Regional Conference on Quality Assurance in Higher Education was held in Victoria Falls, Zimbabwe, in July 2014.
The key resolution made at the conference was to hold regular regional conferences on quality assurance in higher education.
It was further resolved to establish a SAQAN which would among other things facilitate the sharing and exchange of experiences, best practices as well as promising approaches and strategies for addressing quality in higher education while overcoming barriers to regional harmonisation.
A five-nation taskforce appointed at the conference to spearhead the establishment of the network met in December 2014 in Windhoek, Namibia, and came up with a draft framework for the operationalisation of the network.
The second conference was scheduled to take place from October 27 to 29 2015 in Botswana. Cognisant of other initiatives in the region directed towards the promotion and strengthening of quality assurance systems in higher education and the need to rationalise on the use of limited resources, the conference was expected to look at ways of coming up with a co-ordinated approach.
The broad objectives of the conference were:
l to launch the proposed regional network on quality assurance in higher education;
l to come-up with a cost-effective and streamlined approach to quality assurance in higher education in the region;
l to review resolutions made at the First Sub-Regional Conference on Quality Assurance in Higher Education held in July 2014; and
l to share experiences, good practices and research findings.
The second SAQAN conference was recently held in Gaborone under the theme: "Promoting Co-operation and Collaboration in Quality Assurance in Higher Education in the Southern African Region".
The conference was co-hosted by the Botswana Qualifications Authority (BQA) and Human Resource Development Council (HRDC). Official activities were kick-started by a welcome dinner hosted by the BQA at Botswana Craft on the evening of October 26 2015. The conference was officially opened by the Assistant Minister of Education and Skills Development, Honourable Fedelis Molao at Avani Gaborone Hotel on October 27 2015.
The next two days comprised main conference activities, with presentations and Q&A sessions by various speakers and stakeholders from participating nations. The conference ended on October 29, with excursions for delegates who took the opportunity to tour Botswana.
During his speech, Honourable Molao clearly stated that the establishment of SAQAN would assist in the development of the regional qualifications framework, hence improving access, portability of qualifications and mobility of graduates.
The Assistant Minister also pointed out and acknowledged the fact that Botswana has issues with unemployment, job skills mismatch and poor productivity. Honourable Molao further attributed what he termed 'not so friendly' work ethics as a result of our curriculum lacking soft skills.
"The major objectives of SAQAN are to promote a culture of quality assurance in higher education in Southern Africa, exchange good practices and facilitate research into the practice of quality assurance," Hon Molao said.
The importance of quality education is captured in Vision 2016 under the pillar 'an educated and informed nation'. In addition, Hon Molao stated: "By the year 2016, Botswana will have a system of quality education that is able to adapt to the changing needs of the country as the world changes."
During his welcome remarks, the acting chief executive officer of BQA, Mr. Abel Modungwa stated that the establishment of SAQAN would facilitate the internalisation of qualifications and promote mobility of graduates.
"The conference will discuss current developments and lessons in quality assurance in higher education, strategies on capacity building in quality assurance in higher education in the sub-region; draw viable options for co-operation and collaboration in quality assurance and debate initiatives that can enhance graduate employability through quality assurance," said Mr Modungwa.
Countries represented at the conference were; Botswana, Lesotho, Namibia, Swaziland, Mozambique, Zimbabwe, Seychelles and South Africa. Delegates were mainly a wide range of higher education sectors, comprising national quality assurance agencies/bodies, ministries responsible for Higher and Tertiary Education, Higher Education Institutions, Southern African Regional Universities Association (SARUA), Academic Associations, Universities Students Associations and Employers' Associations and other stakeholders
Botswana as the host nation had representatives from a number of organisations, namely; Botswana Qualifications Authority, Human Resource Development Council, Botswana Examinations Council, Department of Vocational Education and Training, Ministry of Education and Skills, Development, BOCODOL, Education Hub, public and private education training providers and national Student Representative Council representatives and others.
It was made clear by the CEOs that the constitution had been adopted and now it was time to set up a fully functional secretariat with a clear and concise mandate.
The network will result in a bigger database benefitting all stakeholders operating in the region. Philosophical and cultural benefits would derive from the important fact that the network had been established as result of a regionally driven initiative and not imposed from the outside.
In closing, it was also mentioned that the next host nation would be South Africa. This landmark event will have immense benefits for higher education in Southern Africa.