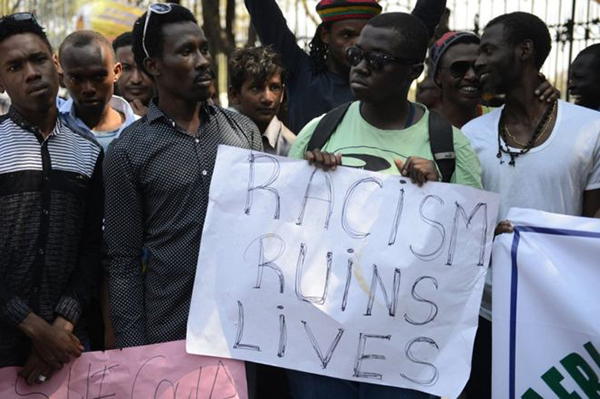 MANY hardworking African parents are saving hard to send their children to study in India.
However, very few are aware of how their children and loved ones are being treated in a country obsessed with the colour of the skin.
The racism is so bad that on May 20 2016, a Congolese student, Masunda Kitada Oliver, was murdered by three Indian men over a dispute regarding hiring an autorickshaw in New Delhi.
"Three men, who insisted they had hired the vehicle, beat him up and hit him on the head with a rock, killing him, according to police," reported the AP on June 10 2016.
The death of Oliver led to the African Heads of Mission in New Delhi to issue a statement condemning the racially-motivated murder and asking the Indian government to address 'racism and Afro-phobia' in India.
The statement read: "Given the pervading climate of fear and insecurity in Delhi, the African Heads of Mission are left with little option than to consider recommending to their governments not to send new students to India, unless and until their safety can be guaranteed," (AP June 10 2016).
In retaliation to the murder of Oliver, the Hindustan Times reported that some shops of few Indians living in Congo were attacked a few weeks ago.
African students in India, who were interviewed by the AP (June 10), said living in India, especially in New Dehli, was a horrific experience, with some finding it difficult to make friends, use public transport or walk at night.
One student said it was difficult to talk to his classmates as they would not even respond.
In addition, landlords do not want to rent their accommodation to Africans, with those that take in Africans said to charge exorbitant fees for just a room and a toilet.
A Nigerian student, interviewed by one newspaper, said of his experiences: "When I sit down in the Metro, people sit away from me.
"Even old men and women will stand up as if any contact with me will give them a disease." (AP)
On October 1 2014, Dean Nelson, writing in the UK Telegraph, reported about how a mob of Indian people had attacked three African students.
"African student leaders have spoken out over the racism they face in India after a video captured an attack on three young African men by a large mob of Indians in one of the capital's largest metro stations.
"The men were forced to climb up on top of a station police booth as the baying mob thrashed at them with sticks and tried to pull them down.
"The crowd forced its way into the empty police booth to try to grab the terrified Africans cowering on the roof.
"They were eventually rescued when a policeman arrived," reported Dean Nelson of The Telegraph (October 1 2014).
Similar incidents of racially motivated abuse against Africans in India were also reported by the BBC on April 11 2013.
The BBC report highlighted how some Africans were indiscriminately harassed and arrested by the police on accusations of drug-dealing, prostitution and illegal migration.
It also highlighted how Africans were openly called Negros.
"We call them Negro because they are black," one woman told the BBC.
"They look frightening."
Years ago when I was still working in Zimbabwe, a colleague who had gone to India to study for a Postgraduate Diploma in Archives Administration told me that her experiences in India were one of her worst.
Showing me scars caused by bites from bedbugs, she said she had found it very difficult to find decent accommodation in New Delhi and throughout her one-year of study, she and another Kenyan student had lived in squalid conditions where there were no proper sanitary conditions.
That was some 20 years ago.
India is still lagging behind when the rest of the world is embracing racial harmony as a result of globalisation.
While India is well known for its caste system, however, "The worst kind of discrimination is reserved for the Africans.
"In a country obsessed with fair skin and skin lightening beauty treatments, their dark skin draws a mixture of fear and ridicule." (AP June 10 2016).
Yet in every corner of Africa you will certainly find a large population of Indians.
In some parts of Africa, including Zimbabwe, they benefited from the colonial colour bar as they were ranked superior to black people by the colonial governments.
In Zimbabwe, they were allowed to set up their own schools.
They were allocated their own residential areas (low-density) in areas such as Milton Park and Belvedere, among others, when Africans were confined to high-density townships such as Mbare, Highfield, Kambuzuma, Mabvuku and Mufakose, among others.
In South Africa, too, although some of them participated in the anti-apartheid movement, they were also treated much better than blacks.
A few years ago I wrote an article about a Zimbabwean young man whose Asian (Indian) girlfriend was murdered by her relatives in 'honour killing' because they did not approve of their daughter dating a black man.
I also wrote about how an Asian girl who had a child with a Ghanaian was dishonoured by her parents for bringing shame on their entire family.
It appears, after all, that Asian-Indians are racist too.
I am not saying all Asian-Indians are racist, but truly they need to understand that beyond the skin colour, we are all the same.
It is just the pigmentation that is different.
An Asian woman who married a Nigerian man, told the BBC of her experiences: "When I used to go to a mall or if I walked with him, I always wanted him to hold my hand.
"But when people saw me with him, they thought I was from a bad family or even a prostitute because our society is obsessed with white skin.
"If I had married a whiteman, I would have gained more friends and society's approval too," (BBC, April 11 2013).
Before hardworking parents decide to send their children to study in countries that still see the colour of a man as a major issue, please carry out your own research because you may be subjecting your children to racial abuse.