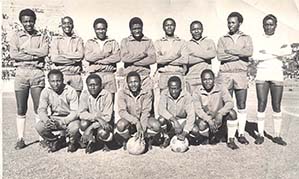 FOOTBALL was a European
invention in the early days of colonialism.
It gained so much momentum and was very popular especially among students. Some missionaries taught football because they saw the game as a tool to promote good behaviour, sobriety, obedience, discipline and co-operation. In the factories and mines, many football teams were formed by European employers.
Then, in the African locations or segregated houses, Africans created their own teams that were totally independent from the European ones.
These football teams were followed by local football associations.
According to Salisbury municipal records, the urban football associations held "various competitions, paid dues to the municipal authorities for their services, and hired bands to entertain match day crowds.
"Their rise was linked to another colonial import, literacy, because associations had to arrange matches and arbitrate disputes in writing, and file their accounts with the government."
In urban areas, football associations were also combined with burial societies which played a valuable social role.
Migrant workers from Malawi, Zambia and Mozambique then used football associations to replace the social support they had left behind in their home countries.
Another early soccer team was Highlanders FC club based in Bulawayo. It was formed 1926 with support from the colonialists.
After duping Lobengula into signing the Rudd Concession, the British administration offered King Lobengula's two grandsons scholarships to study in the Cape Province in South Africa.
The two boys belonged to Lobengula's son Njube.
The missionaries had named the two boys Albert and Rhodes.
Needless to say, Rhodes was named after the colonialist, Cecil John Rhodes. Albert studied agriculture at Tsolo Agricultural School while Rhodes did a course in book-keeping at Lovedale Institute.
During their studies, the two boys developed a keen interest in football. When they came back home to Bulawayo, Rhodes formed a team called the Lions Football Club composed mainly of boys born in Makokoba. In 1936 – the players changed the name to Matabeleland Highlanders Football Club.
In 1966, the all-white Rhodesia National Football League (RNFL) invited Highlanders to join them and within two years Highlanders had been drafted into the Second Division.
Their success challenged white domination on the soccer field.
But they were never regarded as equal. Racial superiority in sport dominated the day.One of the earliest soccer teams to emerge many years after the creation of Highlanders F.C was Dynamos Football Club in Harare. It was formed in 1963 by Sam Dhauya for black players when sport was racially segregated during Rhodesia.
By 1960 soccer was a unifying force against the Ian Smith's Rhodesian Front. Later on Dynamos was to challenge the all white Rhodesia National Football League and win the championships in 1965 and 1966.
Dynamos was always based at Rufaro Stadium.
In Zimbabwe, in those early days, football was always intertwined with politics.
On the football ground, Africans had an opportunity to compete with the whiteman and prove their competitiveness on the same equal ground. In soccer therefore, the "African could score a goal just like the European and could dribble him.
"African teams enjoyed the ultimate experience of proving to be better than their colonial overlords when African teams defeated European teams. "That Africans focused on football to debunk the tenets of racial ideology which underpinned imperialism and colonialism was therefore understandable."
While Dynamos and Highlanders were popular teams, there were many other soccer teams associated with political movements during the colonial times. Football remained largely segregated between the blacks and the whites.
As a result, the game presented 'neutral' spaces where the nationalists could meet and address large audiences without being arrested immediately.
As time went by, football increasingly became an expression of African identity and resistance against colonialism. Soccer was then linked to resistance against colonial rule.The association became targets of the Rhodesian regime because people were not meant to gather together without permission.
Europeans were suspicious of soccer activities and they wanted to control the games and the meetings.
At the same time, the missionaries also became hostile to what they saw as immorality of players and loudness of jeering fans. As a result, the efforts by Africans to retain and extend their football autonomy were quite limited by their lack of power and resources.
African teams often relied on grants for soccer equipment and uniforms.
At the same time, the stadium and playing fields were owned by the municipal authorities – and these were under European control. Police monitored the games and arrested anyone who they regarded as a threat to colonial rule.
Despite the hardships, football helped strengthen the self-confidence of the African and this enhanced their determination to fight colonialism.
According to the Ohio Sport Africa Journal, Volume 7, "football victories over teams that represented colonial ruling interests demonstrated to the Africans the possibility of defeating colonialism and thereby strengthened their resolve to struggle for independence.
"Starting from the 1930s, several African nationalists used football to mobilise their societies in the challenge against further imposition of colonial rule.
"The backdrop to this phenomenon was, in part, the frequent banning of African public gatherings by several colonial administrations."
Post independence, football games marked Zimbabwe's celebration of freedom. Bob Marley played at Rufaro stadium to mark the beginning of a new democratic Zimbabwe, freed from years of colonial rule. Today, when there is a big event in Zimbabwe, it is often accompanied by a football match.
Colonial days are gone, when racial segregation dominated the early beginning of football games in Zimbabwe.