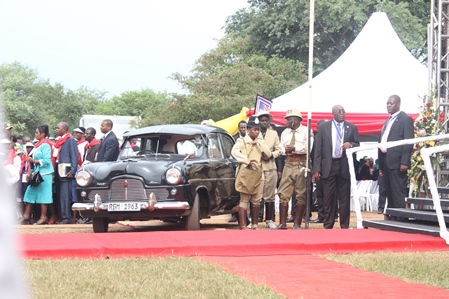 IN the sweltering afternoon heat on our way to Victoria Falls for the celebrations of President Robert Mugabe's 91st birthday, we stopped to give way to a herd of elephants that included four calves to cross the road.
Zimbabwe has plenty of elephants and because of President Mugabe's birthday some of us would get to taste the meat of this magnificent creature.
A man from the Zimbabwe National Parks said Hwange Game Park has 43 000 elephants when it was capable of supporting only 15 000.
The venue was befitting. Victoria Falls is one of the Seven Wonders of the World and the world was celebrating one of Africa's wonders, President Robert Mugabe.
The sheer number of people that gathered for the celebration was testimony of a man deeply loved and revered by his people.
There were foreigners who had come for the occasion as evidenced by vehicles with foreign number plates. They would go back with the story of the man, Robert Mugabe and his deep connection with his people.
Victoria Falls, the normally sleepy town, vibrated with life. It was clear many people had taken advantage of the birthday celebrations to see the magnificent Victoria Falls.
Hotels and lodges were fully booked. Some residents of the small tourist resort had opened their houses for accommodation and business was brisk. Many people benefitted immensely.
President Mugabe arrived at the Elephant Hills on Friday on the eve of the celebrations accompanied by the First Lady Dr Amai Mugabe the couple's children Mrs Bona Chikowore and Chatunga.
And they were given a rousing welcome by young children from a local school in Victoria Falls.
On the day of the celebrations, the weather was kind as the temperature had dropped drastically from that of the previous day; it had rained the previous day.
In the African tradition, rains are a sign of a blessing.
Everyone was there at the celebration venue, including those that were involved in shenanigans that threatened to rock the revolutionary party.
Maybe they hoped for a second chance and President Mugabe is known for his forgiving and tolerant nature.
Many attractive gifts were showered on the President including a black vintage Ford Montero, 1955 model with a number plate, RGM 1963.
Eight cakes were baked for the birthday boy with one mounted with a bespectacled President Mugabe ,another the Great Zimbabwe, and a third with a football pitch with a ball in the nets with the inscription 'Bhora Mugedhi' and the Zimbabwean flag as the backdrop.
Shingisai Suluma was among the guests and President Mugabe acknowledged her for her song 'Nanhasi', a favourite of his for its powerful message.
The celebrations were held under the theme: 'Celebrating the birth of Gushungo, the icon of Zimbabwe's revolution and champion of youth empowerment'.
The 21st February Movement began in 1986 as a way of celebrating President Mugabe's ideals.