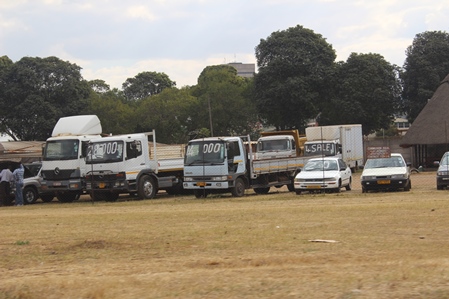 THE proliferation of internet based technologies has given birth to a multi-billion dollar industry which is feeding into numerous down-stream industries that have found sustenance from that industry.
However, for local car dealerships the publics' unlimited access to websites of second-hand cars such as Be Forward, Japanese Vehicles and Car Junction have spelt doom for their business as the customers have managed to cut the role played by the middle-man as they can import second hand cars directly from the dealers.
A snap survey carried out by The Patriot around Harare's car dealerships found a great number of cars were fast gathering dust as the sales previously recorded by the second-hand car dealerships had nose-dived.
Justin Matsongoni from a car dealership at Newlands Shopping Centre said business was low these days not because of the liquidity crunch, but that the public had found ways of circumventing the middleman as they could personally import their cars from Japan or the United Kingdom (UK) on the internet.
"Our sales figures have been on the decline since the public became aware of second-hand car dealerships mostly in Japan and the UK, and I think the public in general is now more comfortable with online shopping, which has negatively impacted on our sales," said Matsongoni.
Another car dealer who identified himself as Lazzy and plies his trade at a car-sale along Enterprise Road, said most dealers made a false move when they imported cars in bulk anticipating a change in policy regarding the importation of second-hand vehicles a few years ago.
"A number of car dealers, myself included, ventured into the business of buying and selling cars when it was announced that Government wanted to introduce legislation which banned the importation of second-hand vehicles less than five years old," said Lazzy.
"Some even went to the extent of selling their houses in order to horde cars from Japan.
"However, soon after some of those cars had landed in Zimbabwe, the prices of second-hand cars dropped on the international market and we were left with cars which were asking for much higher prices than the expenses one would incur if they imported the cars by themselves.
"This explains why there are several vehicles gathering dust at many car-sales."
There is a staggering disparity between the asking price of second-hand cars on the local market and those being sold either in Japan, UK, or in neighbouring South Africa.
For instance, a budget vehicle such as Nissan March is costing from as little as US$99 if purchased in Japan, while after transporting the vehicle through either Dar es Salam, Walvis Bay or Durban ports, the vehicle would cost less that US$3 000 after paying the relevant taxes and import duty.
However, the same vehicle is being sold by local dealers for prices ranging from US$4 500 to US$5 500, which explains why most buyers of the second-hand vehicles prefer to import the vehicles by themselves.
As a way of mitigating their declining market share, besides the now common 'swop and top', most second-hand car dealers are now offering credit schemes where one is asked to pay a deposit, and pay off the balance in six monthly installments.
However, car dealers who once sprouted on almost every open space need to continue creating new packages that please the customers who now seek value for their hard-earned money.