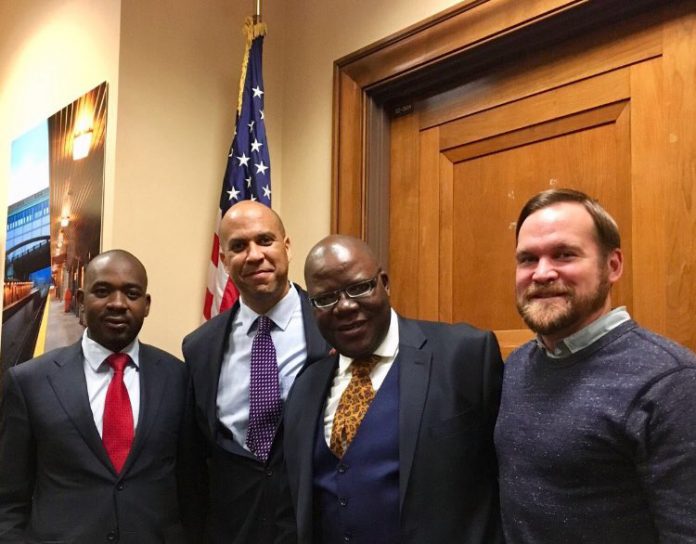 By Dr Tafataona Mahoso
I WAS in one of the thematic committees of the Parliamentary Select Committee on the Constitution (COPAC) when many churches and affiliated Christian organisations clamoured for inclusion of a provision in the new Constitution declaring Zimbabwe a Christian nation.
Even though that demand did not succeed, I believe the said churches, affiliated NGOs and associations did not stop thinking of themselves as 'Christians'.
It is primarily to such churches, associations and individuals that this instalment is addressed
The practice of reading the Bible within a contemporary historical context will be familiar to most of these churches, their affiliates and followers.
Following such practice, I invite readers of this column to start with the ancient biblical equivalent of economic sanctions; the siege of a small nation or city by a bigger power or powers such as that narrated in II Kings Chapter 6: 24-30 up to Chapter 7:1-20.
The most relevant parts, for me, are Verses 24 to 30 of Chapter 6:
"Kwakaitika ngesure kwezvizvi kuti Behadadi mambo weSiria wakaunganidza imbi yake yeshe yehondo, ikakomberedza nyika yeSamaria.
Izvi zvakabanga kuti muSamaria muite nzara huru yaityisa. Imbi yeSiria yakarikomba dhorobha reSamaria kusvika vanhu varo voshingirira kudya misoro yembongoro nemadhodhi enjiva; musoro wembongoro wechitengeswa ngemashekeri esirivha makumi masere, norupande rwedoto renjiya rweitengeswa ngezvigurwa zvishano zvasirivha. Naapo mambo weIsraeri echihamba ngeparikumbati kunengere mucheto weSamaria, wakazwa izwi remukadzi raipangidzire kugomera ngekutambudzika rechiti, 'Detserai, tenzi wangu! Tinunure, ah, mambo'.
Namambo wakati kunemukadzi uyu: 'Kudai Jehova asikakudetseri emene, inini ndingakudetsera ngenyi?… namambo wakati: Chinyini chanyanya kukutambudza?'
Mukadzi uyu wakapingura echiti: 'Mukadzi uyu, muakiranwa wangu, wakanditi ndibate mwanakomana wangu kuti tiite nyama yekupona ndiyo nzara.
Wakandigondisa kuti tapedza kudye wangu mwana, iye waizobatawo wake kuti timuuraye tipone nzara.
Saka takabika mwana wangu tikadya.
Neni ngechimangwani ndakati, chibatawo wako mwana sezvewakagondisa timubikewo tidye tipone nzara.
Asi mumwe wangu uyu, wakaramba.
Wakanga atofisha wake mwanakomana'.
Apo mambo azwa mazwi emukadzi uyu ekutambudzika kwake, wakabvarura nguwe dzake dzakanaka nekusisa, akapfeka masaka pamberi pevanhu vemudhorobha reSamaria."
The Syrian siege of Samaria described here was the equivalent of contemporary sanctions for the following reasons:
Its main purpose was to precipitate immediate collapse of the economy.
Race and culture were important factors in the conflict between the two nations.
The siege method spared the forces of the aggressor by avoiding combat with the forces of the besieged weaker country.
It transferred to the besieged population the responsibility for inflicting direct pain and cruelty upon one another; merchants charging unreal prices for ridiculous things such as dove's dung, women forced to eat their own children and merchants charging more for a head of a donkey than what a whole sheep would cost under normal conditions.
It compelled the victims of aggression to scandalise one another by doing forbidden and inhuman things: In other words, it turned Samarian and Israeli moral values upside-down and inside out, with the woman reporting to the king the failure of her neighbour to deliver her son for slaughter, when in fact the real issue was cannibalism and not failure to fulfil the promise to eat one's own child!
It divided the besieged people up to a point. At one time, the king of Israel wanted to kill the prophet Elisha; the food merchants charged exorbitant prices for useless 'foods'; and there was a fall-out between the two women because only one child had been shared as meat instead of two as previously agreed. The siege precipitated a panic, a siege psychosis and collective madness.
The contrast
There are critical differences, however, between the ancient siege and contemporary sanctions.
In the ancient siege, both sides knew what was supposed to happen and there were no efforts to misrepresent an enemy siege as something other than what it was.
While the aggressor's forces did not seek combat, at least they were present, physically there, outside the walls of Samaria.
This is unlike the contemporary situation where the Zimbabwe Democracy and Economic Recovery Act (ZDERA) first pretends that the issue is democracy when it is not and then proceeds to instruct mostly 'invisible' US directors sitting on boards of International Financial Institutions (IFIS) to always block any financial flows to Zimbabwe.
In other words, there is no recruitment or movement of troops for the contemporary siege.
The white imperial powers already have the troops in the form of 'directors' sitting on the boards of global institutions and international aid structures set up since 1945!
So, in the contemporary siege, there is a greater amount of deception and angling for deniability; first by inserting the word 'democracy' in the US decree on Zimbabwe and, second, by deploying or even creating new media platforms which did not exist in ancient times.
In the II Kings story at hand, there is no evidence that anyone or any party within Israel went out of its way to invite Syria to impose the siege.
But in the case of Zimbabwe, a black political party was actually sponsored by white powers from outside and by the white Rhodesian camp from within to champion the imposition of sanctions on this country between 1999 and 2001.
Remnants of that same party went to the current US administration of President Donald Trump in 2018 to ask for renewal of the 2001 sanctions.
So, whereas the King of Israel tore his normal gowns and put on sack cloth to underline his recognition of the siege and its dire human tragedy, in Zimbabwe we have a whole national political party and many affiliated NGOs and media outlets continuing to deny the reality of the economic siege; let alone its dire consequences on the livelihoods of ordinary people.
The then Prime Minister Morgan Tsvangirai, fresh from yet another tour of the US, stood in the House of Assembly on June 20 2012 and told Members of Parliament that Zimbabwe's Chiadzwa diamonds were not a sanctions issue. They were rather about transparency, democracy and accountability.
Instead of mobilising people against sanctions, Tsvangirai said the Government and the diamond mining companies should just seek to be open, transparent and accountable to the agents of the very same white racist countries who maintain sanctions on the country and on the diamonds.
At that time, there were credible reports that the US had just used ZDERA to seize US$30 million of the proceeds of Zimbabwe's diamond sales!
But Tsvangirai said:
"This is not a sanctions issue.
It's a matter of accountability and transparency.
There is nothing wrong with the mining operations, what is wrong is the marketing of diamonds (in the face of illegal sanctions?) and lack of transparency on revenue."
The media effort to misrepresent British, US and EU sanctions on Zimbabwe as just 'travel bans' started in 2000 when the Zimbabwe Democracy and Economic Recovery Act (ZDERA) was still a Bill in the US Congress.
The then spokesperson for the MDC, the late Learnmore Jongwe (a lawyer), appeared with me on ZTV's Talking Business programme on July 15 2001, where he swore that ZDERA was just a declaration of targeted travel bans with no effect on the economy or the ordinary citizens of Zimbabwe.
Another former MDC-T spokesperson, Nelson Chamisa (also a lawyer now), repeated exactly the same lie seven years later on ZTV's programme Zimbabwe Today on May 21 2008. Lawyer Douglas Mwonzora, of the same party, repeated the same lie on the same ZTV programme on June 1 2008; followed by another lawyer and MDC supporter Obert Gutu on the same ZTV programme on June 8 2008.
Gutu was followed by MDC-T's economic advisor Tapiwa Mashakada who repeated the very same claims on the same ZTV programme on August 3 2008.
On November 7 2008, the lie took a different turn.
It was repeated on behalf of the MDC formations by the Swedish Ambassador to Zimbabwe Mr Sten Rylander on ZTV's Talking Business programme where Rylander was the sole unchallenged guest.
I need not state that former UK Ambassador Andrew Pocock and former US Ambassador Christopher Dell also repeated the same lie over several years.
On June 15 2010, ZTV's Melting Pot programme invited Sydney Chisi of Crisis in Zimbabwe Coalition (CiZC) who proceeded to help the Anglo-Saxon axis by supporting its efforts to redefine the Kimberley Process Certification Scheme's (KPCS) meaning of the term 'blood diamonds'. This redefinition was being demanded in order to be applied, apartheid-style, to Zimbabwe's
Chiadzwa diamonds alone and therefore block their certification.
That redefinition effort failed finally in Washington in June 2012.
That is why the PM was then tasked to announce the new strategy of alleging lack of transparency, without explaining why lack of transparency should require an economic and financial siege.
How does a siege bring about transparency?
On June 29 2010, ZTV's Melting Pot programme, again, invited Dewa Mavhinga (another lawyer) of the same CiZC to justify the corrupt and disgraceful manner in which the KPC meeting in Tel-Aviv was sabotaged by the US, Canada, Australia and NGOs such as CiZC, Global Witness, Partnership African Canada and Human Rights Watch on behalf of the international diamonds mafia.
On June 15 2010, Chisi made an astounding revelation which ZTV did not follow up on.
He said CiZC was set up to oppose two momentous decisions: Zimbabwe's decision to lead SADC coalition forces in rescuing the people of a sister SADC country, DRC, from military aggression and genocide sponsored by the same Anglo-Saxon forces seeking to prevent the sale of Zimbabwe's diamonds today; and the decision of Zimbabwe's war veterans and peasants to occupy their land which was stolen from Zimbabweans in the last 100 years and which had become white settler-property through theft by conquest and conversion.
Note that CiZC is an NGO allied to MDC-T.
Those were the two key reasons which Chisi gave as having caused the foreign funding and formation of CiZC.
Now, in that June 15 2010 Melting Pot programme, CiZC was adding opposition to the sale of Zimbabwe's diamonds as a third good reason for the existence of this foreign-funded organisation.
Chisi and Mavhinga claimed that the most important value guiding their activities was 'transparency'.
They wanted the Government of Zimbabwe and all its institutions to be completely transparent to those Anglo-Saxon racists who have declared economic war on the people.
As Stephen Gowans wrote from Canada (Herald June 30 2010), the British and Canadian NGOs, who were then campaigning for the complete ban on Zimbabwe's diamonds from the world markets, were funded by Western governments.
According to Gowans: "Global Witness is funded by the Canadian Department of Foreign Affairs and International Trade, Britain's Department for International Development, the European Commission, Ireland's Department of Foreign Affairs, the Netherlands Ministry of Foreign Affairs, the Swedish International Development Cooperation Authority and the Norwegian Norad.
Partnership Africa Canada receives its funding from many of the same organisations, including a Canadian Government department (Foreign Affairs and International Trade) and the Canadian International Development Agency."
Nine years later, I was privileged to be at the Zimbabwe International Trade Fair (ZITF) 2019 where President Yoweri Kaguta Museveni delivered his guest of honour address.
In his address, the guest of honour touched on several related themes.
The last but not least of the issues was the shame of the current illegal economic sanctions on Zimbabwe which President Museveni described as an act of moral and diplomatic cowardice.
Although the observation that sanctions against Zimbabwe were an act of cowardice did catch the attention of most journalists and editors, it was not covered beyond mere speech reporting.
So its significance was largely missed or ignored.
The significance is worth revisiting.
An 'act of cowardice' in the context of discourse and diplomacy implies an act of 'avoidance' and 'denial'.
Indeed, for the last 20 years, the issue of the illegal and racist sanctions against Zimbabwe has seen Western leaders, their ambassadors as well as the thousands of journalists and editors roped in to justify the sanctions engaging mostly in avoidance and denial.
Here is how:
λ First, it is only white countries who decided to punish black people with sanctions for daring to take back their land which was stolen by white settlers and abused as well as exploited for 100 years.
This fact had to be denied or avoided because the same white powers want to project themselves as democratic societies who have overcome racism and racial discrimination and who are now 'champions of human rights'.
So, in this sense, illegal sanctions served to foreclose an international debate on the rights of a whole nation subjected to forced removals and denied access to their best lands, waters and other resources for an entire century.
Sanctions also deferred South Africans and Namibians from following the Zimbabwe example.
Shutting the door on such an important debate became necessary because it would only result in the West looking really bad and backward.
In the second place, having succeeded in shutting the channels of discourse by resorting to illegal sanctions, the next form of denial perpetrated by the West was to change the subject; to suppress the matter of African majority dispossession and replace it with a one-way propaganda barrage foregrounding theoretical 'human rights' as if the forced removal of Africans from their lands, waters and other resources were not in fact a fundamental human rights issue.
In the third place, the West had to set up a skewed mass media system which was intended to create the global perception that it was Zimbabwean society which was closed to debate and dialogue because it was not an 'open' and 'transparent' society.
This set up is demonstrated by the fact that Studio 7 was created as a propaganda vehicle to broadcast one-way into Zimbabwe and its identity had to emphasise Studio 7 while disguising the reality that Studio 7 is a channel of The Voice of America which is an instrument of US foreign policy under the US State Department.
This feature is critical for supporting President Museveni's charge of cowardice because The Voice of America is forbidden by US law to broadcast into the US.
This is profound because Studio 7 goes out of its way to gather many voices around Zimbabwe whose contributions are consistent with the aims of US policy.
In fact, Studio 7, on its face value, appears to be levelling the media playing field in Zimbabwe by providing a North-American alternative.
But that apparent levelling is fake because it does not level the real field where it would really matter — that is, affording the masses of Zimbabwe the opportunity to speak to the masses of the US, people-to-people, about the damage US policy toward Zimbabwe has inflicted upon ordinary people.
This is the gap which churches should have filled; by conveying to US citizens the reality of the effects of sanctions on ordinary people.
Sanctions have never produced democracy, human rights, transparency and reconciliation.
They kill and they are usually meant to kill.
The Taliban were a product of US Cold War sanctions on Afghanistan.
In March 2000, I was in Belgrade, Yugoslavia, to inspect the havoc wreaked by 15 years of Western sanctions which had just been deepened through an orgy of NATO bombings in 1999.
Looking back, it is clear to me that Yugoslavia was the rehearsal theatre for the invasions and occupations of Afghanistan (2001) and Iraq (2003).
In the latter country, sanctions imposed in 1991 had killed 600 000 children by the time of the 2003 invasion.
Most of the children died due to destruction of health and education services compounded by shortages of medicines.
In Zimbabwe, the churches are also involved in the pursuit of 'dialogue'.
Remember, in the encounter which shocked the King of Israel into discarding his royal garb and putting on sack cloth, the woman begged him to compel her neighbour to dialogue over the latter's failure to deliver the second child to be cannibalised!
That is called 'begging the question'.
In Zimbabwe, those who ate the first child from 2001 to now still want 'dialogue' to be all about their failure so far to eat the second child.
Beware!