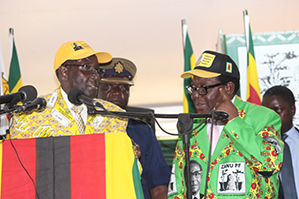 THAT President Robert Mugabe took straight to the podium and got into his speech during a Central Committee meeting on Wednesday, in the process seemingly ignoring the ritual of remembering the ruling ZANU PF's fallen cadres was a reflection of his anger and the seriousness with which he views the issue of insubordination and undermining of his authority by party stalwarts.
His tone and posture during his speech were that of a man betrayed by his erstwhile allies.
Occasionally spiced by his trademark jokes and humour, probably to quell the anger of the remaining Central Committee members of the party's 5th Congress, the message was loud and clear, that he is still very much in charge of affairs in his beloved party.
Not since his wife Amai Dr Grace Mugabe burst on to the political scene in August when she unravelled a palace coup plot by embattled Vice President Joice Mujuru and her corrupt activities, had President Mugabe commented on these stunning revelations.
Since then ZANU PF has undergone a cleansing process that has seen party bigwigs including VP Mujuru herself falling by the wayside.
Prior to the commencement of the cleansing process, The Patriot had on several occasions warned ZANU PF to be wary of falling prey to infiltration- a key strategy of the Western sponsored regime change agenda project.
But Tuesday, when he broke his silence on the VP Mujuru plot, provided a sobering reminder that ZANU PF has a leader who can dutifully execute his mandate.
On Wednesday he upped the tempo when he laid on to VP Mujuru for working with Western nations to topple him.
It was in between his speech when two probing and poignant questions that have already been answered by the cleansing process were brought to the fore.
'Why are there only two faces at the high table? Where have the others gone?'
At the top table were only him and National Chairman Ambassador Simon Khaya Moyo.
Normally the line up at the top table would be completed by VP Mujuru and the ailing Secretary for Administration Didymus Mutasa who is reportedly seeking medical attention in neighbouring South Africa following his stunning defeat in the Central Committee nomination election.
On Wednesday, President Mugabe, not for the first time, spoke from the heart, but this was no ordinary speech.
It was a passionate call to those who stuck with him that this is a Congress that should see caution as a vital tool for the future of the party.
The use of words such as 'this is a soul searching exercise where we should ask ourselves serious and honest questions' brought out his exasperation and to some extent disbelief that those he ate from the same plate with could have plotted against him.
Taking the gathering down memory lane, his footsteps were traced back to the revolts his beloved party has gone through.
"Isu takaona zvakawanda muParty ka, marevolts, anaNhari, nana Rugare Gumbo, vaiva vemadyirapanze, anaHamadziripi." he said to laughter from the Central Committee members.
But this was no laughing matter.
It was serious business.
There was a message of humility and friendship from him.
There was a message of love from his heart.
There was a message of feelings of a leader so committed to wellbeing of his party and country, the two pillars of his leadership since time immemorial.
"It's a Congress that must now lead us to be very, very careful of the future," said President Mugabe.
Indeed this is a future that was almost derailed by those who embraced and advocated for quisling politics in the ruling party.
Carefully nurtured at Chatham House during a meeting that was chaired by Richard Dowden, the project came to the fore when Party structures were manipulated and President Mugabe's authority undermined.
It was during the Dowden meeting that the programme of isolating Zimbabwe was formally launched on January 29 1999.
Subversion of ZANU PF was one of the strategies that adopted at this meeting.
The other three were a) Cause a military to take place, b) Build a strong opposition that should beat ZANU PF in an election, and c) Organise the people to rise against the ZANU PF Government (insurrection).
On Wednesday, President Mugabe had a message for those subverting ZANU PF.
"If you are European minded and American minded you do not belong to ZANU PF, endai ikoko!"
To cap what will remain a speech that took ZANU PF back on track, he said the time for taking the party back to where it belongs was now.
"We must be directed by principles and our ideology," he said.
Of course the fears of ZANU PF losing focus due to the now weeded undesirable elements were always going to be on unfounded basis with President Mugabe in charge.
On evidence of his speech on Wednesday there was no way President Mugabe could have allowed his party to be swallowed by greedy and power hungry people.
When the epitaph of this madness by quislings is authored, it shall record that while some deviated from the goals and ideology of their party, President Mugabe, the captain steered the ship to shores of more and plenty.
What will emerge out of the on going 6th Congress is a ZANU PF that many had for many years been clamouring for, a reinvigorated ZANU PF of and for the people.