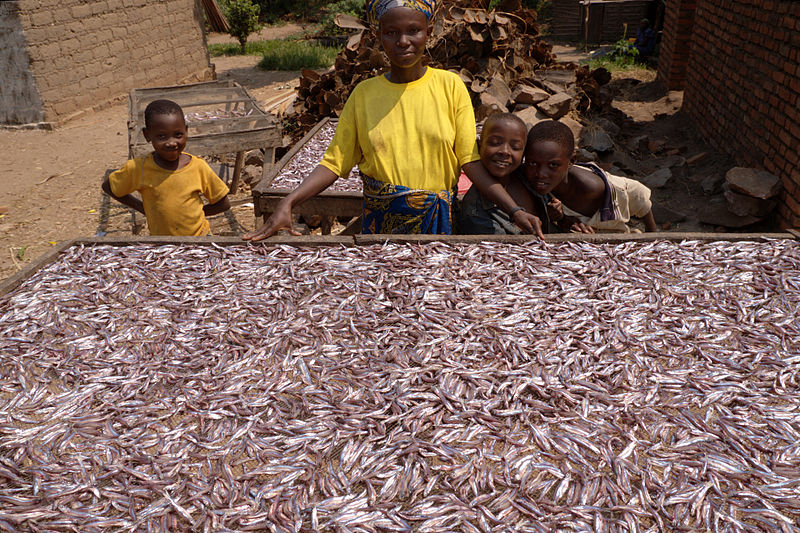 BEYOND bream, tiger fish and matemba, other Zimbabwean species of edible fish include: gwaya – Nile tilapia – oreochromis niloticus; mvumba or vundu – a larger species of catfish that can weigh up to 45kg; pfukarushesha – the bottlenose fish and muromopote, known as the bulldog fish.
Nile tilapia (O. niloticus), a riverine species that occurs over a wide variety of habitats, from the Nile River in Egypt, southwards to Lake Tanganyika and westwards, evolved over millennia and its genetic makeup and physiology can accommodate a wide range of environments and water conditions, making it the most successful fish species for aquaculture.
Tilapia fisheries originated in Africa and were introduced into Asian freshwater lakes.
African tilapia is considered the third most important fish in aquaculture after carp and salmon.
Worldwide production of tilapia exceeded 1 500 000 metric tonnes in 2002.
Production of farmed tilapia from the top 20 countries in 2010 was 3 497 391 metric tonnes.
Nigeria, Uganda, Malawi and Zambia are the main tilapia producers in Africa.
In 2010, Malawi produced 2 997 tonnes of farmed tilapia.
One of the most popular tilapia fish in Malawi is oreochromis lidole — locally known as chambo and endemic to Malawian water bodies. However, due to over-fishing it is now on the list of threatened species.
Although it is too expensive for most people in Zimbabwe to eat, O. niloticus grows faster and reaches bigger sizes in a short span of time and could be more affordable.
In India, there is a heavy demand for tilapia, especially from local poor people as this fish is affordable to the lowest income group, especially in the littoral areas of Kelavarappalli Reservoir which are awash with nests of Nile tilapia that breed during the south-west monsoon.
Bream are very similar to tilapia but are essentially two different species in both appearance and taste; classified under one family of the cichlids.
Tilapia fish are primarily plant or sediment-feeders whereas the four species of bream tend to be predators that eat small fish, crabs, prawns and worms and other small faunae that depend on healthy river systems to flourish.
Dried kapenta and bream are the most consumed fish species in Zimbabwe.
These small fish are also known to boost the ecology of new water-bodies by providing a fish that can utilise the open pelagic waters of a lake.
The waterbodies and fish of Zimbabwe are an integral part of our aquatic heritage.
In order for us to fully implement the National Command Fishery Programme, it is important for us to understand about fish and local context and habitat.
At Kariba/Kariva, there over 40 different fish species; from the aggressive Tiger fish to shoals of the silvery kapenta/ matemba, the 5 000km2 clear water lake is home to them all.
Lake Kariba started filling in December 1958, after the completion of the dam wall, and reached its peak level in September 1963.
This phase was marked by an increase of extremely high aquatic productivity characterised by a rapid growth of organisms and various species of fish, the development of aquatic weed beds and a corresponding change in the invertebrate fauna.
In 1962, Lake Kariba was stocked with fingerlings of O. macrochir from the Chilanga Fish Farm in Zambia.
The stock originated from the Kafue River population that evolved under variable riverine conditions.
It was not the best choice and the experiment failed.
Between 1966-1967 kapenta/matemba (limnothriss miodon sardine) from Lake Tanganyika was introduced in Lake Kariba by Zambian Fishery authorities.
In 1976, a period of intensive sardine fishing operations began in the Sanyati Basin with the netting of the first thousand tonnes of fish.
Subsequently, nearly 30 000 tonnes were caught between 1976 and 1981, of which some 80 percent were from the Sanyati Basin.
Prior to this, slightly over 1 000 tonnes were netted in exploratory commercial fishing between 1973 and 1975 following the introduction of the sardine in 1967/1968.
Fish, in those days, was a staple diet of the Korekore and Tonga people of Kariva (which means fish trap in the local dialect).
This small, freshwater, pelagic and non-migratory fish (kapenta/matemba), flourishes in waters with a depth ranging from 20-40m under tropical temperatures between 200 degrees Celscius – 21o degrees Celcius and needs time to establish.
Today, the BaTonga people, who have for generations depended on fishing their ancestral waterways for their livelihoods, are threatened.
The majority, an estimated 200 000 people, cannot afford to pay the $5-a-day fee to fish for survival when almost all are extremely poor; living well below the poverty datum line.
The unaffordable levies are making their lives increasingly difficult.
Currently, fishing on the Zambezi River is dominated by commercial fishers from urban areas who are charged the same levies as the local BaTonga but they sell their catches in towns and cities at higher prices.
Fees, using nets or rods are US$5-a-day, while commercial fishers operating boats pay $2 500 to the Parks and Wildlife Management Authority (ZimParks) every three months; $350 to ZIMRA and $40 per rig annually to the rural council.
Clearly these charges are unsustainable charges for the BaTonga people.
Is preventing the BaTonga from fishing the Zambezi by imposing unsustainable levies not contradicting Government's desire to empower its citizens?
This is despite the National Parks and Wildlife Management Authorities having also banned the BaTonga from cultivating along the river; a practice they have carried out sustainably for generations.
The main supply of fish within Zimbabwe comes from Lake Kariba.
In 1992, catches from Lake Kariba, estimates of production from reservoirs and rivers as well as the estimated supply of fish and fish products in Zimbabwe were 27 698t.
Smaller reservoirs and rivers in communal areas contributed to about
2 000t of fish, assuming yields of
100kg/ha.
Privately owned reservoirs, where yields on average are less than 50kg/ha, are generally not exploited, giving a very rough total production figure of 3 000t (1992 figures).
Zimbabwe was a minor exporter of fish, mainly to neighbouring countries, like SA, where records show that over 150t of dried kapenta were exported (1992).
Currently, fish produced by aquaculture makes a negligible contribution to the total fish supply and economy of the country; yields from the rivers also make a negligible contribution to total fish supply.
This is estimated to be in the region of 750t per annum.