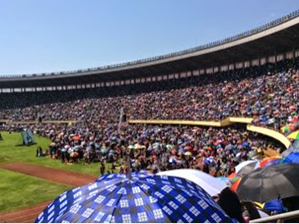 THE country this week witnessed an influx of tourists, with about 50 000 of them in the city attending the three day Jehovah's Witness Convention at the giant National Sports Stadium.
Of the more than 80 000 Witnesses who attended church services, 4 000 were foreigners and about 40 000 locals from outside Harare.
Hotels were filled up and some locals converted their homes to lodges to accommodate the foreigners.
Buses and taxis cashed in, shuttling the Witnesses to and from the city centre.
Hundreds of Witnesses visited the Majestic Victoria Falls, tourist attractions around Harare and nearby areas.
Loose calculations will show that if international Witnesses each spent at least US$1 000 on accommodation, food, transport and other expenses, the country earned US$4 million from that single event.
This figure does not take into account the 40 000 locals who were from outside Harare.
If this one aspect of tourism, and if this one event can help the country earn that much money then the future is bright for the tourism sector.
Already indications are that Harare alone needs to build more hotels to accommodate visitors.
This also implies an expansion of service provision in downstream sectors.
It means higher demand for transport, food and social amenities.
This could translate into the creation of more jobs and small businesses that feed into the hospitality chain.
This is definitely a sub-sector that the nation cannot afford to ignore.
It is for this reason that in December last year Government approved a new religious policy that seeks to promote equity and access to religious tourism products.
The religious policy comes against the background of statistics which show that over 300 million people worldwide visit religious sites every year and 30 percent of the world's travelling people are motivated by faith and religion.
Furthermore international statistics show that out of the five billion domestic arrivals, people moving within their borders, between 45-50 percent are for religious tourism.
Some of the religious destinations in the world which contribute to these statistics include the Synagogue Church of All Nations (SCOAN) which has raised Nigeria's flag high across the world as thousands of people travel to that country seeking healing from God through Prophet Temitope Balogun (TB) Joshua.
Israel is another country which benefits greatly from religious tourism.
Yearly, millions flock to Israel to see and have a spiritual experience at the home of Christianity.
Every year millions of pilgrims travel to Mecca, the largest gathering of Muslims.
Zimbabwe has also experienced unprecedented visits by people from all corners of the world seeking the Presence of God, deliverance and healing through visiting Holy Places.
This is so because the country is endowed with many religious shrines
Among them is the Njelele Shrine in Matobo Hills, Matabeleland South Province which is normally visited by traditional leaders for rain making ceremonies.
Because of the presence of the grave of Cecil Rhodes, many whites also visit the Matobo Hills.
Members of the Catholic Church regularly congregate at Mutemwa in Mutoko while the Anglicans gather at the Bernard Mzeki Shrine in Marondera.
Members of the Zimbabwe Assemblies of God Africa Church (ZAOGA) also visit a mountain in Bindura for prayers, while those from the Zion Christian Church (ZCC) visit the Mbungo Shrine in Masvingo and Defe Dopota in Gokwe.
In addition, members of the Apostles of Johane Masowe visit the Gandanzara shrine in Rusape every year in September.
Pilgrims travel from countries such as Botswana, Lesotho, Mozambique, Namibia, South Africa, the United Kingdom, the United States and Zambia to visit these shrines every year and pay homage to their founding fathers.
Thus the country needs to harness the interest coming its way from Christians all over the globe.
In a move to promote equity and access to religious tourism products, the Ministry of Tourism recently conferred The Celebration Centre in Borrowdale as a religious tourism site.
Minister of Tourism and Hospitality Industry Walter Mzembi said religious tourism was a major opportunity for Zimbabwe as it accounts for a significant portion of global arrivals.
He said of the 1, 1 billion global arrivals recorded in 2013, religious and faith-based tourism brought in 300 million.
He said 60 percent of tourist arrivals into Nigeria visit prophet T. B. Joshua's Synagogue Church of All Nations.
Minister Mzembi said the country expects 3, 2 million visitors this year, some of whom will be accounted for by tourists coming for religious and spiritual purposes.
He noted that the Judgment Night, A United Family International Church (UFIC) event which this year saw thousands of pilgrims from around the world, was typical example of what churches can do to boost tourists.
"We have to incentivise such sites so that we also smile better when tourists flock to Zimbabwe for religious purposes.
"We are encouraging church inspired hospitality and all churches in Zimbabwe should start thinking big," he said.
Zimbabwe's tourism sector contributed 13 percent of GDP in 2013 and is expected to contribute 15 percent by 2015 on account of growth in arrivals.