By Saul Gwakuba-Ndlovu
DUMISO DABENGWA, the ZAPU president who died in Nairobi, Kenya, on his way back from India where the President of Zimbabwe, Cde Emmerson Mnangagwa, had sent him for medical treatment at Government expense two months ago was buried at the Dabengwa family graveyard at Ntabazinduna on June 1 2019.
Dabengwa had been unwell for sometime and had been to South Africa for medical treatment several times.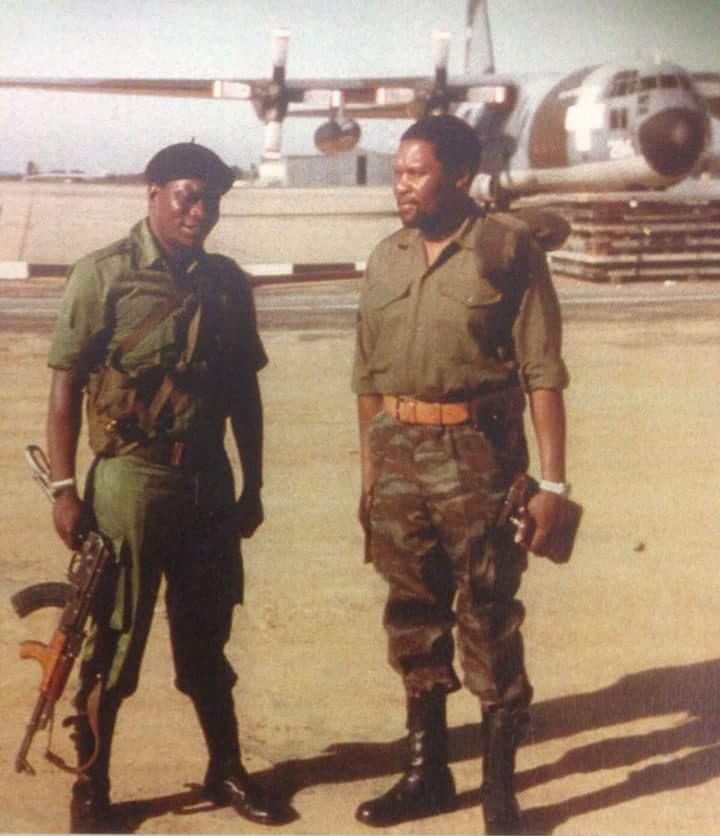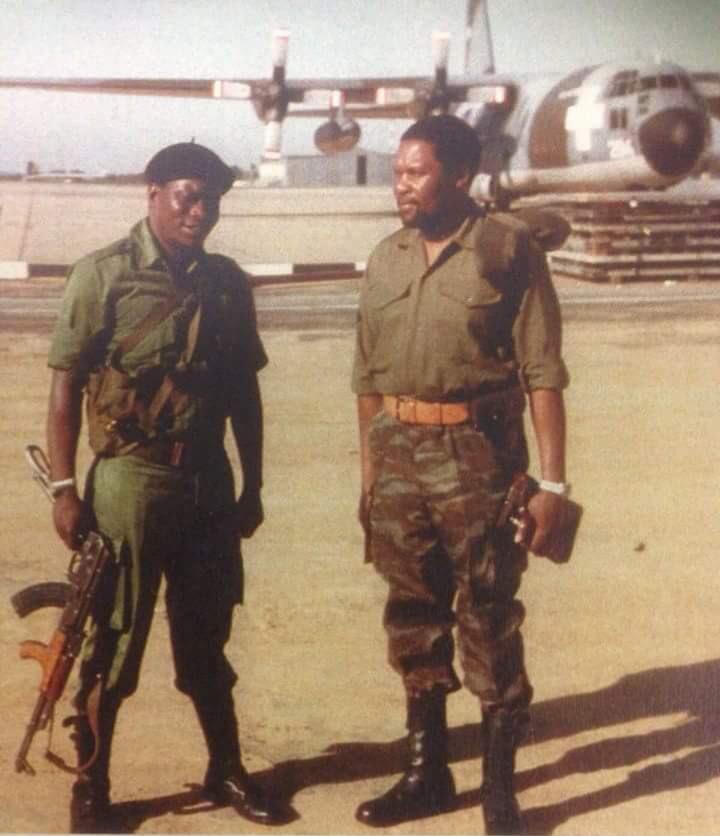 He was 79 years old.
Born in Matabeleland North Province's Ntabazinduna-Mbembesi sector, his father, Mavakatsha, was an agricultural extension officer.
He had studied and graduated at the then Tjolotjo Government School before it relocated to Esigodini to become Mzingwane Industrial Government School.
Dabengwa received his lower primary education locally and went to Cyrene Mission Boarding School for upper primary where he completed what was then called Standard Six in 1952, now Grade Seven.
In 1953, he was at Kutama High School where he completed University Junior Certificate (UJC), a three-year secondary education course which, however, he did in two years.
He moved to Tegwane High School, 16km north of Plumtree, in 1955 to do the highly celebrated Joint Matriculation Board (JMB) which, like UJC, was South African-based.
At Cyrene, he was with John Maluzo Ndlovu, Swithin Mbambo and Pilane Thomas Ndebele; three revolutionaries with whom he would be closely associated with in Zimbabwe's armed revolution a few years later.
At Tegwane, he was with Eddison Zvobgo, Kotsho Lloyd Malindi Dube, Isaac Lintswi Nyathi, Gordon Sir Butshe, Ariston Chambati and a few others who also featured prominently in the country's liberation struggle.
After Tegwane, Dabengwa got employed by Barclays Bank in Bulawayo.
That was the year the Gold Coast became independent and chose the name 'Ghana'.
It was the first British colony to become independent and that had a highly inspirational effect on the whole African continent.
In Bulawayo, Dabengwa, Akim Matthew Ndlovu (an ex-Dadaya student), Ethan Nyamazana Dube (ex-Goromonzi) Norman Mabhena, Willie Mgibelo Ncube, Pilane Thomas Ndebele, Danger Ngozi Zengeni Sibanda, Thomas 'Menu' Ngwenya, Luke Nene Mhlanga (useka Bi) Mandimutsira, Partson Male Sibanda, Obadiah Dube and quite a few more joined the youth ranks of successive liberation movements especially from the National Democratic Party up to the Zimbabwe African People's Union (ZAPU).
Earlier, the Southern Rhodesia African National Congress (SRANC) had injected some courage into the African community to fight for their freedom.
The SRANC was founded in 1934.
In Salisbury, now Harare, James Robert Dambaza Chikerema, George 'Bonzo' Nyandoro, Edson Sithole, Paul Mushonga as well as two-or-three others had launched the Salisbury City Youth League in 1955 and were repeatedly organising a series of bus strikes that gave Garfield Todd's administration sleepless nights.
On February 26 1959, the Southern Rhodesian Government, then under Sir Edgar Whitehead's leadership, banned the SRANC.
In 1960, the NDP was launched to succeed the outlawed SRANC while Dabengwa and a group of black youths practically joined the struggle.
That was when 'DD', as he was popularly called by his ZAPU colleagues, effectively launched his political career which would cover an incredible 59 years during which he solidly maintained unstinting commitment to Zimbabwe's liberation struggle.
The first phase involved the NDP and culminated in the famous 'Zhii' uprising that destroyed virtually every urban council's property in Bulawayo, Gweru (Gwelo), Gatooma (Kadoma) Salisbury and Umtali (Mutare).
At the head of that anti-colonial campaign was Dabengwa and his colleagues, in particular, Akim Ndlovu, Ethan Dube, Luke Nene Mhlanga, Norman Mabhena, Thomas Menu Ngwenya, Willie Mgibelo Ncube, Danger Ngozi Zengeni, Sibanda, Swithi Mbambo, Bernard Mutumwa and their then chairman Philani Thomas Ndebele, among a host of others.
That happened at a time when people of Dabengwa's educational qualifications were very, very few and were looked upon, especially by professional women, with a sense of serious marital hope.
He was, however, committed to the liberation struggle and could not be deterred.
The NDP was also outlawed by the Whitehead regime at the end of 1961, while ZAPU was launched to succeed it.
A resolution had been taken earlier by the NDP leadership, however, that no other political organisation representing the black people of Zimbabwe would be formed should ZAPU be banned.
It would defy proscription by operating underground.
A larger number of youths than before joined ZAPU, introducing more militancy while land occupied or owned by white people was vandalised in virtually all of the country's 56 districts.
Responsible for that countrywide inferno were ZAPU youths headed by Dabengwa and his group in Bulawayo; others included such firebrands as Edgar 'Two Boy' Tekere, Malachi Mandimutsa, Lovemore Gondo in Salisbury; Reginald Mabhachi and Arthur Chadzingwa in Mutare; plus a host of others in Sinoia (Chinhoyi), Bindura, Kwekwe, Fort Victoria (Masvingo), Marandellas (Marondera) where Ambrose Mutinhiri formed gendamerie (zhanda) squads, as did Kenneth Nyamupingidza in Mutare and Gonon'ono in the Chipinge – Chimanimani region.
Some ZAPU youths had volunteered to go to China for military training and one of them was Cde Emmerson Dambudzo Mnangagwa.
In August 1962, the then ZAPU Vice-President Dr Samuel Tichafa Parirenyatwa was murdered by some Rhodesia security personnel along the Bulawayo-Harare Highway, some 10-15km south of the Shangani commercial centre.
His driver Danger Ngozi Sengeni Sibanda was seriously injured by the assassins but survived to tell the tale.
He now lives in the UK but occasionally comes to Zimbabwe to visit relatives and friends.
Born and bred in Bulawayo's Mzilikazi suburb (formerly called Old Location), Sibanda was one of the very first revolutionary youths who operated against the white settler-colonial regime alongside Dabengwa.
Their only weapons at that time were stones they could throw at armed British South Africa Police (BSAP), some in armoured motor vehicles. 
Popularly called 'Danger', Sibanda was seconded to the ZAPU head office at Vanguard House, Railway Avenue, Salisbury (opposite the main railway station), where he became the party's Vice-President's driver. Dabengwa's major quality was courage.
To him, fear was completely foreign and was despised.
Another quality exhibited by Dabengwa and his generation of youths was the will, determination and unyielding resolve to free their country.
Comrades such as Moffat 'Mabiya' Hadebe, Clark Mpofu, John Maluzo Ndlovu, Tekere, Job Wabhira, Lovemore Gondo, Coleman Majaya, Elliot Masengo (Herald Chirinda) Feso and Ethan Dube had audible and visible courage shown by their commitment to the armed liberation struggle up to the end.
Dabengwa's total commitment to the country's total liberation was shown on several occasions.
Some people who had gone to Northern Rhodesia (later Zambia) to pursue the struggle gave up and returned home after Smith's Unilateral Declaration of Independence (UDI) on November 11 1965.
Others returned after they were visited by one or other of their parents, but not Dabengwa.
His father visited him in Lusaka in 1965, but he persevered in the struggle.
Some people pulled out of the struggle at the slightest excuse such as an injury.
In 1967, Dabengwa was hit on the forehead on the banks of the Zambezi River while he was supervising the crossing of some comrades from Zambia to Zimbabwe.
He became unconscious for a while.
After he regained consciousness, he continued what he had been doing as if he was physically normal!
Dabengwa's duties took him to Botswana quite often. On one such an occasion, while he was in Francistown, one of his contacts, a Zimbabwean school teacher called Mthimkulu, advised him to return to Zambia without delay because Francistown was teeming with Selous Scouts; a highly trained Rhodesian commando unit whose main duty was the physical elimination of freedom fighters and their underground contacts.
Dabengwa would not comply with Mthimkulu's suggestion. They decided, however, that at night Dabengwa would not sleep at the house where he had been spending the nights for the past five days.
That night, Selous Scouts raided Mthimkulu's house and took away Mthimkulu. To date, no one knows what happened to Mthimkulu. He disappeared hide, hair and bones.
Incidentally, Ethan Dube had also been violently seized and abducted from Francistown in October 1974, some four years earlier. He too could not be traced.
After that incident, Dabengwa continued going to Botswana on duty, at times, crossing into Zimbabwe while at other times going into the country as far as Mpoengs and Sanzukwi.
Dabengwa was a physically tough man. On one occasion he left a ZAPU Revolutionary Council meeting to go to Lusaka's University Teaching Hospital for an appendectomy.
Four hours or so later, he was back in the meeting, taking down minutes, as he was the secretary. The surgical operation had been a success and the appendix had been removed.
The awarding of an honorary doctorate to him by the Midlands State University was a most fitting recognition of Dabengwa's selfless, patriotic services.
President Mnangagwa's decision to send Dabengwa to India for medical treatment at the State's expense was most welcome.
Saul Gwakuba-Ndlovu is a retired, Bulawayo-based journalist. He can be contacted on cell 0734 328 136 or through email: sgwakuba@gmail.com