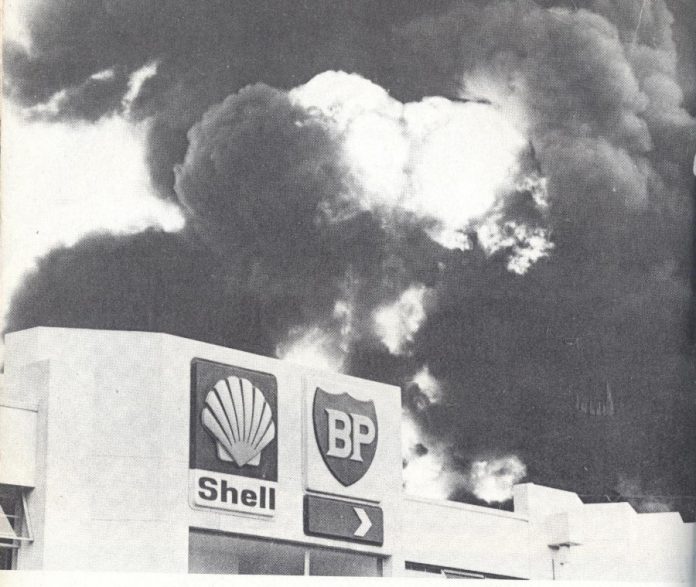 AS the nation celebrated independence earlier this year, ZBC screened the documentary ZANLA Comes To Town on two consecutive days and it was a hit.
Eyes shone, there was a spring in the step and a proud squaring of shoulders as people recounted ZANLA Comes To Town.
The pride was evident.
ZANLA had accomplished great things — it was the people's achievement.
Their comrades had outwitted the racist Rhodesian regime which boasted: "Majority rule, not in a thousand years."
Watching people celebrate ZANLA Comes To Town on the morning of April 18 2018 and listening to their joyous ecstatic conversations, I could not help reliving my own experiences of this spectacular humiliation of the Rhodesian regime.
In December 1978, I was in Dar-es-Salaam, Tanzania.
Many of us had been sent from the Education and Culture Department's Research Unit, headquartered at Matenje Base in Tete Province, Mozambique.
We were to attend a course in Curriculum, Printing and Publishing, among other things, at the Institute of Education. While we were thus engrossed, one morning we woke up to find splashed across the front page of one of the local newspapers, the headline: 'Salisbury is Burning'.
Our eyes filled with tears of joy as we saw the fuel tanks ablaze.
We felt we could fly that morning. Our hosts, the Tanzanian comrades, were ecstatic too.
We were in no doubt, we would be going home soon.
For days to come, we were celebrities. ZANLA had done it.
We had done it and were so proud.
After our course, we went back to Mozambique. At that time, I was stationed in Maputo and was personal assistant to Cde Dzingai Mutumbuka, the then ZANU Secretary for Education and Culture.
I was also responsible for research.
One morning in early 1979, I had the most pleasant surprise.
Two very young comrades were ushered into my office.
They were introduced to me as members of the special task force that had bombed the fuel tanks in Salisbury.
I had the honour of recording them for the Research Department.
In my wildest dreams, I had not thought I would meet them live, let alone record them. I was delighted and humbled. The comrades were so young.
One was 19 years old and the other 20.
Comrades in their late teens had actually brought the Ian Smith regime to its knees.
The 'mighty' Rhodesian menace was left dumbfounded by such young Zimbabweans; sons of the Africans Smith had sworn: "My Africans will never hold the gun against me"; sons of the very Zimbabweans the whites had sworn could never have built the Great Zimbabwe.
These were no Phoenicians, but Africans and Zimbabweans in particular.
This was telling on the calibre of ZANLA and its capacity to defeat the Rhodesian terrorist regime.
I felt very proud to be a ZANLA cadre.
What struck me was the ingenuity and strategy devised by these young heroes.
Who would expect they would just bury their weapons in the garden and afterwards mingle with the rest of the people and carry out their reconnaissance?
There were no high or mighty places; no hotels for people who were engaging in urban guerilla warfare.
They just came into town, made contacts and linked with friends and relatives incognito in typical ZANLA style. They were a people's force.
The people were also their base and refuge. They stayed with the people until they had accomplished this great mission – the special task from the highest military organ of the Party.
Unlike their compatriots in the countryside, there were no caves, forests or extra cover except the people. They lived so simply and naturally among the people and then one day, they dug up their weapons, set out for the designated target and unleashed a bazooka, never missing the target, and then a barrage of AK fire.
Within seconds, they disappeared in two getaway taxis.
With such a 'simple' plan, Rhodesians would never have found them and would never have intercepted them.
There was no katusha (Stalin Organ) which could betray that a big bombing mission was afoot.
There was no fanfare. These were just young Zimbabweans who had come home and in the twinkling of an eye, had removed the chip off Smith's shoulders.
The heirs of Zimbabwe had come to reclaim their heritage. The cities were the last frontier and ZANLA had breached it.
It was the writing on the wall.
I was full of admiration as I recorded these young comrades. They were so humble and simple although they had just accomplished an unparralled feat.
Is it not true that humility and modesty is a sign of greatness?
Today, when one watches the same comrades in ZANLA Comes To Town, they are still humble and unassuming?
The same humble demeanour one reads in Mbuya Nehanda's pictures.
Tiri vanyai vaMusikavanhu, it has to be so.
They told me it was a special mission from the highest party office which is where they reported.
They said they had accomplished the mission without any loss of life.
I wish I could remember the names of these special heroes now acting their own history in ZANLA Comes To Town.
It is now 40 years later and they have changed so much.
Is it Cde Nhamo, Cde Lobo, Cde Member, Cde States or Cde Poison whom I met in Mozambique?
Time indeed flies.