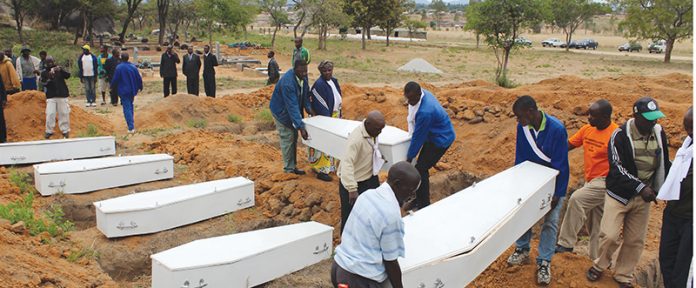 "HEROES' Day celebrations on Monday must be done with those who died and were buried in unknown places in mind," says the Fallen Heroes Trust of Zimbabwe (FHTZ) chairman, Cde George Rutanhire.
Many sons and daughters of the soil perished during the liberation struggle.
Some 37 years after independence, thousands are yet to receive decent burial while others are said to 'visit' their families through mediums, seeking to be brought home.
Matare have been convened in many households across the country where families discuss their children who never returned home.
Among Africans, it is important to know where a family member is buried.
'Disappearance' of a loved one causes untold mental anguish for those left behind.
In some instances, misfortune in families may be attributed to lack of decent burial of loved ones.
Zimbabwe's liberation struggle left in its wake painful memories and scars; some of them still visible and others deeply ingrained in the psyche of survivors.
Efforts continue to be made to afford decent burials to those lying forgotten in the bushes.
The Land Reform Programme has led to unearthing of many mass graves.
Some white farms were used as bases for torture and places to hide Rhodesia's victims of genocide.
Mine shafts and dungeons with remains of freedom fighters as well as women and children who were not spared from the Rhodies' brutality have been unearthed.
The FHTZ has dedicated itself to fulfilling the promise of according fellow deceased fighters decent burial.
Because it was war, there were instances when comrades could not attend to their fallen.
Burial was not guaranteed.
In the midst of battles, many were left behind.
And they went to 'sleep' without begrudging their fellow comrades, in that moment of demise they found peace in the promise that when independence was achieved, they would be brought home.
Thus it is critical that all Zimbabweans who have enjoyed, and are still enjoying peace should remember vanamukoma, vanachimbwido nanamujibha vakasara mumasango.
"These are our heroes. Zimbabweans should celebrate Heroes' Day with the knowledge of our history, especially of the liberation struggle, never forgetting that there are many whom we must bring home," said Cde Rutanhire.
Cde Rutanhire said as Africans, our commemorations of fallen heroes, especially the unknown ones, must be accompanied by the brewing of traditional beer and biras in appreciation of those who never came back.
Those who lie in mass graves at Chimoio and Nyadzonia and whose bones are scattered all over are as much heroes as all the known gallant sons and daughters of the soil.
Their efforts must be celebrated equally with the living.
According to Cde Rutanhire, the Trust has so far exhumed and reburied many people found at various places that include Chibondo in Mt Darwin, Butcher in Rusape, Matumba Six in Mutare and Chipinge, among many other places.
"We exhumed and reburied 848 in Chibondo, 183 at Butcher in Rusape and more than 70 at Matumba Six in Mutare, close to Hartzell Mission," he said.
The reburial process of heroes at Chibondo is testimony to the horrors endured during the liberation struggle.
"We have many comrades who were brutally killed and were buried in a manner that showed no respect, but the desire to conceal crimes against humanity by Rhodesians and it is our duty to exhume and rebury them," said Cde Rutanhire.
Many perished in Mozambique and Zambia while others were abducted and tortured on farms around the country.
Their only crime was the desire to be a liberated people in control of their destiny.
All these must be brought back home, to rest in the country they valiantly fought and gave up their lives for.
Thus, let us never forget those who still lie in unmarked graves, on mountains, in caves and river banks.
We shall forever be grateful for their sacrifice.