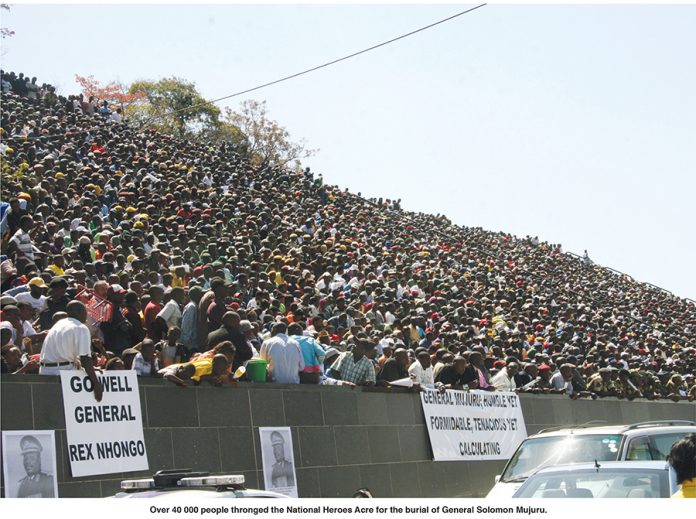 WHEN news of General Solomon Mutusva Mujuru's tragic death in a fire at his farm on August 15 2011 broke out, people spontaneously shed tears.
Young people I never thought were so conscious of his presence or role in history were heart-broken, teary and red eyed.
They could not believe this unfathomable loss; it was a tragic loss they could not come to terms with.
And, on August 20, when he was to be interred at the National Heroes' Acre, thousands thronged the national shrine.
Thousands marched, singing: "Mkoma Nhongo, bereka sabhu tiende, chauya chauya…."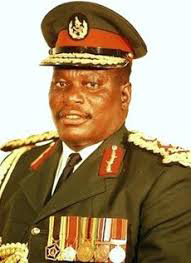 It was a sea of people walking along Samora Machel to the Heroes' Acre.
Zimbabwe's heart was heaving in mourning and nothing could assuage the pain.
Every seat at the shrine was taken, every space was taken and people took to the trees. Calmly perched on tree branches, they were content that at least they were there to watch him go; to say 'goodbye comrade, thank you for being so special, thank you for every moment sacrificed for Zimbabwe, for all of us, thank you comrade'.
Even the Western press, which can never be correct about our history of driving the British out of our country, could not deny that Cde Mujuru, our beloved 'Rex Nhongo', was so dearly beloved and honoured by his brothers and sisters.
Associated Press had to admit that: "Mourners thronged a shrine in western Harare on Saturday and swarmed over adjoining hillsides for the burial of General Solomon Mujuru."
They had to admit 'tens of thousands' flocked to the Heroes Acre for his burial.
The BBC quoted Knox Chitiyo, an analyst with the London-based think-tank Royal United Services Institute, who knew Cde Mujuru.
Said Chitiyo: "He was very, very respected, particularly among the military in Zimbabwe and among the liberation war veterans.
His liberation war credentials were pretty impeccable"
No doubt Cde Nhongo was mourned across the country.
The day before, his body, aboard an Air Force of Zimbabwe helicopter, was welcomed by hundreds of villagers, at his home in Sadza, who braved the chilly weather to honour him and bid him farewell.
General Mujuru was ZANLA's chief of operations and deputised ZANLA's chief of defence, General Josiah Magama Tongogara.
General Constantino Chiwenga, who fought side-by-side with Cde Mujuru during the liberation struggle described him as: "A true revolutionary and an icon of Zimbabwe's liberation struggle, a chief strategist, a tactician and distinguished commander."
Someone who, throughout the armed struggle, exhibited, "…devotion and commitment to the liberation cause," General Chiwenga said.
This, he said, was shown by his decision to choose military training in Zambia instead of furthering his studies elsewhere. His wish to serve Zimbabwe was answered as he received training in many countries such as Zambia, Tanzania, Egypt and other socialist countries, equipping him to fulfil his wish of liberating Zimbabwe.
A fearless fighter, General Mujuru was the first sectorial commander to open of the north-eastern frontier of our war of liberation with the attack on Altena Farm (which he commanded) on December 21 1972, and the dye was cast.
At the battle of Mavonde on October 2 1979, he was in command.
Rhodesians convinced themselves that with General Tongogara at Lancaster, this ZANLA HQ base, only 20km from the Rhodesian border, was theirs for the taking.
A costly mistake they made!
General Mujuru was General Tongogara's deputy for a reason.
He was ZANLA's chief of operations and General Tongogara had warned his forces to be vigilant; that Peter Walls would attack Mavhonde in a matter of days, he had said.
General Mujuru and his command forces were ready for Walls and the Selous Scouts when they purported to capture Mavhonde. Rhodesians will never forget the battle of Mavhonde.
It was the final nail on Rhodesia's coffin and the writing on the wall was cast in stone — 'Game Over!'
The late Brigadier-General Felix Muchemwa would later write: "To the medical team, the two commanders (Nhongo and Ndoda) looked like ghosts or spooks.
Their faces where covered with thick layers of dark grey soot and dust.
Commander Nhongo's green fatigues had acquired the camouflage colours of grey, black, green and sand, but he was still the same old tough guy they knew, uninjured, and still defiant and uncompromising."
Cde Nhongo became Zimbabwe's first Commander of the Zimbabwe Defence Forces (ZDF).
He painstakingly knitted together ZANLA, ZIPRA and elements of the former Rhodesian forces; ever mindful of what Zimbabwe is, where it came from and where it must go. He created a ZDF we all can be proud of and never lost sight of the legacy that brought Zimbabwe into being.
General Chiwenga lauds his contribution in the integration process as immeasurable. He also credits him with harmonising relations in the security sector.
When the ZDF rise to salute the executive on ZDF Day and sing: "Nyika yedu yeZimbabwe ndimo matakazvarirwa…," it is a hair-raising moment.
It takes you back to the forests of Mozambique where each force dedicated to Zimbabwe's freedom sang this pledge back to the hills and hinterland of Zimbabwe where Cde Nhongo fought side-by-side with his supremo, General Tongogara.
On our way home from Heroes' Acre, that very sad but glorious day, it was not easy.
We were going home to walk alone, to continue our journey of building a Great Zimbabwe; alone, without Cde Nhongo.
It still feels lonely but the memory of his works, his dedication to, and great love for, Zimbabwe still consoles us and gives us hope.
May he find many disciples in Zimbabwe's youth today!