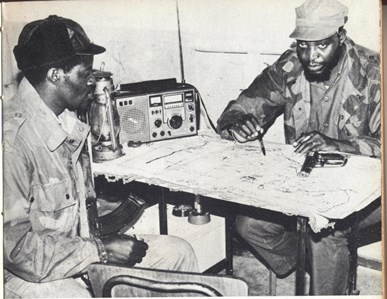 LAST week I drove into Chivhu from Murambinda.
As I negotiated the bend just before the road drops into Zivagwe River, near The Range Dam, my memories flashed back to the late 1970s.
It must have been around this spot that the Rhodesian Range contingent regularly mounted vicious road blocks.
It always pained me to see my elders humiliated by white boys.
I wished vanamukoma, macomrades, that we would have left in the village would come and do something about this.
The anti-white, anti-Smith feeling was very intense.
As I walked down memory lane, I realised that my anger had subsided.
A fair amount of revenge has been exacted since then.
However, new anger grows at the unsightly unfinished bridge.
It has become a permanent reminder of poor project implementation.
This is a bridge that should have been celebrated by today's Chikomba (then CBC – Charter Better Country) and Buhera (BBC – Buhera Better Country), as we called these liberated zones.
But alas temperature and 'BP' go up each time we pass through this forming monument of neglect.
Perhaps I digress.
Back in the village vanamukoma had pride of place in our hearts and minds.
The sound of the AK was always a reminder of Smith's mortal form, the liberation songs a prelude to great rejoicing ahead.
I vividly recall Sabhuku Chimhuka's first pungwe (mass education meetings) call.
It was at one of these meetings that I came across the word 'theory' during a lecture on Marxism/Leninism.
Mudhara Forbes was the only one able to translate it into Shona for us.
During pungwe sessions we picked political history from lectures, songs and slogans.
Our heroes were easily defined; Mbuya Nehanda and Sekuru Kaguvi, Herbet Chitepo, Robert Mugabe, Joshua Nkomo, Josiah Tongogara, Jason Moyo, Nikita Mangena, Rex Nhongo, Teurai Ropa.
The group we had issues with included Ian and Janet Smith, Muzorewa, Dupont, Chikerema, Nyathi, Chirau, Sithole.
I reflect back and appreciate this was over simplified, but very practical history.
With maturity and exposure to history's further depths I am able to correct myself here and there.
A lady from the village was fond of slogan chanting, "Pasi naJanet nemapitikoti ake!"
Today that Janet is fittingly forgotten.
That anti regime emotion reached fever pitch with ceasefire as we now marched along the unmistakable road to self-determination.
The war had been won.
As we recovered from celebrating our last Christmas in Rhodesia we received the sad news of Cde Tongo's passing on in a horrific car crash in Mozambique.
The village was in mourning, unsure whether the independence dream was now up in smoke.
General Josiah Magama Tongogara, affectionately known as Cde Tongo, was charisma, energy and intelligence rolled in one.
He was born on February 4 1938 and died December 26 1979.
He grew up at a farm owned by Ian Smith's family in Shurugwi.
Here Cde Tongo experienced the full wrath of colonialism; humiliation of being landless and watching elders, vabereki, tossed around by white boys.
He joined the liberation struggle in the early 1960s.
He trained at China's Nanking Academy in then Peking.
His training was in military intelligence, political science, mass media and guerilla war strategies and tactics.
On his return from China, he set up training structures for ZANU in Tanzania.
In 1972 Cde Tongo became overall Commander of ZANLA, the armed wing of ZANU.
He was elevated to Chief of Defence in the Dare ReChimurenga, ZANU War Council.
Through Cde Tongo's foresight, ZANLA fought along-side FRELIMO in Mozambique's liberation struggle, a strategic planning masterstroke that had the enemy worried.
This comradeship proved very valuable in events that eventually led to our independence.
Cde Tongo was married to the armed struggle.
In 1974 during the Lusaka discussions he stood out firmly against détente having correctly read it as an enemy request for more time to reorganise and eventually crush the struggle.
His stance had Smith and Vorster worried to the bone, small wonder at subsequent efforts to eliminate him in 1975.
In the period 1974-5 Cde Tongo was very instrumental in bringing down internal divisions that rocked ZANU.
Following the assassination of Herbert Chitepo in 1975, Cde Tongo and others were incarcerated for over a year in Zambian jails for alleged complicity in the death of Chitepo.
This was just what Ian Smith would have wanted.
The detention played into the enemy's strategy of eliminating opposition to détente.
This was all designed to derail the armed struggle.
Cde Tongo's spirit was not broken by this setback.
He managed to sign, from prison, documents that gave birth to ZIPA.
ZIPA was the military collaboration between ZANLA and ZPRA.
On release Cde Tongo went to Mozambique to join his ZANU/ZANLA colleagues who had moved there.
In 1977 he became a member of the ZANU Central Committee as Secretary for Defence.
Cde Tongo is remembered as a military and political strategist who cherished national unity.
He was consistent in seeking ZANU/ZANLA and ZAPU/ZPRA unity.
He exhibited this obsession for unity throughout his leadership of ZANLA, a trait that got him respect from ZAPU/ZPRA and caused sleepless nights for Rhodesian strategists.
Cde Tongo was well informed on world affairs and the pan African struggle.
The AK47 and a short wave radio receiver symbolised the lasting images of this commander par-excellence ZANLA had in the 1970s.
Today apart from a street here and a school there, the image of this great General is fast fading.
In the village in Unyetu pungwe time exposed us to General Josiah Magama Tongogara through lessons on the liberation struggle.
The little Zivagwe Range Bridge was the link between these lessons of hope from vanamukoma and colonial humiliation at hands of white boys.
The stories have gone silent in the village and a bigger Zivagwe Range Bridge has become an eyesore.