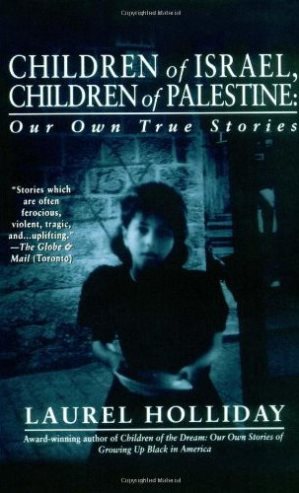 IN 2012, 'Breaking the Silence', an organisation founded by former Israeli soldiers, exposed alleged abuses committed by the Israeli Defence Forces.
The group released a booklet of witness-written reports by more than 30 former Israeli soldiers.
The booklet documents the beating up of Palestinian children, that the children were intimidated, humiliated, verbally abused and injured by Israeli soldiers.
Children have been victims of indoctrination, school closures, medical problems and post traumatic stress as a result of the Israeli-Palestinian conflict.
In her book Children of Israel/Palestine, Laurel Holliday writes that two ethnically distinct people – Palestinians and Israeli Jews – lay claim to the very same sand, stone, rivers, vegetation, seacoast and mountains.
Her book emphasises that Israeli and Palestinian children grow up feeling that they are destined for conflict with their neighbours.
Children have been engaging in military action since the dawn of time. However, in a new era of children's rights, a perceived appreciation of human rights and all the neatly packed rhetoric international groups preach about every so often at the beckoning of powerful Western States, children continue to be the worst victims of conflict.
In 2010 the Palestinian National Authority issued a 'Report on the implementation of the Convention on the Rights of the Child in the Occupied Palestinian Territory'.
The Israelis and Palestinians are both party to the Convention on the Rights of the Child.
The convention defines a child as any human being under the age of 18, unless the state itself defines the age of majority as an earlier age.
Israel signed and ratified the Convention on Children Rights in 1991 and applies the definition to Israeli children.
However, in the Occupied Territories, Israel defines as minors only Palestinians who are under the age of 16.
In September 2009, after documentation emerged showing Palestinian children as young as 12 were being prosecuted in adult military courts, Israel established a juvenile military court.
This is the first and only juvenile military court operating in the world.
A UNICEF report has stated that, "ill treatment of Palestinian children in the Israeli military detention system appears to be widespread, systematic and institutionalised."
The report also says that "in no other country are children systematically tried by juvenile military courts."
Another UNICEF report says that in the past decade, Israel has arrested some 7 000 Palestinian children.
Of the 27 children arrested in Hebron in March 2013, 18 were under the age of 12.
In one case a five-year-old was detained on allegations that he threw stones and endangered passersby.
Apparently, according to the Israeli military, the throwing of rocks by Palestinian no matter what age is an act of terrorism.
The Guardian in 2012 also reported that Palestinian children are often arrested at night, handcuffed, blindfolded abused and not given access to family members or legal representation.
The paper also says Palestinian children are locked in solitary confinement for days or even weeks and sometimes sign confessions that they later say they were coerced to sign.
The confessions are usually typed in Hebrew which these Palestinian children cannot read.
A report by Amnesty International on the 2008 claims that the Israeli military used Palestinian civilians as human shields, points out instances where Palestinians, including children, were forced to carry out dangerous tasks such as inspecting properties or objects suspected of being booby-trapped.
In 2010 two Israeli soldiers were convicted of conduct unbecoming for using a nine-year-old Palestinian child as a human shield to open packages suspected of being booby trapped during the Gaza war.
Their sentence: three months probation and a demotion in rank.
But the abuse of children is not limited to Palestinian children.
According to the Coalition to stop the use of child Soldiers, Israelis often use their children to harass Palestinians, these acts of harassment include looting shops and mosques.
UNICEF, Amnesty International and individuals such as the writer, Derek Summerfield have called on Israel to protect children from violence in accordance with the Geneva Conventions.
Shafq Masalha, a clinical psychologist who teaches at Tel Aviv University, wrote in 2004 that 15 percent of Palestinian children dreamt of becoming suicide bombers.
This should come as no surprise given the horrors they experience daily at the hands of the Israelis.
What is most disturbing is that while Palestinian children might bring about confrontations through the throwing of rocks; the Israeli soldiers are usually a few years older than them and have guns instead of stones.
The official line from the Israeli authorities is that Palestinians do not value their own children and push them to provoke Israeli soldiers.
As I write this piece, relatives and friends of a 15-year-old American boy are gathered at the Tampa, Florida office of the Council on American-Islam Relations.
They are demanding the boy be released from arrest in Israel.
Tariq Abu Khdeir was with his parents in Jerusalem on a family visit, and was arrested and beaten for allegedly throwing stones while observing a protest to a recent murder of a Palestinian boy by some Jewish extremists in Jerusalem. Tariq was held in custody for six hours without receiving medical attention.
A doctor who eventually attended to him said he needed to see a head specialist, but that is yet to happen.
A picture released of the boy showed him with an almost disfigured swollen and bruised face.