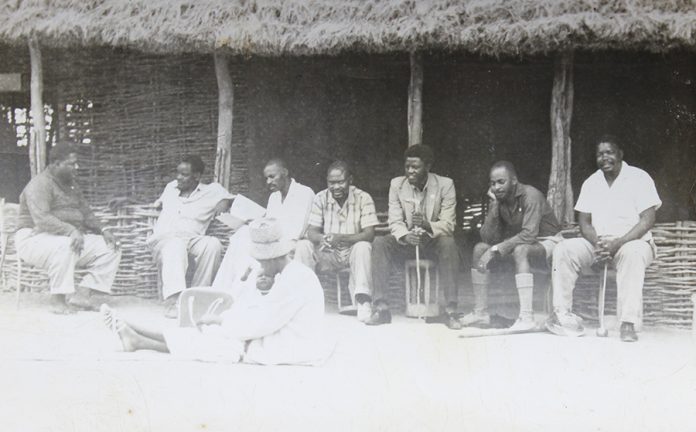 By Saul Gwakuba Ndlovu
COMPLAINTS have been made by quite a few people about the Government's decision to accord provincial hero's status to Cde Killian Bhebe of Mashonaland West who was buried in Chinhoyi on September 5 2018.
A senior national leader who expressed strong reservations about that decision was the newly appointed Defence Minister, Cde Oppah Muchinguri-Kashiri.
She told a Zimbabwean daily newspaper in Harare on the burial day that she would officially advise President Emmerson Mnangagwa that the decision was inappropriate and should be revisited.
President Mnangagwa was away in China when Cde Bhebe was buried.
At the time of writing this article, September 11 2018, it was not publicly known whether or not Cde Muchinguri-Kashiri had talked to the President about the issue.
There are four hero status categories and they are differentiated by the level of state participation and assistance in the burials. They range from the highest national, then provincial below which is the district hero's status, with the lowest being state assisted funerals.
Heroes are identified by the ruling ZANU PF party structures which, in turn, consider recommendations or otherwise by war veterans.
One's contribution to the liberation struggle and one's loyalty to the ruling Party are some of the criteria considered for a hero's status and for the level of that status.
Pioneers of the liberation struggle are usually declared national heroes, so are those in very senior Government positions such as those of Cabinet ministers.
That was the case with Border Gezi who was too young to have taken part in the liberation struggle.
Loyalty to the ruling Party, ZANU PF, is sometimes superseded by one's time of joining the struggle as was the case with pioneer George 'Bonzo' Nyandoro and Edgar 'Two Boy' Tekere, both of whom were declared national heroes although they were not ZANU PF members at the times of their deaths.
Cde Bhebe was one of the pioneers of the liberation struggle and was restricted, detained and imprisoned many times.
He spent 10 years at the notorious Gonakudzingwa Camp with such people as Willie Dzawanda Musarurwa, Mark Nziramasanga, Arthur Chadzingwa, Findo Mpofu, Vote Moyo and Welshman Mabhena.
Cde Bhebe joined the liberation struggle in 1960 at the same time as his cousin, Stephen Vuma, who became the National Democratic Party's (NDPs) finance officer.
Both of them had been born in the Midlands, but Bhebe later moved to Mashonaland West when his parents bought a small farm in that region's Native Purchase Area (NPA).
It was in Mashonaland West that he later met and politically interacted with a number of patriots, including Kenneth Mano, Robson Manyika, James Robert Dambaza Chikerema, Robert Gabriel Mugabe and quite a few other native sons and daughters of that revolutionary province.
He was a staunch Joshua Nkomo supporter and from September 1962 when ZAPU was banned up to 1964 when the People's Caretaker Council (PCC) was outlawed, he was always among those detained at either the Chinhoyi, Marandellas (now Marondera) or the Salisbury (now Harare) prisons.
During the Geneva Conference in the last quarter of 1976, Cde Bhebe would reminisce about his experience at the various prisons.
He remembered names of some of the senior officers at each of the jails where he had become a kind of regular celebrity.
The only leader whose number of prison detentions exceeded those of Cde Bhebe was Daniel Madzimbamuto.
In Lusaka, the writer of this article would ask the two prominent freedom fighters to narrate their respective prison experiences.
It became very, very clear that both men were most deeply committed to fighting to the bitter end to see Zimbabwe come under African majority rule.
Their support for Cde Joshua Nkomo's leadership was also unwavering; as unyielding indeed as their resolve to free Zimbabwe.
The Government or ZANU PF officials who accorded Cde Bhebe Provincial Hero's status are most likely ignorant of the sacrifice he made for the liberation of our country because they themselves joined the liberation struggle in the late 1970s after the most difficult period of restrictions and detentions.
It would serve a very useful purpose for the Government to create an independent committee or commission that can advise and guide decision-makers on hero status matters.
Cde Muchunguri-Kashiri is correct in saying that Cde Bhebe belongs to national and not to provincial heroes.
He went through a similar body and brain-numbing white settler-regime's torture programme as Daniel Madzimbamuto and many others for a long period.
He, like Madzimbamuto, was a senior national executive official of the Patriotic Front-ZAPU under Joshua Nkomo.
Among surviving members of former pioneer freedom fighters who could have guided decision-makers on Cde Bhebe's role in the liberation struggle are the mentally ever-green Jane Lungile Ngwenya and the former secretary of the Zimbabwe African Congress of Unions, ZACU, Aaron G.D. Ndlovu, Dumiso Dabengwa and certainly several others in various provinces.
The three mentioned above are still relatively mentally acute, and live in Bulawayo where they are quite accessible.