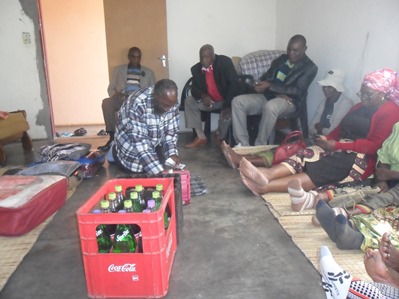 I WAS always fascinated by the debating club both at Unyetu and Mutare schools. The club tended to be oversubscribed.
Some of us joined it to marvel at others' gift with the English language characterised by long, difficult and rare words.
At the dip tank in Unyetu we reflected with admiration on Chinyama's command of English.
In the Dangamvura streets we engaged in endless debates of our own on who spoke better English; our Elisha Murimba or Sakubva's Lovemore Banda?
The latter has had opportunity to tease the nation with his English abilities.
Debates in schools were invariably an English show off, but occasionally we were also hooked to issues of mental and logical prowess.
The tendency was to agree with the last speaker, to go along with the last argument, to continuously shift positions, an art perfected by a current opposition leader.
A lesser appreciated attribute of schools debates lay in instilling the ability to listen.
On the way to the village after school or along Dangamvura's streets, our own debate was characterised by ability to drown out the views of others.
It rewarded loudness and aggression, but in schools we learnt to listen carefully and craft an intelligent response to destroy the views of your opponent.
For some reason it was always a given that 'Debate' was English.
My first exposure to 'debate' as Shona was at my maternal grandfather's court, dare.
My grandfather was a Muchinda of Mangwende in Nhohwe country.
As an infant I had the privilege of sitting next to him during court sessions.
He would leave his councillors to endlessly debate an issue and find consensus.
His councillors were people of means within their communities.
Those grossly challenged in terms of making sensible contributions tended to be assigned ancillary chores like slaughtering and skinning goats for the dare.
My grandfather only intervened last and usually to package the consensus.
On reflection I find this Shona dare concept our claim to association with modern democracy.
Our contribution would have been from the perspective of consensus building and not dividing through the vote.
Unfortunately this potential was never allowed to find expression in the evolution to our modern democracy.
Consensus building was crowded out by mathematical representation of silent beings, itself a result of misguided one-man-one-vote crusades.
Universal suffrage was a concept introduced for debate among elite Africans in the 1950s Southern Rhodesia.
The debate reached fever pitch proportions with the 1957 Franchise Commission headed by the then Chief Justice Sir Robert Tredgold.
Initially universal suffrage or one-man-one-vote was met with skepticism by both whites and elite Africans.
The former alarmed by prospect of becoming a minority in race based politics while the latter perhaps struggled with debates around making every Jack and Jill a 'chief's councillor'.
Not surprisingly universal suffrage was not a key demand until 1958 when the SRANC listed it as number 15 out of its 21 demands.
By the 1970s one man one vote had become a key aspiration in the struggle for independence.
As the calls grew louder the 'dare' debate concept got drowned.
I was reminded of the long lost tradition in the last few weeks as the nation struggled with 'child marriages' debate.
We waited patiently for the movers of the motion to articulate their arguments.
We heard nothing except a tirade of opposing views.
In the end, all we heard was that African and Indian cultures are perverted with regards child marriages.
We have drowned the debate and Western civil society has had a field day.
I have often shared with readers my mother's longtime wish that I would marry her friend's daughter.
It was a well-intentioned wish for a dear son premised on the 'rooranai vematongo' concept.
As fate would have it dear mother's wish was never granted.
Maybe she did not put enough effort; maybe dear son was too stubborn.
But had her wish been granted would this have added to Africa's child marriages stereotyping?
Has the institution of marriage improved with liberated courtship?
What is a child?
In the muted debate on child marriages, we have been reminded of laws and conventions outlawing marriages before attainment of the 16-18 age brackets.
Some of our traditions come from the pre-birth certificate era.
There were alternative indigenous ways of knowing/measuring/determining marital readiness.
Surely our society would have perished unless it had ways of determining a girl's physical/physiological/psychological readiness to become a mother.
There was a well-structured process to nurture a child and take them through rites of passage that recognised their fertility and not sexual roles.
Our society did not require a birth certificate or a non-governmental organisation (NGO) to determine when and when not to marry off a child.
True the world has changed, but we want to hear the local intelligent voice on what are the issues physically, physiologically and psychologically behind the figures 12, 13, 16, 18, 20, 21, 35 with regards marriage and child bearing.
My mother had her first child at 28, but knows of some of her friends who got married at 15/16.
I had a child at 21.
As a 12-year-old in primary school in Unyetu, I know of a couple of naughty girl classmates who were indulging.
Many girls finished school then at Grade Seven as 13/14-year olds and were expected to start preparing for marital life.
It was the same during the war.
After independence the progressive education policies helped keep many girls away from early marriages.
Still, by the time we got to Form Four as 16/17-year olds, many girls had dropped out due to pregnancies.
It was given that girls were indulging much earlier than boys.
In the 1980's we made '18' the legal majority age.
Recently I was reading that 20-35 is the safest child bearing age.
Yet 18-year-olds are adults.
We must interrogate these facts and figures and not rash to trash blameless African culture.