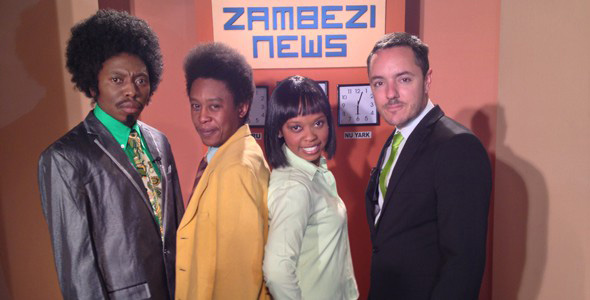 IN 1978, eccentric writer Dambudzo Marechera penned the book House of Hunger dealing with the struggles of a black family in colonial Rhodesia and how the repressive white minority regime broke the family unit.
Marechera's overarching message is that during that period there was a hunger for decency, morality, food, knowledge and sense of identity by blacks.
Whites were dominating, suppressing and oppressing blacks.
Blacks were subjugated in their land.
Using art, artistes like Marechera became the voice of the oppressed.
Their concerns were genuine; blacks had to be emancipated.
In 2005, Pamberi Trust introduced the House of Hunger Poetry Slam which was said to be 'a platform for youth expression.'
The poetry slam, which became a monthly event, was held at Book Cafe.
Is it not surprising the timing to initiate the slam coincided with the 2005 House of Assembly and Senatorial elections which were held in March and November respectively.
The aim was to try and swing the vote in the opposition's favour — all part of a calculated regime change agenda.
Youths were the target audience.
Art was the tool to drive the agenda.
It was also not sheer coincidence Pamberi Trust dubbed the slam House of Hunger; this calculated to seek currency and relevance through association with Marechera's name and works.
The Trust had an agenda:
Paint a picture that the country had become a 'house of hunger.'
After painting the gloomy picture presenting 'protest poets' as well as creating an impression they were fighting for the betterment of blacks in the country, it was another 'liberation struggle' for them.
'All warfare is based on deception,' popular Chinese military general Sun Tzu wrote in his book The Art of War.
Poets including Sam Munro, popularly known as Cde Fatso, Biko Mutsaurwa (Godobori), Tongai Makawa (Outspoken), Tendekai Tati (Madzitateguru), Arnold Chirimika (So Profound) and Moreblessing Size (Momo) were thrust into the limelight through the slam.
Poets assumed stage names that presented them as heroes and had connotations derived from the First and Second Chimurenga.
During the Second Chimurenga, freedom fighters identified themselves as comrades, which means brother in struggle.
Munro's stage name is Cde Fatso, with Fatso derived from the popular Shona name Farai meaning be happy.
The decision by Munro to pick a Shona name easily shows how Munro yearns so much to identify with the black majority.
Assuming a Shona name creates the impression, Munro is part of 'us.'
As such legitimising his 'attempt to fight for blacks.'
That sense of identity mentioned by Marechera in House of Hunger.
Other stage names were Tati's Madzitateguru which means ancestors.
Ancestors play a central role in the Shona culture and were consulted throughout the First and Second Chimurenga with the victory of the latter attributed to the role they played in guiding freedom fighters.
Mutsaurwa carries the name Godobori meaning traditional healer or consultant.
Traditional consultants played a pivotal role during the liberation struggle, providing spiritual guidance to freedom fighters.
As such, the House of Hunger poets assumed names that would easily sell them as important personalities in the so-called fight to fix the 'house of hunger.'
It is through meetings during the House of Hunger Poetry Slam that Magamba Network was birthed.
Cde Fatso and Outspoken, popular acts at the slam, in 2005 started Magamba Network.
The aim was to 'create spaces for youth engagement and expression through urban arts, in a place where young artistes were given little choices other than giving up on their dreams or establishing them elsewhere.'
Other people involved in the project include Ngonidzashe Tapiwa (Upmost), Lorraine Bgoya (Lochnation)- community manager Motto Republik and Lottie Gamah.
"At the Book Cafe, I had an opportunity to meet and exchange ideas with wider civil society," said Munro in 2014 in a piece titled How Creative Spaces Foster Civic Engagements: A Case Study of Book Cafe (Harare, Zimbabwe)
"It was at the House of Hunger Poetry Slam at the Book Cafe where I met my friend and comrade Tongai Leslie Makawa aka Outspoken, with whom I founded Magamba Network.
Together we launched Magamba at Book Cafe in November 2005."
Once again, another arm of disseminating regime change agenda content was established under the guise of an arts project.
The choice of name for the project is striking.
Magamba means heroes.
History, as some scholars teach, is a place where the dead heroes come to inspire the living.
As such, for Zimbabweans, it is where legends including Mbuya Nehanda, Sekuru Kaguvi and Chaminuka live.
It is where Mbuya Nehanda informs and where Sekuru Kaguvi inspires.
It is where Chaminuka helps shape the future.
By assuming the name, the brains behind the project give the impression that they are the torchbearers in fighting to bring back 'order' in Zimbabwe and its future lies in their hands.
But the question stands: Are they the heroes of Zimbabwe?
Is Munro's agenda similar to that of Chaminuka?
Are they fighting for the Zimbabwean cause?
Do they deserve hero-status?
Or they are simply puppets driving a prescribed agenda.
Commenting on the progress of the network in a media interview, Cde Fatso said, "It (is) great to see that we have been part of this growth and inspiring a new generation of satirists, comedians and content creators that use their art to speak truth to power; I think that's very important.
I think it also managed to open up a lot of space for dialogue keeping young people engaged in real political issues.
When we started out there was nothing else like this in the country, Now there is a whole new movement of Zimbabwean satire.
We intend to continue with our strategy."
Magamba Network's intent is not only to effect change politically but culturally and socially as well.
Brazilian novelist Paulo Coelho wrote, "Culture makes people understand each other better.
"And if they understand each other better in their soul, it is easier to overcome the economic and political barriers."
With this in mind, whites knew to succeed in conquering Africa they had to do away with the African culture.
Before the arrival of whites, Africans had their way of life.
A way of life, that ensured peace, promoted unity and development.
As a united front, Africans posed a threat.
Something had to be done.
Efforts were made to disrupt Africans' way of life.
Traditions and rituals promoting unity in societies and helping Africans identify with one another were replaced.
They were demonised.
It is this same strategy Magamba Network has adopted.
Through its various projects, it aims to promote what it terms 'urban culture'.
Youths showcasing their 'talent' at Magamba Network projects have been afforded the opportunity to perform in countries such as UK, Germany, Sweden and Canada.
These countries have been at the fore in pushing the regime change agenda in the country.
According to Wikipedia, culture is defined as 'that complex whole which includes knowledge, belief, art, morals, law, custom and any other capabilities and habits acquired by man as a member of society'.
Traditions, as defined by Wikipedia, are 'beliefs or behaviours passed down within a group or society with symbolic meaning or special significance with origins in the past'.
Core principles guiding the African society are demonised under the guise of expressing art through song, dance and poetry.
Violence, immorality and homosexuality —traits that go against our African philosophy of hunhu/ubuntu — are some of the social ills promoted by Magamba Network.
In 2007 Cde Fatso, a popular act at the slam, supported by his music outfit Chabvondoka released an album titled House of Hunger.
Again the band name is significant.
Chabvondoka is street lingo for things gone bad.
The album carried songs 'Like A Riot Needs A Petrol Bomb', 'MaStreets', 'Mahara', 'Worms for Sale', 'Bread and Roses' and 'No Baas'.
The album was banned.
'Hapana chakanaka saka toita sei tonanga kumastreets,' go lyrics to the song 'MaStreets' which features Outspoken.
The underlying message of the song is violence is the way to solve problems.
It is this same ideology adopted by the opposition.
Unsanctioned riots and demonstrations are synonymous with opposition parties' campaign strategies.
One cannot draw the line between these so-called artistes and political activists.
Speaking in London after, in July 2016, Cde Fatso said, "We shared with the audience how we use satire, hip-hop and creative activism in our struggle for a new Zimbabwe.
"We also explained the power of the new protest movements behind the #shutdown Zimbabwe campaign and why these movements need international solidarity."
His remarks are a clear indication the movement is a political movement.
Magamba Network Projects
Shoko Festival
According to the Magamba Network website, Shoko Arts Festival is 'Zimbabwe's fastest growing international festival and has become the country's biggest festival of urban culture.'
Through the annual festival, ideologies and principles clashing with the African culture are promoted through music and poetry.
Performing artistes have had tours organised in countries such as the UK, Germany, SA, Senegal and Botswana.
These tours are aimed at equipping youths with skills for 'positive social change.'
In essence, it's calling for the adoption of a un-African culture.
The B.The Media Project
The B.The Media Project, according to its organisers, is 'about creating our own narratives and telling our own stories.'
The project won a World Summit Youth Award (United Nations) in 2013 in Sri Lanka.
The project runs three major youth media initiatives: Open Parly, Kalabash and The Hub Unconference.
Open Parly's blog and twitter provides young people with immediate access to information about parliamentary activities and invites them to respond by engaging with Members of Parliament in conversations on social media.
The Hub Unconference at Shoko Festival is a two-day event that welcomes and hosts over 300 young creatives, bloggers and digital activists, featuring speakers from around Africa, Europe, the US and South America.
Outside of the Shoko Festival period, Hub Unconferences happen in Zimbabwe's major cities Harare, Mutare, Gweru and Bulawayo with a view to expand further to include more cities and towns
Motto Republik
This has been described as 'a co-creative space intended for artistes to come through a collaborate and form Africa's new ideas.'
It won the World Summit Youth Award in association with the UN in 2013.
The question is: Who is driving the formulation of these so called 'new ideas.'
Magamba TV
Magamba TV produces Zambezi News and The Week.
Zambezi News made headlines on Amanpour CNN, BBC Focus on Africa, Chanel 4 (UK) and The Guardian (UK).
The cast of Zambezi News has been invited to perform in the UK, Germany, Sweden, SA, Mauritus and Swaziland.
Magamba Network and its handlers have noted that the more Africans keep drifting away from their culture, the more they lose their sense and need to defend the continent and its resources.
As such through art, they erode the sense of belonging for youths.
An African proverb goes, 'When two brothers fight, a stranger comes to inherit their father's estate.'
With Africans united and identifying with each other, they can defend themselves.
It is said, 'No culture is superior to the other', hence it is out of ignorance for blacks to abandon their culture in favour of that of whites.