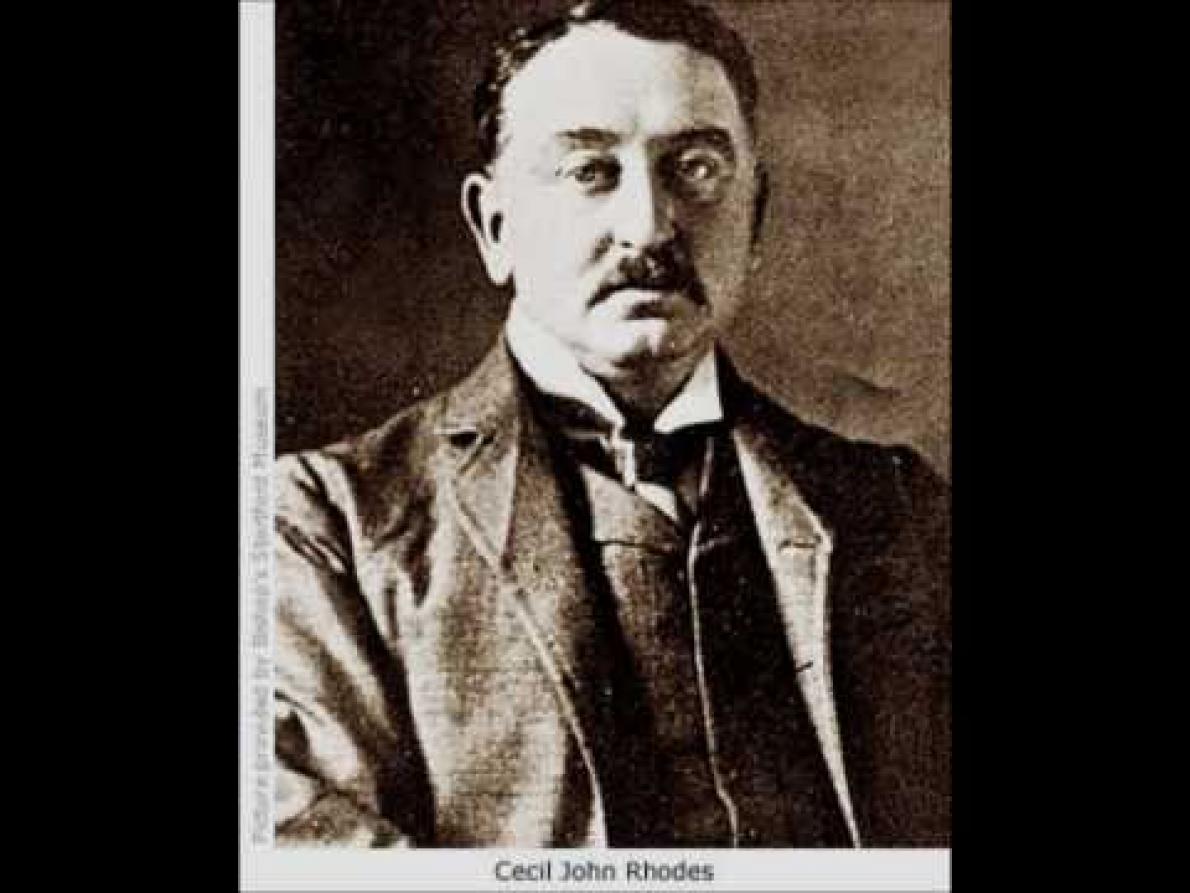 BORN in 1853 in England, Cecil John Rhodes went to South Africa in 1870 as a sickly child, with the hope that the good African climate would improve his health.
Yes it did, and in so many ways too.
Although he went there as a poor young man (surviving on money lent to him by an Aunt called Sophia); a year after his arrival Rhodes set his mind on diamond mining at Kimberley.
Seventeen years later, he was enjoying a monopoly of the world's diamonds. By 1888 he had founded the De Beers Company, which controls the world's diamond market.
Today De Beers dominates the diamond industry (mining, trade, etc).
An imperialist at heart, who dreamt of bringing Cape to Cairo under British rule, even in death he still controls Africa (and the world).
His legacy continues.
Universities, roads, towns, buildings and even small Islands were named after him.
His imperialist ideology lives forever; more than a century after his death.
Although Rhodes never showed any kindness to the black Africans, who were killed by the settlers when they resisted colonial occupation, one of the objectives of his scholarship (as outlined in his will) was to promote "truth, courage, devotion to duty, sympathy for and protection of the weak, kindliness, unselfishness and fellowship.
"To develop outstanding leaders who would be motivated to fight 'the world's fight."
The world's fight, in his view, was to create a strong British empire.
He didn't care about those that were conquered.
Because of this man, millions of Zimbabweans have died either in armed struggles, as a result of armed struggles, and now as a result of economic restrictions imposed on Zimbabwe after the Land Reform Programme.
Because of this man, many Africans died in resource-led wars; some financed by rough diamonds!
Our woes go back to this 19th century sickly kid that travelled to Africa for better health.
To the beneficiaries of his loot he was a blessing.
To Southern Africa he was a curse.
Neo-colonialism continues his imperial legacy.
We see it in education.
We see it in how his scholarship is administered.
But who are the main beneficiaries of the Rhodes estate?
The Rhodes scholarship was established in 1903 under Rhodes' will.
For 110 years since it was founded it has been awarded to outstanding postgraduate students/scholars from 14 countries:  Australia, Bermuda, Canada, Germany, Hong Kong, India, Jamaica and the Commonwealth Caribbean, Kenya, New Zealand, Pakistan, Southern Africa (South Africa, Swaziland, Botswana, Lesotho, Malawi and Namibia),  Zambia and Zimbabwe and the United States.
The scholarship has been given to scholars some who hold or held influential positions in politics.
Although the scholarship is founded on Southern Africa's wealth, only a pittance black South African or Zimbabweans have received it.
It is apparent from the way the scholarship is awarded and administered (on a country) basis, that the Rhodes scholarship was/is intended to benefit his kith and kin.
Eighty-three students get the Rhodes scholarship every year: 32 scholarships are given to America alone, while Australia gets nine; Zimbabwe gets two, Zambia gets two, Kenya gets two, Botswana gets one, and South Africa gets about 12. Other beneficiaries are Germany, New Zealand, Pakistan, Bermuda, Jamaica, Commonwealth Caribbean (who get one each per year) and Hong Kong.
In Zimbabwe, one prominent person who got the scholarship was former Deputy Prime Minister (PM), Arthur Mutambara.
Other prominent people include former US President Bill Clinton, former Australian Prime Minister Bob Hawke and Norman Manley (former PM for Jamaica).
Surely it is high time that the Rhodes scholarship is awarded to more Zimbabweans, Zambians and South Africans than any other nationals?
After all it is founded on the wealth looted from these poor people!
It is not surprising that the scholarship benefits more whites from the imperialist bloc than Africans.
Only two of the 15 Trustees are blacks (one African American Karen Stevenson and Former Botswana President Mr Festus Mogae).
The USA is the biggest beneficiary of the Rhodes scholarship, funded by African diamonds.
What an irony that every year 32 Americans benefit from world class education as Rhodes scholars at the University of Oxford because of the wealth amassed by Rhodes from Southern Africa's diamonds.
Yet the Americans are denying millions of Zimbabweans access to basic human needs because of the embargo they put on Zimbabwe's diamonds.
The USA is refusing to lift sanctions on Zimbabwean diamonds even though the European Union has done so.
Zimbabwe is struggling to sell her diamonds competitively on the world market because of this embargo.
Some of his loot is now funding the Mandela Rhodes Foundation established in 2003 'to build exceptional leadership capacity in Africa'; to build leadership excellence in Africa. Leadership in Africa, from an imperialist point of view, is synonymous with political stooges and puppets.
This is why I said even in death Rhodes continues to control Africa.
The Rhodes scholarship should benefit more African students than any other nationals.
It should be used to build universities, fund research in Africa, and improve infrastructure and the main beneficiaries must be the countries from which he looted the resources.
After all it is Africa's money!