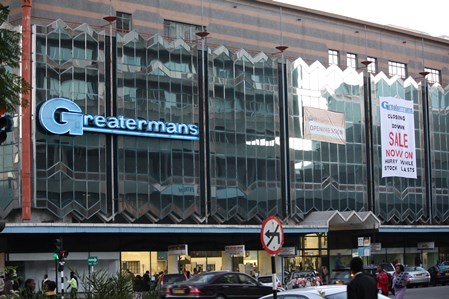 I DECIDED to write this article following the vitriol comments on social media about the closure of Greatermans.
People are using the closure of the giant colonial shop as testimony that the Government of Zimbabwe has failed to deliver.
For example, the comments of a Rhodesian Mark Pearson (on facebook page, Rhodesians Worldwide).
He wrote, "Another piece of a once flourishing country systematically destroyed!
"What are Bob and his Government trying to achieve Grass Huts and Ox-Carts?"
Apart from being very racist, it shows ignorance of how world economies are transforming as a result of online business and globalisation.
It is sad that Greatermans Departmental Store will be closing its doors.
But I remember the departmental store as a shop that drew a line between the elite and the oppressed before independence, and after independence it drew the line between the pockets of rich and the poor.
It also thrived on higher purchases on goods they ordered abroad and sold mostly to civil servants at exorbitant prices.
I too shopped my first furniture there when I got a job as a civil servant in 1995; getting myself into debt that took me 24 months to clear and chikonzi (Bailiffs) knocking my door when I missed payments.
Before independence, it was an exclusive shop for whites and black Africans shopped in shops such as Amato, Jarzin etc that were owned by Asians.
But Greatermans is not the only shop that is closing down due to poor business.
I came upon some posts on social media in which people are complaining and accusing the Government for the closure of Greatermans.
Some are saying it is a testimony that in Zimbabwe the Government has failed. Why?
Many shops have closed in the past (Jarzin, Amato etc) and these were not politicised.
Worldwide shops are closing everyday if they fail to adjust to new trends of business.
I met a colleague in Coventry city centre last week, who vowed that she would not go back to Zimbabwe to live especially when big shops like Greatermans are closing down.
"It shows that the economy is not good, "she said.
I looked around us and saw a few empty shops in the Coventry city centre that have become an eyesore to shoppers and visitors; because they have since closed their doors and sending away many people who had become jobless.
A few months ago I wrote about how major shops such as Woolworth, Adams, JJD Sports (to name a few) had closed down in the UK due to bad business rendering many people jobless.
Many companies in the UK have also closed or relocated to countries with competitive tax rates or where there is cheap labour.
Even banks are closing down.
Last week I received a letter from my Natwest Bank local branch informing me that they were closing the local branch because business was very low.
And our local garden furniture shop, Homebase Store, closed its doors this week due to low business.
It is not a sign that the British government has failed, but that the business has succumbed to competition.
I told the woman that shops are closing everywhere, it was not only Zimbabwe. But it was difficult to convince her because as far as she was concerned, the closure of Greatermans was the last nail to the coffin as far as she was concerned.
I wonder if she had ever shopped in that Greatermans store before she came to the UK as a house-maid in 2002.
When I got home I logged onto the internet to find out more about Greatermans' closure.
I stumbled upon a facebook page, Rhodesians Worldwide where Rhodesians post their venom against the Government.
They were bemoaning the closure of Greatermans Departmental Store which, they argue, is a sign that things are not alright in Zimbabwe.
Some were even celebrating and predicting that it was only a question of time before the Government of Zimbabwe came to its knees (regime change mantra).
Some comments left me wondering if the closure of these shops is not part of economic sabotage.
One Rhodesian who identified himself as Robbie Welensky wrote, "Another crying shame."
And one called, Dorelle Downes commented, "So sad — loved Greatermans when I lived there!
"I grieve for those amazing Zimbabweans who are struggling through what Bob and his thugs have sentenced them to!!!
"The total decimation of a beautiful country by one man!"
And Kathryn Perkiss wrote, "Very sad news, an end to another wonderful era once again destroyed by the useless government."
And Alfred Muteiwa encourages others to take action.
He says, "We need to do something fellow Zimbabweans.
"The situation is getting worse."
In the UK many banks are now being operated by self-help machines (internet banking) and many staff have been made redundant.
My local shopping complex is like a ghost town because of business closure.
People are now relying on internet banking, online shopping, and more so there is now stiff competition on the market.
In Zimbabwe many people who could not afford the prices in Greatermans are benefitting from buying cheap clothes that come from the UK, China and elsewhere in bales.
Greatermans was outcompeted by Mupedzanhamo, where ordinary people can get a few clothing for less than US$10.
Ordinary people can now travel to Dubai, the UK, South Africa, China and Malaysia to buy goods to come and re-sell at prices much cheaper than those in these departmental stores.
It's part of economic independence.
Boutiques selling trendy clothes have mushroomed all over the city.
Surely Greatermans couldn't stand the heat and this has nothing to do with the Government.
The colonial giant has succumbed to black empowerment, and many more will follow.
Indeed I will not bemoan the closure of a colonial giant that has failed to adjust to black empowerment.