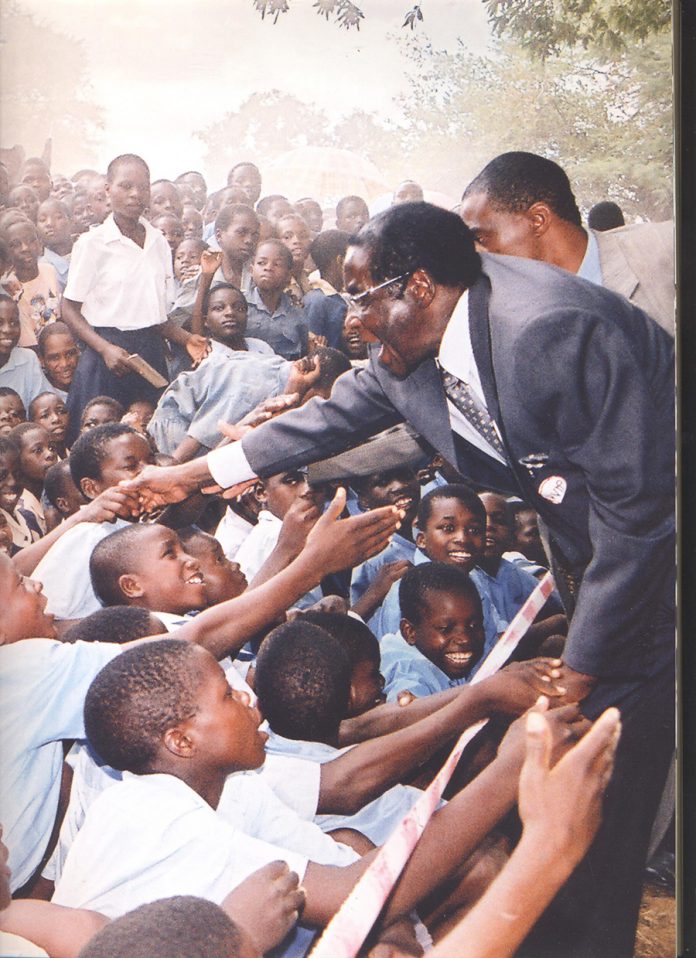 By Saul Gwakuba-Ndlovu
ROBERT GABRIEL MUGABE, Zimbabwe's founding father, is dead; having breathed his last at the age of 95 years on September 6 2019 in Singapore where he was being treated.
A really self-made man, Mugabe showed unyielding leadership signs when he was being formally elected into the Zimbabwe National Democratic Party (NDP) hierarchy at Highfields' Cyril Jennings Hall in 1960.
He politely turned down a nomination for the national organising secretary and chose, instead, that of the national publicity and information secretary of that party.
Who was Robert Mugabe?
He was born Robert in 1924 in the Zvimba Communal Lands to a Roman Catholic couple. He is a descendant of the Zvimba clan, whose totem is Garwe. Their honour name is Gushungo. His mother was Bona, (pronounced as in bona fide — a typically Catholic baptismal name which means 'good' in English as one would say: "We did this all in bona fide" — in good faith).
His father, Gabriel, left his young family at Zvimba immediately after the sudden death of one of his sons who had unknowingly, drunk some water from a mug that had been used to mix up an insecticide Dichloro Dyphenyl Trichloroethane (DDT).
Gabriel, who was a carpenter, went to Bulawayo and sought employment at St. Patrick's Mission near Old Location (Makokoba).
The priests there sent him to Regina Mundi Mission where they had recently started building a school.
Another Roman Catholic mission, also under construction in the same region, was Fatima. Both Regina and Fatima required a carpenter's services, and Gabriel was to give them.
Shortly after his arrival, Gabriel wrote to his wife indicating that he was at St. Patrick's.
After that, he went to Regina and Fatima from where he did not contact his family back home.
Robert was about five or six when his father left home.
When he was about nine or so, his mother decided to come to Bulawayo to look for her husband. She brought Robert with her and they actually walked 16km from their Zvimba village to Kutama railway siding where they boarded the then evening Salisbury-to-Bulawayo passenger train.
They arrived in Bulawayo at about seven the following morning, and went to St. Patrick's to inquire about Gabriel.
When he narrated this story in Cephas George Msipa's Highfield house two days after his return from Ghana, Robert did not say why the priests there said they did not know Gabriel's whereabouts and yet they had sent him to Regina Mundi Mission.
The St. Patrick's mission priests who had engaged Gabriel had probably been transferred and moved to another place, with new ones replacing them.
However, Mugabe and his mother were advised to go and inquire from the Old Location's superintendent's office. They did, but the records there did not have Gabriel Mugabe's name. They went to the Mzilikazi office and to Nguboyenja but drew a blank at both.
In the evening, they would return to the waiting room at the railway station to sleep.
"Takarumwa netsikidzi zvisingabvire (We were very much bitten by bed-bugs)," observed Robert during his narration .
Mother and son later decided to visit beer gardens to ask any people originally from Zvimba Communal Land if they knew Gabriel Mugabe.
When they drew a blank, Mai Mugabe and her son decided to return home.
Robert ended this part of his personal experience: "Takashayiwa baba nemhaka yekuti isu takange tichitsvaga vaGabriel Mugabe, asi ivo vakange vakushandisa zita rinonzi Gabriel Ngwenya, vatowana mudzimayi wechiNdevere anonzi MaTshuma," he stated this with his right index finger pointing upwards.
Back home, Robert attended, first, the local primary school from where he eventually moved to the Kutama boarding school.
Some of the school authorities noticed and appreciated his commitment to his studies and offered him a bursary.
He qualified with a Primary Teachers' Lower Course (PTLC).
He was, meanwhile, doing what was generally called correspondence studies; private studies now known as 'distance education'. Robert was known for being inseparable from books.
In 1946, he joined Hope Fountain Mission as a Standard Four teacher.
That institution's principal then was McD Patridge (uNkwali), who later founded the United College of Education (UCE), located near Bulawayo's Mpilo Hospital.
Robert taught at Hope Fountain with Tennyson Hlabangana (BA) who died of asthma at Bulawayo's General Hospital in 1948, a few days before he was due to leave Hope Fountain for Australia.
He left Hope Fountain at the end of 1949 to join the staff of a Roman Catholic Primary School in Fort Victoria (now Masvingo District).
One of the people who went through Robert's tutorial hands was Patrick Kombayi, who later became the mayor of Gweru.
All that time Robert pursued private studies and became eligible for a university government scholarship which enabled him to go to Fort Hare in South Africa's Cape Province.
At Fort Hare, he was with Dr Edward Pswarai and Kingsley Dinga Dube, both now deceased.