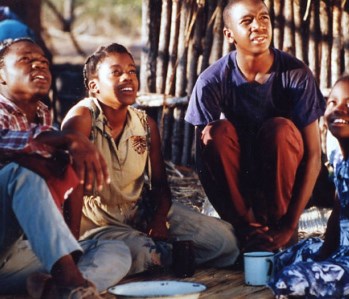 AT its peak, in the 80s, Zimbabwe boasted of a highly productive film industry in the Sub-Saharan region.
Today, all that is left of the industry is a tale of glorious days that are no more.
It is a tale of how the country hosted some of the biggest names in the history of motion picture.
Zimbabwe was the place to be for movie-makers and actors.
The rush to Zimbabwe indicated the existence of a progressive film industry, which has sadly wilted.
It is against such a backdrop that one is left with questions.
Questions of how such an immense level of success in film was lost.
Whether the country can really talk about a film industry today?
And the big question is that, is there hope for revival?
"Undoubtedly, Zimbabwe had the best film industry, better than that of our neighboring country, South Africa," said Nigel Munyati, the founder and executive director of the Zimbabwe International Film Festival.
"But now we cannot talk about a film industry at all.
"Actors cannot solely survive on acting in this country and if we are to quantify whatever remains we have of what we used to call a film industry, it will amount to nothing."
During the first decade of independence, the state, through the Ministry of Information, launched an aggressive initiative to promote Zimbabwe as a film-making centre for Hollywood studios.
The country was described as a 'perfect film-making venue' with an excellent climate, a good and varied terrain, excellent infrastructure, and adequate technical support base.
The reasons for promoting the country were both cultural and economic.
It was expected that Hollywood studios would inject money into the economy and provide training for local film-makers, who would, in turn form a local film industry.
In pursuing the objective of a local film industry, the state was keen to invest directly in film industry.
Three years after independence, Cannon Films approached the authorities over the possibility of shooting King Solomon's Mines, starring Richard Chamberlain and Sharon Stone, in Zimbabwe.
This was a major boost to the rapid expansion of the pool of skills and the provision of services.
Other filmmakers seeking suitable African locations came to Zimbabwe, and in 1986 Richard Attenborough shot Cry Freedom in the country, as South Africa then was a politically impossible location for such a film.
Producers of other anti-apartheid films such as Mandela; A Dry White Season; A World Apart; Dark City and The Power of One also used Zimbabwean locations.
Suitable locations and facilities brought out other foreign productions, including White Hunter, Black Heart, Disney's co-production with Hintza films of A Far Off Place, and Bopha and The Housekeeper, a Roger Corman Movie.
International productions continued to flock to Zimbabwe, with several European series, including Italian, Belgian and Czech, being made in the country.
In 1999, a French feature film charting the life and assassination of the legendary Patrice Lumumba was filmed on location in Zimbabwe, with two weeks shot in Beira, Mozambique.
With the skills base growing, local filmmakers were able to get into the act with Jit, A Light-hearted Look at Life, Breaking The Ice in 1990 and Neria, Zimbabwe's top-grossing film being released a year later.
The 1996 productions Everyone's Child, directed by Tsitsi Dangaremba, and Flame, directed by Ingrid Sinclair, have also consistently won awards at international festivals where they have been well received by audiences.
According to film critiques, the glory days began to fade away when South Africa finally shook off the chains of apartheid and oppression, taking the place of Zimbabwe by housing international film-makers from Hollywood.
Most importantly, the turn of the millennium saw the country undergo some of the most gruelling sanctions which permanently brought the film industry to its knees.
What was once a perfect site for film productions became a place where 'human rights violations were dominant,' as alleged by the Western media.
Thanks to Western imperialism, 'Zollywood' was put into obscurity.
Today, Zimbabwean actors are making headlines in the international movie scene with most of them flocking to South Africa.
It is a pity to note that they are making progress in other countries and not in their country of origin.
Piracy has also ruined the traditional film distribution chain.
If a film is produced, it is actually not that profitable to distribute it in cinemas anymore.
"Indeed it is a devastating time for our film industry," said Dr T K Tsodzo, a film critique and former lecturer at the Zimbabwe Film School.
Dr Tsodzo said film was a crucial tool of passing on African ideologies which could possibly neutralise Western imperialism and neo-colonialism in local people.
"What our policy makers do not understand is the power that film possesses in shaping people's ideologies," he said.
"Our Government does not see the importance of film in the shaping of public opinion and our film industry is dormant because it primarily lacks relevant support from Government as it used to do at its heyday."
An official from the Zimbabwe Film School suggested that the Government could stretch forth its helping hand by setting up a film commission, a trend which has been adopted by a considerable number of African countries with a thriving film industry.
The Ministry of Media, Information and Broadcasting Services has in the past pledged to assist in reviving the film industry.
However, it seems little is being done on the ground.