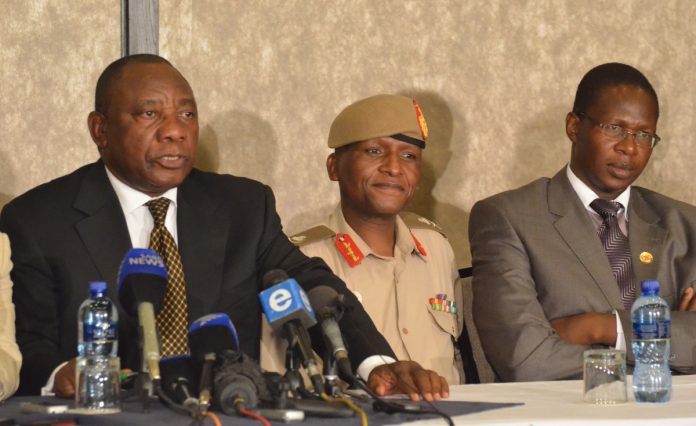 THE Extra-Ordinary summit of the Southern African Development Community (SADC) Double Troika in Gaborone, Botswana, this week, was a clear indication of how the grouping remains committed to ensuring peace and stability in the region.
The Double Troika consists of the leadership of SADC Organ on Politics, Defence and Security Co-operation (OPDSC); Mozambique (chair of the organ), South Africa (out-going chair) and Tanzania (deputy chair) and SADC presidential troika; Botswana (chair), Zimbabwe (out-going chair) and Swaziland (deputy chair).
On the agenda in Gaborone was Lesotho.
Trouble has been looming following the killing of Lesotho Defence Force (LDF), former commander Lieutenant-General Maaparankoe Mahao by members of his army last June.
Chaos ensued following an alleged coup plot by the military in August 2014.
The coup was prompted in part by the suspension of Parliament in June by Prime Minister Thomas Thabane who was hitting back at his partners in the coalition government, Deputy Prime Minister Mothetjoa Metsing and Chief Thesele Meseribane after they plotted a vote-of-no-confidence against him. 
Elections were held last year bringing Prime Minister Pakalitha Mosisili into power, but the country has remained unstable.
During the summit, reports from South Africa's Deputy President Cyril Ramaphosa, SADC's appointed facilitator on the situation in Lesotho, were presented.
Guided by Article 4 of the SADC Treaty which calls for peaceful settlements of disputes, member-states have remained committed to solving their own issues amicably.
The Double Troika agreed on reforms including constitutional, security sector, public sector and media that were necessary in order to improve stability in the Mountain Kingdom.
Technical support and resources would be availed to assist Lesotho in implementing steps towards addressing its crisis.
An Oversight Committee made up of eight members drawn from the (six) Double Troika member-states has been set up.
"SADC is committed to assist the country achieve its stability," Foreign Affairs minister Simbarashe Mumbengegwi told journalists after the summit ended.
The dominant trend within SADC is the continuation of liberation solidarity of the Frontline States period, with former liberation movements lining up in solidarity.
The regional body is aware; trouble in one member-state spells doom for the region.
It is against this background SADC member-states have remained united.
History has shown how member-states have helped each other in times of crisis.
Following the attainment of independence in Mozambique in 1975, Rhodesians, put in place a strategy to unseat the FRELIMO government which was assisting ZANU freedom fighters.
RENAMO, an opposition force was created in 1975.
Ken Flower, the former Intelligence Chief in Ian Smith's Rhodesia, wrote in his memoirs that RENAMO was formed by the Rhodesian Special Branch, working together with General Peter Walls, then Rhodesian army commander.
Essentially, RENAMO is said to have, in its formation and leadership, South Africans and Portuguese settlers in South Africa, Mozambique and Rhodesia.
Since then, there have been renewed clashes between government and RENAMO forces.
With the help of fellow SADC member-states on September 5 2014, RENAMO leader Afonso Dhlakama and Mozambican president Armando Guebuza signed a peace deal.
In 1998, Angola, Namibia, and Zimbabwe stepped in to assist the then President Laurent-Desire Kabila-led Democratic Republic of the Congo (DRC) government after it was attacked by M23 rebels after the country's minerals.
SADC swiftly acted, driving out the rebels who had seized a vast territory in the eastern part of the country.
In 2009, during a regional summit in Tanzania, SADC resolved to deploy the 4 000-strong brigade to help thwart the rebels.
In 2009 chaos rocked Madagascar following the ouster of President Marc Ravalomanana by Andry Rajoelina.
Despite Madagascar being a newbie in the grouping, having joined in 2005, SADC was not deterred from playing an active role in trying to restore stability to the embattled state.
The body was involved from an early stage in the quest to help normalise the situation in Madagascar.
A series of summits were held to consider ways of returning normalcy to Madagascar.
The OPDSC met on March 19 2009 with the Organ Troika visiting Madagascar towards the end of April.
On June 20 2009, a SADC extra-ordinary summit was convened.
The regional grouping was not going to rest till peace was restored in Madagascar.
Former Mozambique President Joachim Chissano was made chief mediator with fellow Mozambican politician, Leonardo Simao, heading the SADC mediation team.
The document 'Roadmap Out of the Crisis', which was proposed by SADC, constituted a viable framework to put an end to the crisis.
In 2011, mediators proposed a power-sharing, interim government to end a two-year crisis in Madagascar.
The storm was quelled.
In 2008, SADC stepped in to assist in peace talks in Zimbabwe between the ruling ZANU PF and opposition MDC.
This followed an impasse between the two parties as MDC failed to accept defeat after the 2008 harmonised elections.
During the 2008 Dar-es-Salaam conference, SADC appointed the then South African President Thabo Mbeki as chief mediator.
The efforts did not go to waste.
President Mbeki successfully negotiated a Global Political Agreement that resulted in the formation of a Government of National Unity with both parties working together.
Efforts by SADC have however, been met with resistance from outside forces.
The West has tried to sow seeds of disunity among member-states.
A united SADC front poses threats to their efforts to take advantage of member-states.
Unashamedly, the West has stooped very low in efforts to have its way in the region.
Before the January 2002 Blantyre SADC Extraordinary Summit, Britain threatened to withhold US$18 million in budgetary support from Malawi, the chair of SADC, unless it agreed to direct SADC towards the imposition of sanctions against Zimbabwe.
This was a significant portion of Malawi's budget.
Similar threats to withdraw budgetary support were wielded against Mozambique.
At the summit, the then Tanzanian President Benjamin Mkapa announced that British Minister of State for Foreign Affairs Baroness Amos telephoned him directly and urged him not to support Zimbabwe.
But SADC has remained focused and resolute.
Nothing is going to stop the grouping from speaking with one voice and proving Africans are capable of solving their problems and leading their countries.