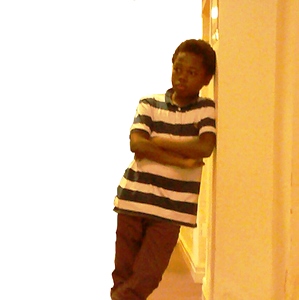 ON October 14 2013, Year 6 pupils at Stepney Primary School visited the House of Commons as part of their trip to London where they visited many places including the London Eye.
David, whose mother Pamela Gandifere comes from Zimbabwe, was one of the pupils given the opportunity to ask questions in the House of Commons.
He asked the British Prime Minister, David Cameron, when his government would lift the sanctions on Zimbabwe.
"I asked the Prime Minister, through the Speaker of Parliament, when he was going to lift the sanctions on Zimbabwe," young David told me last week.
"I asked him because his government is one of the countries that put sanctions on Zimbabwe."
But David was disappointed that he did not get a direct response from the Prime Minister.
"Before he answered, I was told that time was up," said David.
"I wanted the Prime Minister to say something, but he didn't.
"Instead, I was referred to my MP, Diana Johnson, who said my mum and I can phone her any time to discuss the issue."
David asked his MP about the sanctions and how they affected his family. "When I saw that MP Diana Johnson was not writing anything, I asked her, and she took her notebook and began to write something," said dejected David.
"She asked for my mum's (telephone) number and said me and my mum were free to phone her or visit her (offices) to talk about the sanctions.
"I was disappointed because I went to the House of Commons expecting an answer.
"Other pupils' questions were answered, but I was told it was time up."
Pamela and her son have not received any call from MP Diana Johnson yet. Pamela said she has not been able to make any appointment with the MP yet because she has been unwell.
She hopes to arrange an appointment with the MP so that her son can discuss the issue of sanctions with MP Diana Johnson; and how the sanctions are affecting innocent Zimbabweans.
Pamela Gandifere (Hull) has been living in the UK since 2000.
David was born in the UK, but visited Zimbabwe with his mother in 2009.
In August last year, David Gandifere wrote a message to congratulate President Mugabe on his election victory, which was published in The Patriot Newspaper.
He loves history, watches documentaries on African/Zimbabwean history and also follows history on the internet.
I asked David why he felt he needed to ask the Prime Minister about sanctions on Zimbabwe.
"My mum is ill," he said.
"She uses an oxygen machine (connected to electricity) every night which helps her to breathe.
"My mum wants to go and live in Zimbabwe and I want to go and live there too. "But what happens when there is no electricity and my mother's oxygen machine stops working?
"That is why I want the sanctions to be removed.
"They are affecting many people."
David said when he went to Zimbabwe in 2009, he and other children were singing for electricity to come.
"There was no electricity and the hospitals were not functioning properly, so many people were dying," he recalls.
In March 2010 the UK government passed the Child Poverty Act which seeks to eradicate child poverty in the UK by 2020.
However, most of the poverty experienced by children in the UK is 'relative' poverty unlike 'absolute' poverty experienced by children in other parts of the world, including Zimbabwe, where the British government has maintained sanctions on the country.
The sanctions are affecting innocent children; their education, access to health and basic needs.
While Britain upholds sanctions on Zimbabwe, last year (May 2013) the Prime Minister David Cameron co-chaired (alongside Liberian President Ellen Johnson Sirleaf and Indonesian leader Susilo Bambang Yudhoyono) a United Nations (UN) panel on ending extreme poverty by 2030 as one of the UNs' Millennium Development Goals (MDGs).
PM Cameron said: "We need a new global partnership to finish the job on the current Millennium Development Goals, tackle the underlying causes of poverty and champion sustainable development."
It is, however, difficult to envisage how poverty can be eradicated by 2030 when countries like Zimbabwe are still facing major economic challenges due to sanctions.
I asked David Gandifere what his teachers thought about his question in Parliament.
He said they thought it was brave of him to ask such a question.
Indeed it was brave for David to ask that question when other Zimbabweans are lobbying for the sanctions to continue.
Last year the international advocacy coordinator for the Zimbabwe Human Rights NGO Forum, Mr Arthur Gwagwa, urged the United States to continue its "action for action" sanctions policy on Zimbabwe.
He was quoted by the Washington Free Beacon (September 12 2013) to say: "When the world is retreating in fear, the U.S. should not cower, but should uphold its ideals that make this country great.
"It should stand as a moral leader to fill that particular vacuum that other people of weak spine are afraid to fill."
Many Zimbabweans in the UK want to return home, but due to the uncertainty of the economic environment caused mainly by sanctions and the effects on healthcare delivery system and general infrastructure, they are having second thoughts.