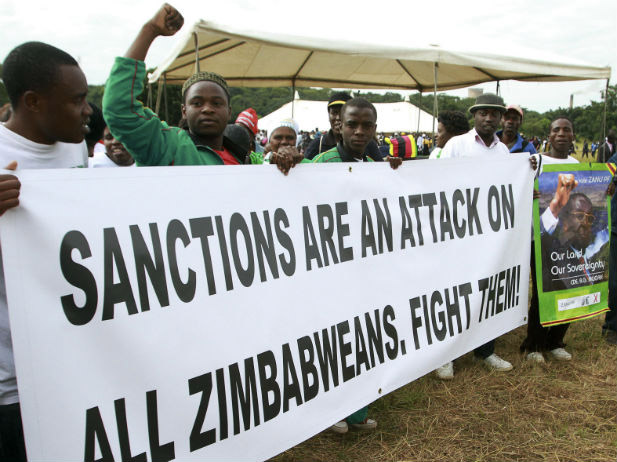 I CAN no longer access the direct quote, but I am sure it went something like this: "To separate the people of Zimbabwe from ZANU PF you have to make the economy scream, and I hope you Senators have to stomach what you have to do."
These were the words used by former US Assistant Secretary of State for African Affairs Chester Crocker during hearings for the US sanctions law, the Zimbabwe Democracy and Economic Recovery Act (ZDERA) that cut all lines of credit to Zimbabwe.
Sanctions have always been a point of contention among Zimbabweans.
Some choose to call them 'targeted' or 'smart sanctions', 'trade restrictions', 'travel bans', 'restrictive measures', however, the effect of these measures have been to make the economy 'scream'.
The smokescreen concerning the sanctions mantra has always been that they are intended to ensure that Zimbabwe adheres to the 'rule of law' and upholds 'human rights'.
Interestingly, countries that imposed sanctions against Zimbabwe have some of the most appalling records when it comes to human rights and the rule of law.
Here in the US, the continued sanctioned murder of black men and women at the hands of law enforcement agents, the deliberate policies that encourage continued discrimination of people of colour, and what is even worse now, we have a president who has no problem publicly attacking and attempting to silence the media; are all the hallmarks of a nation in distress.
The argument that sanctions against Zimbabwe are 'smart' or 'targeted' has been used by those who seek to justify their continued imposition as they are a means to an end.
Sanctions were imposed on this country in order to frustrate Zimbabweans so that they would vote ZANU PF out of power.
For more than 20 years, Zimbabwe has struggled to receive lines of credit, investors have shied away from the country due to ZDERA and social and economic ills have slowly taken over the country as such a situation creates a jungle-like environment which forces individuals to survive by any means necessary.
However, to solely blame sanctions for the country's predicament would be foolish and a travesty.
Corruption, which is a symptom of the effects of sanctions, provides a perfect case study.
Sanctions busting provided opportunities for some with access to line their pockets.
In some cases, pure greed took over and sanctions became an excuse to steal the little that the country had.
By turning a blind eye or even participating in such activities, some of our leaders should equally carry the blame for Zimbabwe's challenges.
Moving on, this propaganda that sanctions are there to punish the ZANU PF leadership should not be entertained because it takes away from any frank conversations Zimbabweans should have in regard to the way forward.
The logic behind the whole targeted sanctions debate has been that by creating a difficult economic situation, a leader will have no choice but to eventually bow to pressure from the 'people'.
In theory, this might seem like a good motivator.
The people unite with a single voice, the leader listens, and change occurs.
However, in practice, this is almost never the case.
For some 20-plus years that was not the case with Zimbabwe, Cuba which has been under sanctions for over half a century did not go down as the US envisaged.
In his piece, 'Smart sanctions: Who really do they hurt?, Dr Alex Magaisa wrote: "Contrary to the common belief that sanctions can bring about the desired goals of compelling the Government to promote democracy and human rights, they are in fact missing the intended targets.
Instead, they are hitting the poor, disempowering civil society and consequently threatening the democratic process.
It is important to go beyond the basic political assertions and consider comprehensively whether or not the sanctions regime has itself become a threat to human rights and democracy in Zimbabwe.
Zimbabwean travellers know only too well that even though travel bans to certain countries were imposed against specific individuals, the experience of every other person at the border post of those countries or applying for a visa is a nightmare. Similarly, companies may also find it extremely hard to get lines of credit where the country cannot access them.
So in effect, 'smart sanctions' can be tantamount to sanctions against the country as a whole.
Consequently, the problem is that it is the weak members of the society that are hard-hit by the effects of the sanctions. Democracy cannot flourish in poverty.
It needs stable economic foundations."
Recently, one of my favourite writers recently contributed to the sanctions debate in the aftermath of the recent presentations by three Zimbabweans on the hill on current developments in Zimbabwe.
Petina Gappah posted on social media that in 2015 she discovered that Zimbabwean artists had been excluded from taking part in the Financial Times Oppenheimer Fund Emerging Voices Award.
Upon her inquiry on why this was so, she was informed that: "Due to sanctions against Zimbabwe it would not be possible to pay the winner if the winner was Zimbabwean."
Apparently, the awards' bank was HSBC, which was not allowed to transact in Zimbabwe.
Like many of her fellow Zimbabweans, Gappah came about with an ingenious way of getting around this challenge.
Similarly, another woman I hold in high esteem, was cheated out of an opportunity to receive the international recognition she so deserves.
Nyaradzayi Gumbonzvanda, a woman who has fought for the fights of the girl child at home and abroad, was nominated for the CNN Hero. Unfortunately, she was considered ineligible because the awards programme was not open to citizens of countries under sanctions.
Some three years ago, a young Zimbabwean technology entrepreneur, Takunda Chingonzo, informed former US President Barack Obama that the 'targeted' sanctions were hurting ordinary Zimbabweans.
Chingonzo explained that young business persons like him were failing to access funding and technology because of the sanctions, which did not target politicians in ZANU PF, but all Zimbabweans.
As Zimbabweans we all have our stories, how a friend, relative, colleague, parent, acquaintance missed out on a great opportunity because of these so-called sanctions.
It is therefore appalling for some of our country men to feign that ZDERA, as has been applied over the years, has done nothing to bring change to Zimbabwe.
What it has done is to make the economy 'scream' and greatly shortchanged the ordinary man and woman on the street.