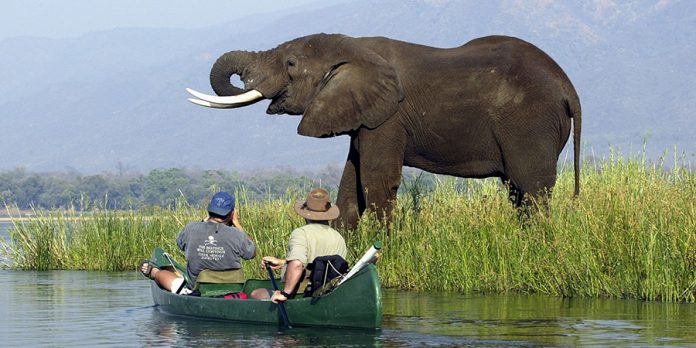 THE 2018 edition of the Sanganai/Hlanganani World Tourism Expo ended on a high note in Bulawayo with the Zimbabwe Tourism Authority (ZTA) extending exhibition space to cater for last minute interests from many companies.
In a statement availed to the media, the ZTA said there was overwhelming response from quality buyers and that 325 companies, including those from the tourism industry, financial services sector, tertiary institutions, rural district councils and suppliers, took up space adding up to 7 548 square metres.
The ZTA said this is a 4,6 percentage rise from the previous 6 237 square metres the year before.
Twenty-three countries participated this year, housing 77 companies — the highest recorded since the rebranding of the expo.
The ZTA added that 150 buyers made it to this year's expo and were part of the commemorations of the late icon Dr Joshua Mqabuko Nkomo through the Tourism Heritage Trails.
The centenary celebrations saw a procession of historic sites starting from Blue Lagoon, Stanley Square and Joshua Nkomo statue, ending at the City Hall.
The tourism brand, 'Zimbabwe – A World of Wonders', which was changed from the previous brand, 'Zimbabwe – Africa's paradise,' has over the years grown to see a steady rise of tourist arrivals into Zimbabwe.
The previous brand had a list of natural and man-made wonders such as the Victoria Falls, Mana Pools and Great Zimbabwe only, while the current one includes a very important aspect of Zimbabwe — the people of Zimbabwe, their hospitality, culture and way of life.
This new brand allows everyone to be the country's ambassador.
Despite efforts by regime change agents to tarnish Zimbabwe's good image after the recently held peaceful and credible harmonised elections, the ZTA released its communiqué in relation to the MDC Alliance's post-electoral violence, assuring local and international tourists that Zimbabwe remains a safe tourist destination.
Six people died while several others were injured during violent protests by the MDC Alliance as they disputed the election result announced by the Zimbabwe Electoral Commission (ZEC).
Despite the country maintaining peace prior to the post-election period, claims by the MDC Alliance leadership that the election was stolen by ZANU PF saw unruly elements taking to the streets and destroying property worth thousands of dollars.
History shows how various countries have suffered immensely from a decline in tourist arrivals stemming from political violence, with host countries issuing travel bans and warnings to their citizens.
Several years ago, Sierra Leone suffered immensely from bad publicity of the Ebola virus which ravaged part of its population, while Egypt also suffered from the bad media coverage over the 'Arab spring'.
Travel alerts to European nationals were issued to anyone travelling to these countries, resulting in a decline in tourism arrivals that had previously been double.
As Zimbabweans, we must learn from such examples by ensuring the country remains a peaceful and safe tourist destination.