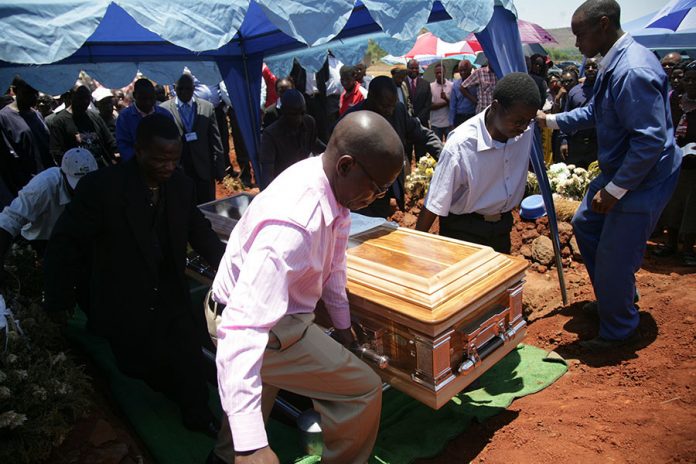 WHEN Simeon Ncube was belatedly diagnosed with a cancerous brain tumour, his family was shattered.
In less than two months, the family watched as the once robust Mbembesi farmer (Nsimbi, as he was popularly known because of his fitness) went from mild headache, admission to hospital and then death, with nothing much the family could do.
In his lifetime, Ncube had made tough choices and one of them was to forgo medical insurance.
Thus, when he fell ill, he had no medical cover to cushion his radiotherapy at private hospitals as the machines at the country's two major public hospitals broke down a few months back.
Even in death, his migraine persisted as his funeral costs became a burden to his family.
Ncube was a funeral policy holder for 15 years, contributing his premiums religiously.
However, in June, his funeral insurance company hiked premiums by 100 percent, gobbling three quarters of his income.
As if that was not enough, two months later premiums were hiked again, this time by more than 300 percent, leaving Ncube's earnings in the negative.
He had no choice, but to dump the policy.
"This is not how we wanted to bid farewell to our father," said a visibly distraught Stephen Ncube as he hurriedly went into one backyard coffin manufacturer looking for a chipboard coffin.
Still grappling with the hospital bill of $25 000 RTGS, the cheapest chipboard coffin and funeral parlour fees alone have sent the Ncube family far into debt, making a $50 scribbled grave marker seem a luxury item.
Things that once seemed crucial for a dignified farewell were gone; no flowers and no mourning for three-to-four days over meals of warm cabbage and freshly slaughtered beef.
Continually rising insurance premiums appear to be forcing more people to either downgrade or dump their policies.
This sign of the times has become particularly evident in funeral and medical assurance industry, with insurance companies now reporting that one in four policy holders have considered switching to a cheaper plan.
For funeral policy holders, a bus to ferry mourners has become an extravagance which can be overlooked as one can find his/her own way to the burial site.
More people are also choosing health insurance policies that are either lower cost with exclusions, or have an excess with co-payments option.
Motor insurance has not been spared either, as most motorists have made a switch from comprehensive to third party motor insurance.
As Zimbabwe slides into hyperinflation, most businesses are struggling to survive and have adopted cost-recovery pricing models in order to remain viable, making goods and services out of reach for many.
According to the International Monetary Fund, Zimbabwe's annual inflation rate from August 2018 through August 2019 was at 300 percent, the highest in the world.
The biggest funeral assurance company, Nyaradzo Group, increased their premiums with effect from October 1 this year from $49 to $171 for a member with three beneficiaries for the basic cover while the platinum class went up to around $85 per dependent.
The group policy, known as 'Six Pack', which most breadwinners normally subscribe to cushion their families now calls for premiums of $323 to $ 455 depending on the coffin types.
Moonlight increased its premiums from $1 to $5 for the basic cover, translating to 500 percent increase and $40 to $90 for the top of the range cover, representing a 100 percent increase, while the oldest funeral assurance company in the country, Doves' funeral policies went up by 50 percent in July, with the lowest being $60 and the highest at $75 for family and dependants. Most funeral assurance companies cited increased operating costs as the reason behind the massive hike.
Ecosure, which caters mainly for the informal sector, also increased its premiums for the basic package from a $1 which used to have $1 000 cash pay-out benefit to $5 for an increased cash pay-out of $5 000, representing an increase of 500 percent.
Senzeni Nyathi did not have any kind words for funeral insurance companies.
"What is disappointing is that I bought a policy from this company 20 years ago when I was still employed," she said. "Today I am a pensioner earning a monthly payout which is far less than what my premium is demanding and despite all the investments I made to sustain the policy, I cannot do anything but watch it collapse."
Another policy holder, who identified himself as Thando Moyo, described the move as insensitive and abuse of long-term loyalty.
"It is insensitive to the poor and those who have been loyal to these funeral insurance companies for decades," said Moyo.
"This is daylight robbery. We made these companies what they are today because after taking our money and investing over the years, they are now inconsiderate of the operating environment."
Rumbidzai Antonio said she had to downgrade and remove the bus service from her policy.
Funeral insurance companies were elusive as most failed to respond to questions sent by this reporter.
Nyaradzo Life Assurance Companies, instead, sent a flier titled Guide To Managing Your Funeral Policy Premiums, offering people four options to consider when downgrading. One of the options read: "Take a closer look at your policy by selecting the key benefits you may need to ensure that your policy is more affordable in the current turbulent environment."
Doves Funeral Assurance made appointments it failed to honour and kept giving excuses.
First Mutual Life Group Marketing and Strategic executive Farayi Mangwende promised to come back to this reporter until the time of going to press.
For the regulator Insurance and Pensions Commissions (IPEC) to mitigate the biting economy, insurance companies have been encouraged to invest in assets that preserve value.
"The insurance sector follows the fortunes of the economy. When there are economic challenges, insurance is relegated to the bottom of the ladder on consumers' priority list," said IPEC Commisioner Grace Muradzikwa. 
"As a Commission we continue to engage with fellow finance sector regulators under the auspices of the Financial Stabilisation Committe whose mandate is to ensure there is stability in the whole finacial sector.
"On the other hand we are also encouraging our regulated entities to be innovative and come up with products that are relevant to the market.
"We are also encouraging them to invest in assets that preserve value to avoid a situation where policyholders lose value again."
On the medical side, it is the same story.
A new reference list compiled by the Association of Health Care Funders of Zimbabwe (AHFoZ), which became effective on November 1 2019, is likely to see another increase in members' contributions towards health insurance.
According to the reference pricing list, medical aid societies are reimbursing general practitioners a ceiling of $321, 20 for initial consultations by their members.
Medical aid societies are also expected to reimburse specialist doctors an average of $1 000 for initial visits.
Some medical aid societies have since adjusted their members contributions to at least $450 per member per month in line with the new AHFoZ recommendations, yet the least paid civil servant takes home a paltry salary of $1 030, which is worth one visit to a specialist doctor.
"I have eyes impairment but I watched my medical and life policies that I had contributed for more than five years collapse as premiums were hiked in June," said Sue Ngwenyama.
"I am a teacher and can-not afford the new premiums anymore."
Even for people who can afford the new insurance premiums, there's not much motivation to pay into a system that might not be around when they need it.
In 2009, when Zimbabwe introduced a multi-currency system, crushing inflation came with it.
Life insurance policies were wiped out, along with the life savings of many people.
Now, as Zimbabwe's economy struggles to stay afloat, policy holders remain in a dire situation.
Something must be done urgently!