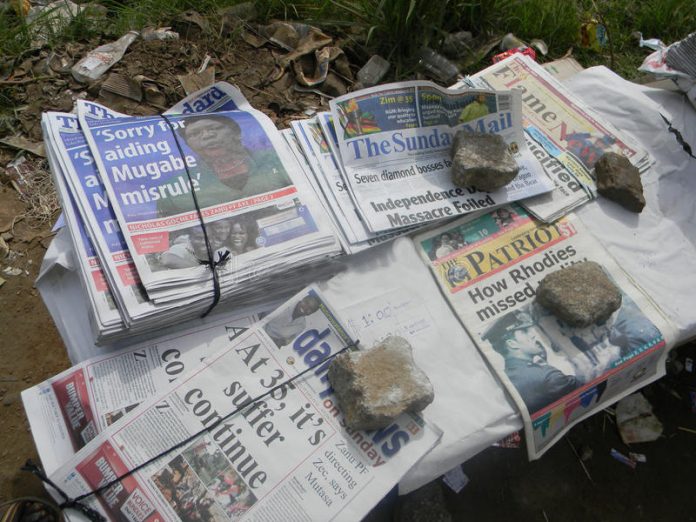 IN the previous article in this series, we argued that the learning of science (STEM) subjects is negatively affected by the use of English, a foreign language, as a medium of instruction in schools, colleges and universities.
Instead of grappling with scientific concepts, students struggle with the English language. Mastering the English scientific vocabulary becomes an end in itself.
Before we can further unravel the challenges posed by language in the learning of science, let us appreciate the impact of using a foreign language for doing business.
We start with information dissemination.
Newspapers play a central role in disseminating information in all the different phases of our existence. They keep citizens up to date with developments in the economy, entertainment, education, health, agriculture, weather, international relations and, of course, political events on the local, regional and international scene.
All daily newspapers in Zimbabwe, that include The Herald, Newsday, Chronicle and Daily News as well as the weeklies and various magazines publish all content in English, with the exception of Kwayedza.
Advertisements by business organisations are all rendered in English.
Only those job-seekers who are articulate in the English language can access and apply for the various positions.
Even the so-called regional papers also publish mostly in English with only a few apologetic articles in Shona or Ndebele.
The situation excludes the majority from the information highway!
Kwayedza is the only paper that almost exclusively publishes materials in the Shona language.
The majority of people, especially in the rural areas, have limited or zero access to this publication.
The Government of Zimbabwe policy demanding 75 percent local content in programmes broadcast has brought some sanity to the electronic media with a large number of local language drama series on Zimbabwe Television (ZTV).
For the most part, however, the colonial thrust of targeting the 'educated elites', those literate in English, remains firmly in place. Much of the 'local' content is Eurocentric and further reinforces the negation of local cultures.
In the entertainment world, use of English lyrics and mimicking of hip-hop and reggae artistes' linguistic styles has totally robbed local content of its identity as an African genre.
Again the problem arises from a colonial mind-set that views local languages as inferior and foreign as superior.
The airplay enjoyed by foreign artistes and the despicable idol-worshipping mimicry of the same by our local radio and television announcers leaves a lot to be desired.
Public media must lead in indigenising our cultural values, not the promotion of ghetto cultures that all but promote drug-taking and criminality, thereby eroding our African dignity and decent cultural values.
In short, the majority of citizens are 'barred' from accessing knowledge and information through the written word. Effectively they are excluded from the mainstream economy by the English language barrier.
Strangely enough, some politicians and so-called educated elites and technocrats address villagers in English, even where 100 percent of the audience and speakers are all locals fluent in the local language. Such self-demeaning attitudes and behaviours need to be interrogated, challenged and advocated against.
The same scenario plays out in the electronic media. Information Technology and Communication (ICT) platforms, including radio stations, television, cell phones and other digital satellite technologies, all exclusively accommodate only those articulate in the English or other foreign language.
Except for Radio Zimbabwe and the recently launched Khulumani Radio in Bulawayo, all other stations pride themselves in broadcasting in the Queen's, English.
So the majority of Zimbabweans are left out, thereby limiting their contribution to national development.
Cellphone language options exclude indigenous local languages. Google, on the other hand, now has Shona and Ndebele as optional languages for searching for information on the internet.
Unfortunately little literature is available on the internet in our local languages! That is a challenge to our local language writers and to Government, commerce and social media to create relevant content.
The above scenario points to a whole national system that deliberately excludes the majority from the mainstream economy using the instrument of language! All the important messages on a wide range of issues including business, health, politics, the economy and social well-being are shut out from the very people they are supposed to uplift.
Again, to place this debate into context, we must refer to our President, Cde E.D. Mnangagwa's mantra: 'Zimbabwe is open for business'! The exclusion of the majority who lack English language proficiency from the mainstream economy is a serious threat to the mobilisation of all citizens to contribute meaningfully to Zimbabwe's economic development!
Again, we must repeat: For those Zimbabweans lacking proficiency in English, currently the language of information communication technology (ICT), commerce, education and Government, the President's call will remain unanswered for quite some time. For them, Zimbabwe in not yet open for business.
Of the thousands who fail 'O'-Level English language examinations every year, many make several costly attempts to re-write.
Some eventually succeed but for many, the experience is traumatic and represents broken dreams, interrupted academic programmes and frustrations shared across the extended family complex.
Can we afford to leave behind so many able troops in our war for development?
As alluded to earlier, the impact of the obligatory requirement to pass 'O'-Level English language on the' ease of getting a formal job or pursuing tertiary education' is negative for the majority of our young citizens who struggle to pass. It must be addressed as part of the strenuous efforts by Government to improve the 'ease of doing business'.
Zimbabwe needs to make some carefully structured policy changes regarding the place of indigenous languages and the English language. These policies should enable Zimbabwean citizens to gain ready access to higher education.
The policies must make a clear distinction between language for academics and language for communication. Language for communication allows students to access texts written in English.
Non-English speaking countries around the world have special programmes to teach their students enough English for academic communication.
The ministries of Primary and Secondary Education and that of Higher and Tertiary Education, Science and Technology need to jointly develop, in consultation with relevant stakeholders, appropriate language policies that are inclusive, non-discriminatory and consistent with our national Constitution, including employers.
The Zimbabwe Examinations Council should review their language syllabi to develop a syllabus for 'English for Communication' as a stand-alone subject.
This subject can be made a requirement for proceeding to tertiary level education and for employment. The 'English Language' becomes a separate subject altogether for those wishing to study English language as a discipline.
As a matter of priority, and in line with facilitating ease of doing business, Zimbabwe must invest in a deliberate programme to develop its local languages for use as communication tools in education, commerce and Government.
That will open Zimbabwe for business to all its citizens, removing the colonial hangover of discriminatory language policies. Local languages must be used for handling bio-physical as well as social sciences in the educational field, thereby improving the 'ease of learning' so as to free students to exercise their inventive genius.
We shall continue to identify barriers to science learning and to call for policy dialogue to facilitate a science, technology, engineering and mathematics (STEM)-led development process.
We do not have a choice: We must embrace science and technology or perish economically.
But we must also demystify science and technology; they did not come from the West! Africans have practised science and technology for thousands of years.