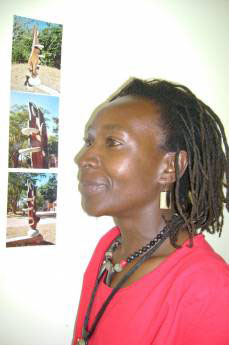 By Dr Tony Monda
FROM a humble and secluded background in Mbare, to a jet-setting international artist and respectable lecturer at the Harare International School, visual artist Semina Mpofu is the embodiment of a woman of substance.
Born in March 1968, in Bulawayo, her journey began as a lonely girl in the 1980s that would stand at the window of her family's modest flat overlooking Chinembiri Art Centre in Mbare.
From there, she would watch professional male sculptors transforming massive, rugged chunks of raw serpentine stone into highly polished images of Shona queens and regal animals such as lions, elephants, buffalos and rhinoceros.
Fascinated, by the magic of making art, she knew she wanted to become an artist.
It was not until 1990, in her early 20s that she got the courage to fulfill her dream and joined the men at Chinembiri Art Centre as a novice assistant sculptor.
At first, she encountered ridicule and resistance from both male peers and their older master artists, but her will to create art and achieve greatness kept her spirit and resilience alive.
She even dressed like a man with cap and overalls, 'to fit in with the boys' she would say.
It was not long before her talent and aptitude would overcome the initial prejudices she had encountered at the onset.
In 1992, after a two-year spell at Chinembiri Art Centre, she enrolled at the BAT Visual Art School in Mbare from where she graduated in 1994 with a diploma in visual art, well conversant in drawing, painting, printmaking, photography and sculpture in stone, wood and metal.
A decade later, in 2002, her taste for success was realised when she won her first National Arts Merit Award (NAMA) for Best Woman Artist in the sculpture category – in Zimbabwe.
This award was quickly followed by numerous NAMAs in 2003, 2007 and 2009 and again in 2010.
During the same period she was further awarded Certificate of Excellence at all the Longmans Women Artist Exhibitions held at the National Gallery of Zimbabwe.
It was not long before her fame spread throughout the Southern African Development Community (SADC) where invitations were extended to her to attend various workshops and sculpture symposiums.
These include: The Thapong International Art Workshops in Botswana (1995 and 1996); the Ngoma International Workshops in Uganda (1998); Tulipamwe International Workshop, in Namibia (1999).
Her achievements in the region led to international invitations at various prestigious cultural centres in Europe and America.
She was invited to: The International Sculpture Residency at Vermont Studios in the USA in 1999; The Tenth International Wood Sculpture Symposium in Hojer, Denmark in 2002; The Open Space Culture Workshop in Hamburg, Germany in 2002; HIFA Exhibitions 2002 to 2010, and the 24th International Wood Sculpture symposium in Denmark.
In 2004 she participated in The International Images Film Festival focusing on 'Women and Power' held in Harare.
The Kellogg International Foundation Cultural Exchange programme summoned her to New Mexico, to exchange her skills with indigenous native American artists.
The SADC Cultural Exchange Project in South Africa nominated her as one of the regions, 'Most Innovative Woman Artist' in 2007, at an art symposium held in Johannesburg, South Africa.
"My sculptures are visual poems about what is happening in our society, culture and the natural environment," said Mpofu.
"It is through my sculptures that I am able to speak about issues that affect the environment, women and children in our society.
"My work is never negative, nor is it a clichéd voice of feminist protest or confrontation – it is based on a positive and pro-active African ideology of living harmoniously in one's environment."
Her impressive body of sculptures are housed in many prestigious collections including the Vermont Brewery Art Collection 'Chinyawu' (© 1999), in the United States of America; the Permanent Collection of the Wedel Museum 'African Peanut' (© 2002), in Germany; and in Zimbabwe her piece entitled, 'Thorn of the Heart' (© 2005) graces the HIVOS headquarters in Harare.
She has exhibited her work in Botswana, Denmark, Namibia, Uganda, South Africa, the United Kingdom, the USA, Zambia and Zimbabwe,
While Semina Mpofu is modest about her impressive list of achievements and her coveted invitations from the international art bodies, she is, however, outspoken and very passionate about the education of the disadvantaged girl-child.
She recalls her experiences as a young novice sculptor with tearful emotion saying:
"The trying and difficult journey I experienced as a young woman sculptor should not be the norm for young talent."
She notes that most tertiary art classes in Southern Africa have a one-to-seven ratio between female and male students, yet in terms of general population, the average statistics show that females outnumber males by 65 percent in Southern Africa.
This numerical imbalance of gender in the arts is due to socio-cultural stereo-typing.
She says that parents and even husbands do not encourage or endorse females to participate in the arts.
As a professional art tutor at the International School in Mount Pleasant, Harare, she makes a personal effort to redress this gender imbalance in the arts by assisting and advising young art students and their parents on educational, cultural and professional issues in their visual arts careers.
Semina teaches children of all nationalities in the theory and practice of visual arts in preparation for the Baccalaureate arts certificate – an international pre-university requirement.
Semina's artworks can be classified as abstract biomorphic sculpture.
This is an abstract art form derived from organic rather than geometric shapes and is generally suggestive of nature and organic life forms, such as those seen in plants, fruit and vegetables.
Her sculptures are reminiscent of the works of international artists, – French sculptor and painter, Hans Arp (1887 – 1966), and the Romanian-French sculptor Constantin Brancusi (1876 – 1957), both of whom reduced natural shapes in their sculpture to their essential form.
In comparison, Semina's visual poetry embodies the same essence of international biomorphic sculpture, however, using her indigenous Zimbabwean idiom and language to express her ideas.
Our indigenous interdependency of man and nature is explicitly expressed in much of her sculpture; she examines subjects as familiar as madora, ishwa and derere, and is able to endow indigenous foods and indigenous material cultural objects with a new visual meaning, symbolism and relevance.
As a dedicated professional, Semina's inspiration and zeal for art does not end with Zimbabwean topics.
She tackles international issues that deal with the emancipation of woman and their right to access to education and career choice.
The artist also advocates public participation of women in visual, literary and performing arts in Zimbabwe and the region.
"My career is only by a testimony of one woman in the arts, but we need more voices to speak louder before we can be heard," said Mpofu.
Dr Tony Monda holds a PhD. in Art Theory and Philosophy and a DBA (Doctorate in Business Administration) and Post-Colonial Heritage Studies. He is a writer, musician, art critic, practicing artist and Corporate Image Consultant. He is also a specialist Art Consultant, Post-Colonial Scholar, Zimbabwean Socio-Economic analyst and researcher.