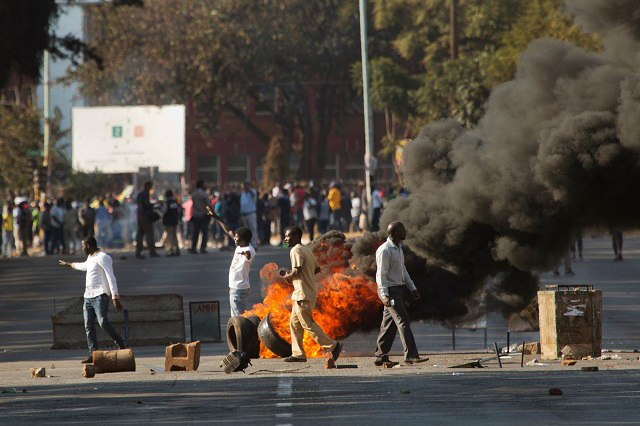 ALWAYS, it is the innocent who pay the price in cases of violence.
The violence instigated by the MDC Alliance on August 1 2018 might have been quelled by law enforcement agents but in its wake are wounds yet to heal.
Despite numerous calls for peace by the country's leadership and various organisations, the MDC Alliance saw it fit to unleash hooligans who went on a rampage on the streets of Harare.
Six people, caught in the crossfire, lost their lives while scores were injured and property as well as business worth thousands of dollars was lost.
As a rowdy MDC Alliance crowd thronged the Nelson Mandela Avenue, heading towards the Zimbabwe Electoral Commission Results Center at Harare International Conference Centre to 'protest' against election results, they created mayhem which had nothing to do with elections.
John Mahama, Chief Observer of the Commonwealth Observer Group, condemned the violence: "Let me…express the Commonwealth's Observer Group's profound sadness at the outbreak of violence by supporters of the opposition….Tragically this has resulted in a number of fatalities and injuries. We extend our sympathies to the families and loved ones of all those affected by these deeply troubling incidents."
He had earlier on , on twitter, called for the losers in the harmonised polls to be gracious in defeat: "There will be a winner and there will be a loser but Zimbabwe, as a country, will be the overall winner if everybody plays their part well. Whoever wins must be magnanimous in victory, and whoever loses must be gracious in defeat."
This is a message which Fungai Makanyire (45) wishes, as she nurses her wounds, the politicians, especially the opposition players, had taken to heart the consequences of their actions.
Makanyire was caught in the violence as she accompanied her daughter who wanted to travel during her school break.
She was oblivious of the violent situation in town when she met her fate.
With tears in her eyes, Makanyire said: "I don't know where all this chaos came from, the election process had been peaceful. Although the doctors say I will be fine, my daughter is traumatised and I don't think that I will be normal again after this incident."
According to several eye witnesses, the violent acts by the MDC Alliance had nothing to do with democratic processes but a selfish agenda.
Tawanda Rangwani said these "…were no genuine protests for a genuine cause.
"I witnessed the crowd at Harvest House (Morgan Tsvangirai House) drinking cheap beer, eating marijuana cakes and the whole place smelled of marijuana as they psyched themselves to unleash havoc.
"How can a democratic process leave so many people traumatised. From morning, the law enforcement agents tolerated these rowdy people who taunted and dared them. Had they not acted, these drunk thugs would have killed people."
Social scientist Nyasha Mutizwa said the whole exercise was driven by a sinister agenda: "This was no genuine exercise but a move designed to present a country in crisis. But we are not in a crisis. The unfortunate thing is that innocent people were left traumatised and this we place squarely on the shoulders of MDC Alliance leader Nelson Chamisa.
"He must take responsibility and apologise to the nation for the trauma he has caused. There was no way law enforcers could stand by and watch people being burnt alive by these thugs."
Journalist Daniel Chigundu described how the crowd at HICC had begun climbing the main gate with the ZRP instructing them to leave the place.
"We were just coming out of the ZEC Results Announcement Room at Rainbow Towers. When we got outside with other journalists, we saw police vehicles, lorries and water canons parked by the Hotel gate and we went there to see what was happening. When we got to the gate, we found it closed, with protesters trying to get into the hotel," Chigundu said.
Over 20 people have been arrested in connection with the protests and the ZRP has since launched a manhunt for the others.