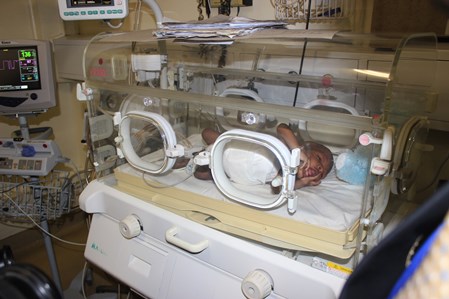 THE year 2014 is almost over and there have been major events in the health sector, key among them, the separation of the conjoined twins at Harare Hospital, the removal of a 25 kilogramme (kg) cyst in a woman's womb at Chitungwiza Central Hospital and the Ebola outbreak in North West Africa.
In April this year news that Siamese twins had been born at Murehwa District Hospital shocked many people as these are rare cases in Zimbabwe.
Good news would soon follow as a team of medical experts led by Dr Bothwell Mbuvayesango separated the twins Kupakwashe and Tapiwanashe Chitiyo, who were conjoined from the lower chest to the upper abdomen and sharing the same liver.
President Robert Mugabe visited the twins soon after the historic operation and commended local doctors for excelling under difficult working conditions.
The country's first successful separation of Siamese twins was conducted in 1983.
Another milestone in the health sector was the successful operation and removal of a 25kg tumour in Portia Tapfumanei's belly at Chitungwiza Central Hospital.
Tapfumanei had endured four years with a heavily bloated belly which resembled advanced pregnancy.
The operation of the tumour by Dr Micheal Chiwanga saw many women flocking to the hospital and getting medical treatment for similar conditions according to the Chitungwiza Hospital Chief Executive Officer, Dr Obadiah Moyo.
On a different note, there was a shocking increase in the number of Sexually Transmitted Infections (STIs) in the country during the second quarter of the year.
According to the National Aids Council (NAC) second quarter report, the number of STIs increased from 42 403 during the first quarter to 50 524.
The NAC monitoring and evaluation director, Amon Mpofu was quoted as saying that despite gains made in combating the spread of HIV and AIDS, the increase in the number of STIs required stakeholders to act as the country was sitting on a health time bomb.
"STIs are primary to HIV infections, so we should get worried when we have such a scenario," he said.
"This reflects that we may have yet another outbreak of HIV infections."
Mpofu said latest research revealed that there was need to focus more on heterosexual groups, which are the main transmitters of the virus.
The findings revealed that although HIV prevalence rate was high among prostitutes and gay people, they were not the key drivers of new infections.
Instead, those in steady relationships, the married and those who have casual sex contributed at least 60 percent of transmission.
Another major highlight for 2014 is the Ebola virus that is affecting mostly West Africa.
More than 5 000 people died in West Africa, particularly Sierra Leone, Liberia and Nigeria.
Zimbabwe and other Southern African Development Community (SADC) countries were not affected, but Zimbabwe hosted a health ministers two-day meeting to hammer out a regional strategy to deal with the Ebola epidemic.
Health and Child Care Minister, David Parirenyatwa said the meeting gave the SADC countries an opportunity to strengthen their preparedness should the virus hit the region.
A female student from DRC was quarantined at Wilkins hospital in Harare for three days after exhibiting Ebola symptoms.
However, she was later released after it was diagnosed that it was malaria, not Ebola.
Sadly, Zimbabwe to date does not have the capacity to conduct tests to detect the deadly disease, and specimens from suspected cases of Ebola will be referred to South African laboratories for verification.
Hopefully the coming year will bring new hope for Ebola and enough funds will be channelled towards research of the virus so that can be contained and the vaccine found.
Zimbabwe on the other hand should see the availability of funds so that enough machinery to detect Ebola can be bought.
Most importantly, there is need for behaviour change among Zimbabweans in order to combat STIs because careless behaviour will inevitably increase HIV and AIDS cases.
We must achieve our goal of an HIV free generation.