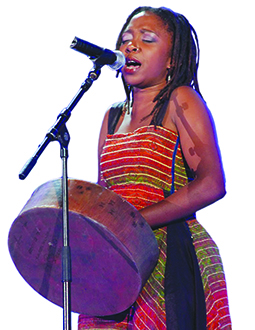 THE evening of September 3 2013 saw the official opening of Mbira month at Mbira Centre in Highlands under the theme, 'New Dimensions New Horizons'.
The concept of Mbira month is a project initiated by the founder of Mbira Centre, Albert Chimedza.
The centre was founded in 1995.
Its aim is to increase national and worldwide mbira appreciation, awareness and practice.
The first Mbira month occurred in September 2012 with the intention of making it a permanent fixture on the country's cultural events calendar.
Besides various concerts held at Mbira Centre, it was celebrated mostly on facebook where its facebook page, 'Mbira Exhibition Online' was viewed by more than 4 000 people worldwide.
The page is still active today.
In his speech at the official opening of Mbira month, Chimedza explained the vision as an integration and rationalisation of all activities relating to mbira.
The mbira is the most iconic of all Zimbabwean instruments, has existed for more than seven centuries and in the last 40 years.
It has gained steady acceptance as an instrument of choice among musicians in North and South America, Europe, Australia and Asia.
While it is Dumisani Maraire (father and mentor to the late Mbira maestro, Chiwoniso) who ignited the spread of Mbira outside Africa, much of the resultant growth was initiated by non-Zimbabweans many of whom passed through his hands.
And, as a social responsibility, Chimedza feels that it is time Zimbabwean mbira practitioners took a leading role in the promotion, propagation and development of their own instrument.
And, his recommendation is a national investment in an educated mbira community by making sure that mbira practice benefits from the educational and fiscal infrastructure of the country.
It is in that respect that Mbira Centre's main thrust is now to make sure that the mbira becomes an instrument that is incorporated into formal education in Zimbabwe.
"Mbira must contribute and benefit from the educational and fiscal infrastructure of this country," said Chimedza.
Incidentally, the opening night turned out to be a 'Maraire Night'.
The guest speaker, Dr Maraire, (Dumisani's daughter) the new chairperson of the National Arts Council said it was because of mbira, (which the colonial administrative systems inclusive of the church regarded as demonic), that she had gotten to where she is today.
Her father's fortune came through mbira, and he was able to sustain his family.
In this regard, Dr Maraire's story vindicates Chimedza's position that Zimbabwe's indigenisation policy should be more critically a cognitive process that produces productive scholars who become a productive indigenous leadership with policies that allow culture to mediate as well as grow with development.
The documentary film, Soul Resonance – (2012), by Laurel and Douglas Epps shown as a main attraction was largely a celebration of Dumusani's key contribution to the growth of Zimbabwean mbira and marimba in North America.
The other attraction was the dancer, Zoey, who showcased the possibilities of mbira music freed from the traditional cast.
Through the month of September, events will take place at different times in different cultural venues.
These include The National Gallery of Zimbabwe, the Zimbabwe Film and Television Training School, Alliance Francaise, Book Café and The Mbira Centre.
Activities will include film screenings, performances, discussions and mbira related papers to be presented and discussed at various venues, including a mbira photographic exhibition.