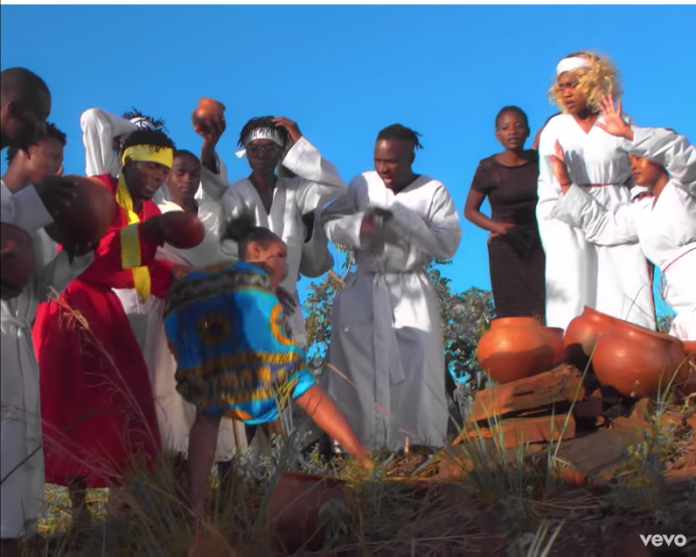 ENZO ISHALL (pictured), born Stephen Kudzanai Mamhere, was among artistes who walked away with gongs for music that rose high on the airwaves in 2018.
His song 'Kanjiva' was voted first in the Coca-Cola Top 50 Videos.
However, when it comes to video production, the video is not that great a video.
But the low-budget video created waves.
The question one might ask is: Was it the video or the lyrics of the song that contributed to it being voted the best?
The truth is, here is a classic case of a song carrying the video.
As 2018 came to a close, Enzo Ishall was one of the most played artistes on local chats and in households.
'Kanjiva' became an anthem, a favourite of both the young and the old, catapulting Enzo Ishall in the music industry.
Many will argue the song deserves the recognition.
'Aka, ikaka, Kanjiva, kakaiswa apa, kogoiswa apa…Kanjiva…' ,are some of the lyrics of the song.
But what has made Enzo Ishall famous.
What is it that characterises his compositions?
Let us take a closer look at some of his songs.
The chanter is also known for tracks such as 'Chiita kwacho'.
'Katanu katanu kusara kari nude, ndikati very sorry handisiri mumood, kaswederera mudhuze zvikanzi chiita kani…', goes some of the lyrics of the song.
His recent hit is the popular track 'Magate' which has lyrics like "Uriwetambo pakati sekenduru mhandu yechinono, une chuma muchiuno…"
One can conclude that Enzo Ishall, like many other young artistes in the Zim-dancehall genre, is gaining popularity riding on the back of 'dirty' lyrics.
It has become fashionable for artistes to come up with songs laden with sexual innuendo.
While artistes like Enzo Ishall argue their songs are 'innocent' but fans interpret them to mean whatever they like, the musician cannot be excused for crafting lyrics that promote the sexual interpretations by followers.
It appears local artistes have latched onto the Western concept that sex sells.
Artistes like the African-American international superstars Beyonce and Rihanna, among others, used sexual innuendo to push their works.
Enzo Ishall's 'Magate' has created a frenzy with a social media challenge which has women seeking to out-twerk each other.
Where has our hunhu/ubuntu gone.
So-called modernists will argue there is nothing wrong with the productions.
But the most affected constituency is that of children.
The advent of social media and various technological gadgets has made censorship impossible.
Children, as young as five, are consuming these sex-laden productions.
And parents are constantly finding themselves in a fix when asked to interpret these lyrics by their innocent children eager to understand and learn their languages.
Children even part of the 'Magate' challenge, which shows how pervasive music is.
Our musicians cannot plead innocence nor indeed claim artistic licence with regards to their productions — they know exactly what they are doing.
Some of the lyrics are so dirty one cannot listen to them in the presence of the elderly or vanyarikani.
Musicians like Jacob Moyana, Saul Musakwa, aka Soul Jah Love, and Bravemore Chizvino, aka Baba Harare, are played at one's risk of serious embarrassment.
Jacob Moyana of the 'Munotidako' fame has argued that there is nothing bad with his songs which have vulgar connotations as his lyrics are in his dialect, Ndau.
Of course, he might have been presenting in his dialect but, as an artiste, he should have asked himself whether his message was to be appreciated by other dialects.
Moyana conveniently ignored that his music is listened to by everybody.
It is a known fact that some words that are considered ordinary cause great uneasiness in some parts of the country.
His second song 'Yavanguva Yeduzvino' did not even get much airplay as many felt offended by it.
Soul Jah Love's track 'Gumu gumu', which kicked off his career, cannot be listened to in the presence of family. It has also been banned on air.
Baba Harare, who has earned the title of man-of-the-moment, is another artiste specialising in jiti songs, chiefly characterised by sexual innuendo.
His 2018 hit, 'The Reason Why' which gave his career a massive boost, is a song that again might make listeners uneasy.
Nicodemus Mutize, professionally known as Jah Signal, has the song 'Yekedero' which is topping the charts but is a lurid story.
The list of songs and artistes riding on sexual innuendo is endless.
There are successful musicians like Nicholas Zachariah, the late Oliver Mtukudzi and Alick Macheso who continue to be appreciated in the industry without singing songs that carry vulgar and dirty lyrics.