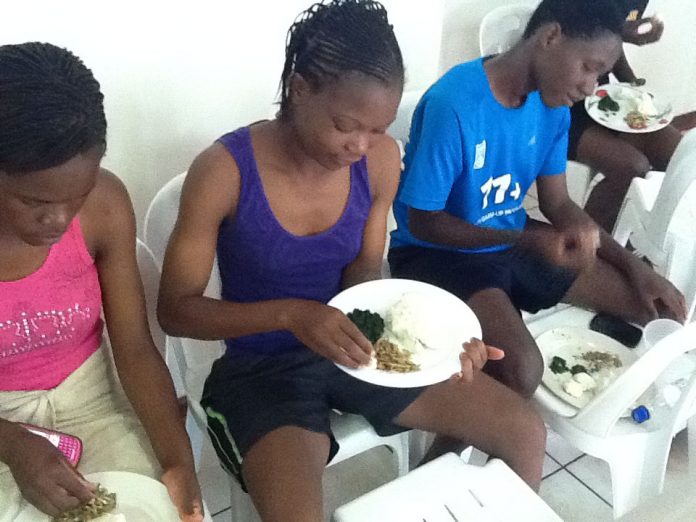 By Evans Mushawevato
FROM Brazil, countries between, up to China are heart warming stories of women footballers.
If one is to land in Brazil today, one is likely to hear the story of Marta Vieira da Silva. The story would be that she is forging her legacy as one of the planet's most talented soccer players. So good is she, and her people impressed, that she has been nicknamed 'Pele in skirts'. Her dribbling is said to confound foes and her goal creating vision is said to be unmatched.
The Americans have Abby Wambach, whom they have affectionately likened to a human battering ram. She is so passionate they say she plays as though her body invulnerable, although it isn't. Her stats, they proudly display; a world-record 184 international strikes in 255 matches! 
And it is on record that during China's golden age of soccer, Sun Wen became her team's go-to player when they needed a goal. She is said to have connected 106 times in 152 international matches. Sun, who is declared to have had the ability to conjure up assists for her team-mates was so good that she pulled off the rarest of doubles at a major tournament, is venerated.
When it comes to Britain's Kelly Smith, all the pundits say is "…little wonder… Kelly Smith was chosen as a Member of the Order of the British Empire in 2008. She was a special player, the first English female player to make an international impact in modern times. She was lethal with both feet, scoring 46 goals in 117 appearances over a remarkable two-decade international career (1995-2015)."
That is what others say about their women footballers.
That is what others think about their women footballers.
That is how others view their women footballers.
That is how others treat their women footballers, they venerate them.
Shame on us!
All of us!
We should not even point fingers at anyone.
We are all a massive let down.
Whatever will be done for the excelling girl-child who has never received recognition for her exploits on the football pitch comes very late.
Honestly, hunger and ill-treatment, lack of recognition are what comes out when we punch keys regarding Zimbabwean women soccer.
Again shame on us!
When others have stories of glory ours are stories of misery and abuse.
It is pathetic to be even writing this piece, talking of yet another Mighty Warriors raw deal.
The team that is doing well in the African Women's Championships instead of getting accolades, is fighting to assert its validity, that it matters and must be recognised.
Again shame on us!
Among self-proclaiming 'great' sport administrators and stakeholders are weeping girls.
That in this day and age we debate whether women soccer matters or matters not is a disgrace.
Sit up and take note:
According to a report published by Spanish publication AS: "…five-time FIFA World Player of the Year Marta is the highest earner in women's football.
The Brazilian, who plays for Rosengard in Sweden, reportedly earned US$500 000 in 2016.
Marta is followed by United States international Alex Morgan, who apparently pockets US$450 000 a year, and her national team colleague Abby Wambach, who was claimed to earn US$300 000 annually before she retired.
These three are the only women who took home more than US$100 000 playing professional football in 2016, while United States' Sidney Leroux follows with US$92 500.
Germany's Nicole Banecki sits on an annual salary of US$90 000 (R1.2 million), while France's Amandine Henry is believed to earn Us$70 000.
Sweden's Nilla Fischer (US$67 500 – R912 000), United States' Hope Solo (US$65 000), Canada's Jonelle Filigno and France's Laure Boulleau both at US$60 000 complete the top 10."
Women football is a reality.
We cannot wish it away.
And the girl-child on the football pitch will not be stopped.
The Zimbabwean girl-child in football has proved that she will not be stopped.
Adversity after adversity yet the Zimbabwean girl-child in soccer has delivered.
The Mighty Warriors, after winning the first round qualifiers against Namibia 4-0 on aggregate, instead of getting winning bonuses, were forced to be content with a token bus fare to get back home.
Those from Harare were offered US$5 while those from outside the capital were given US$20.
Need we say more!
Shame on us!
Does it even matter that the Mighty Warriors are 180 minutes away from qualifying for the AWC to be hosted by Ghana?