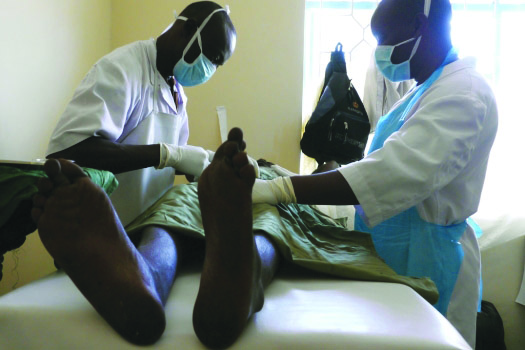 THE number of males who were circumcised in the country has increased from a total of 40 755 recorded last year to more than 75 000 by end of September in 2013, Ministry of Health and Child Welfare (MoHCC) has said.
Studies carried out have proved that male circumcision reduces the rate of HIV infection by 60 percent.
Male circumcision also prevents infection of other sexually transmitted diseases such as, chancroid, syphilis, human pappiloma virus, balanitis, phimosis and penile cancer.
MoHCC, national male circumcision coordinator, Sinokuthemba Xaba said the increased number of males who were circumcised was encouraged by improved awareness campaigns of the programme countrywide.
"By end of September 2013, over 75 000 males had been circumcised since January, which is almost double the number of males who were circumcised the whole of 2012," said Xaba.
"In 2012, a total of 40 755 males were circumcised.
"In 2013, there has also been an increased number of training programmes for doctors, nurses and their supporting teams who provide the service."
Xaba said the highest number of circumcision was recorded in young males as compared to older males.
"Young males generally find it easier to make the decision to get circumcised," he said.
"Older men also take up the services, but would not as readily because of the need to concur with their partners."
Xaba said there was need to increase male circumcision centres in remote areas to improve accessibility of the programme to all males in the country.
"Continuous training of more teams to provide circumcision services is currently underway, thereby ensuring that there will be more health facilities that have the capacity to offer the service," he said.
"Despite the sharp increase in the number of males being circumcised, more can still be done to ensure that people have adequate information of the benefits and safety of this service and also improving access, particularly in hard-to-reach communities across the country."
There are also some myths and misconceptions about the disposal of removed foreskins after circumcision.
Some people claim that they are sold to cosmetic companies where they are used to produce skin lightening lotions.
However, according to the Human Tissue Act, any human tissue that is removed from an individual in a hospital setting is disposed of through incineration and a functional incinerator is a prerequisite for any health facility to offer circumcision services .
Xaba said all surgical waste including foreskins that were removed during circumcision surgery were disposed in incinerators.
"No foreskins are removed from the health facility in any other way outside the provisions of the Human Tissue Act," he said.
Traditionally, in Zimbabwe there are tribes that practise male circumcision such as the Shangaan and the Remba as part of a ceremonial passage from boyhood to manhood.
In these initiation ceremonies, women stay far from the camps and only come in to perform domestic chores.
Only circumcised men are allowed to be part of the initiation.
It has been noted that since the dominance of HIV in the country there has been a lower prevalence rate in such communities compared to their non-circumcised counterparts.
In studies that were carried out, during the traditional way of circumcision,there were a lot of deaths that were recorded due to loss of blood from continuous bleeding.
However, the Government has partnered the traditional circumcision tribes in conducting the surgery medically and no lives have been lost.
The MoHCC is set to embark on a campaign in December to increase the number of males who can access male circumcision services.
There was also a campaign which ran from August to September 2013 that saw a total of 21 237 males being circumcised across the country over a period of six weeks.
Zimbabwe's goal is to reach 80 percent of 15 to 29-year-old men by 2015 as part of HIV prevention programme through medical male circumcision.