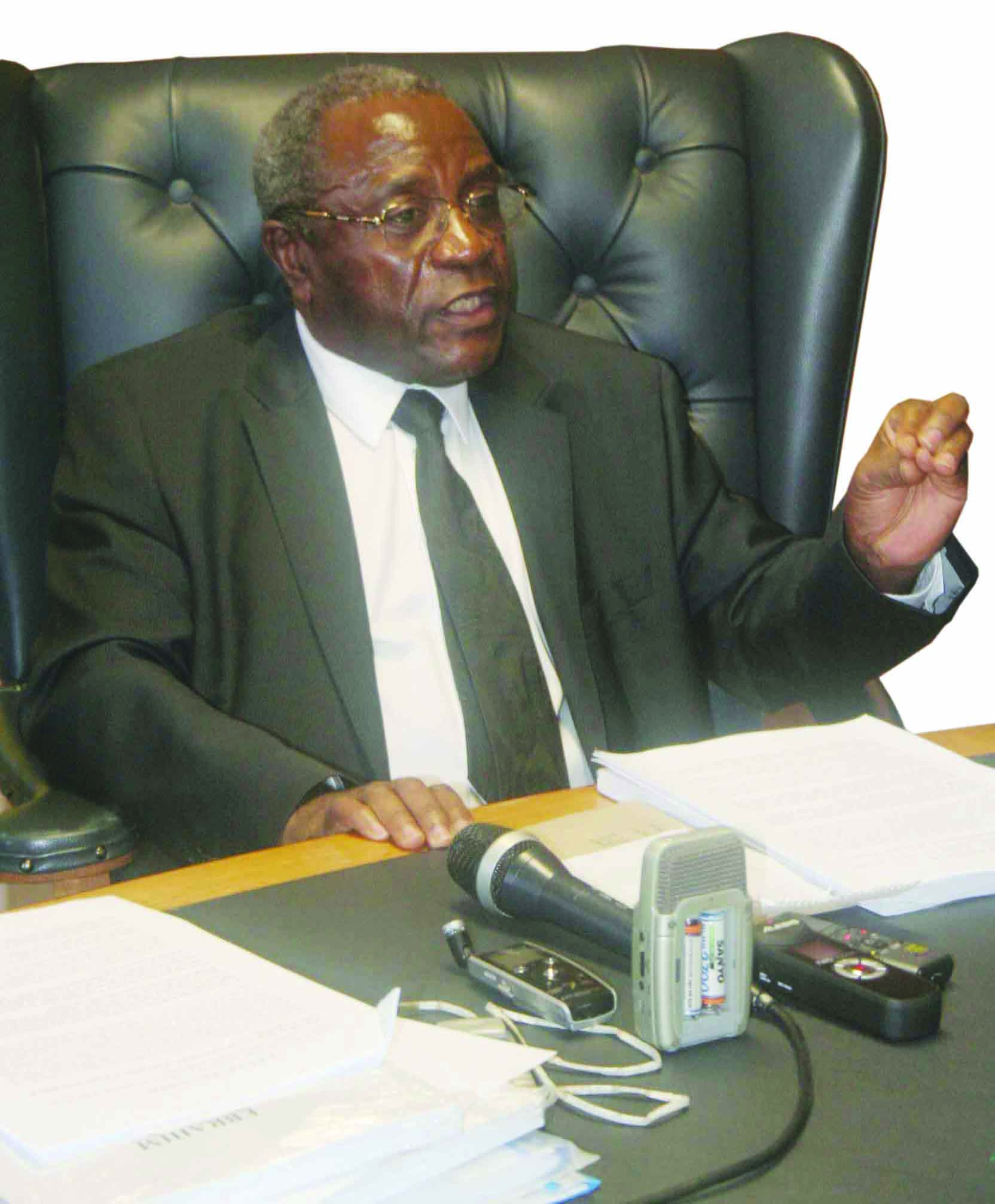 THAT Cuthbert Dube is hogging the limelight for the wrong reasons is now a matter of public record.
He has become fodder for both the media which he now shamelessly threatens with lawsuits if they continue publishing his scandals while at the helm of PSMAS.
To many, he is now the embodiment of how not to do business yet the man has the audacity to further test the general public's anger with his widely reported bid to continue at the helm of the beleaguered football governing body the Zimbabwe Football Association (ZIFA).
Dube's alleged hefty earnings of more than half-a-million dollars every month have sparked debate and ire within the country and beyond.
Many people are asking, "Does Cuthbert Dube have a conscience?"
Agitated soccer lovers, just like the general public feel the man should be barred from contesting in the ZIFA elections to be held soon.
Being in-charge of running the affairs at Number 53 Livingstone Avenue, Dube showed interest in throwing his hat in the ring for a second term in office on the background of an image in tatters.
Morally, should Dube contest for a second term in office?
A lot of retrogression has happened during his term as ZIFA head.
The Asiagate scandal that FIFA is yet to make a final decision on the sentences of those found guilty of match-fixing happened under his tutelage.
As a result, the national team was affected due to suspensions of the crème-de-le-crème of local football.
The public must be wishing Dube should now 'disappear' from public institutions and show some remorse for his shameless actions.
Several people feel the ZIFA boss needs to take a back seat as thousands of tax payers are hurt.
Thousands of civil servants now have a negative opinion towards any organisation Dube leads.
He has become the face of bad corporate governance.
A football fan, Kudakwashe Chirimumarara, feels football will be poorer if Dube remains in office.
"KuZIFA ingori hobby yakewo," he said.
"But truly speaking which sponsor or company will like to be associated with ZIFA with him around asi kana achida kuramba ari sole sponsor.
"However, he is not sponsoring ZIFA, but giving them loans.
"He needs to step down and let others lead."
Another soccer fan, Ronald Murombedzi had no kind words for Dube.
"His association with the sport is no longer welcome," said Murombedzi.
"If he made such a fortune with PSMAS money, money meant for people to receive health care, but did not deliver what more with football which is about emotions, he will never deliver.
"He should have led the health institution well and we would have had more faith in him to run our football.
"It is sad that his big financial muscle made him win votes, but he did nothing in his entire term in office."
Dube promised a lot of developments during his tenure in office, but nothing major and tangible has happened.
"Upon getting your mandate to lead the game of football, I acquit myself to the best of my abilities and football's face should assume a new look," said Dube in his 15-page manifesto.
"I shall devote all my energies towards the implementation of the turnaround strategy of the association and herewith the areas that I together with Board and Assembly shall work on the headquarters, governance, national teams, sponsorship, ZIFA Village and marketing, among other things."
With a lot of promises having been made, the football family finds ZIFA still struggling to secure sponsorship and let alone pay its creditors who have more than twice attached ZIFA property.
Dube, if his conscience will not let him step aside, must be stopped in his quest to contest for football's highest office.
He does not deserve to occupy the post.
His election into office raised a lot of eyebrows.
Many thought he bought himself into ZIFA.
However, the vote privilege is for the board members and it's easy to infiltrate them.
In life, there are certain issues that need the courts, while others need someone to read the tide.
Here the verdict of the people should be followed.
Here, Dube has to read the situation on the ground and step down and let others take the public office.
With the corporate image he has created, no company will like to be associated with such a character.
Below are some excerpts from Dube's manifesto. Compare with what has happened.
HEADQUARTERS: My board will secure new premises away from 53 Livingstone Avenue, where upon a state-of-the-art House of ZIFA shall be built. The new premises should exude a new-look of the Association and should house all of the association's portfolios.
GOVERNANCE: If the system of governance were in limbo, then my task will be to recognise and strengthen our governance system through training, enforcement of statuses and engagement of competent and committed staff.
NATIONAL TEAMS: Once upon a time, regional powerhouse, the national team should reclaim their status of olden days.
My board, through partnerships with corporates and Government shall ensure that strong national teams are put together through a sound technical system that shall only see the best of Zimbabwe's players donning national team jersey.
A Special Fund administered by reputable men and women from industry and commerce shall oversee the Special Fund.
Our teams will be afforded the much needed exposure regionally and internationally.
SPONSORSHIP: A team shall be put together to mobilise sponsorship for the association's portfolios.
The sponsorship will service development, general administration, marketing, national teams, infrastructural development and regeneration of the association.
ZIFA VILLAGE: My team shall reengage FIFA on the Goal Project whose completion should be done by August 2010.
HOSTING CAF AND FIFA COMPETITIONS: Hosting facilities that we have, my board shall bid to host CAF and FIFA competitions in our bid to rebrand and profile the association in particular and Zimbabwe in general ……
AWARDS: Awards for most illustrious and deserving men and women shall be unveiled with the association putting together a Hall of Fame where our 'Who is Who' shall be inducted for posterity.
Sponsors for the awards are waiting on the wings.
The above is yet to be fulfilled.