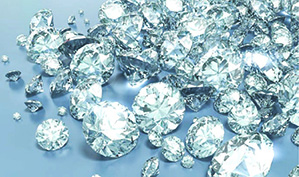 "ANTWERP World Diamond Centre (AWDC) ought to help sort, clean, cut and polish some of Zimbabwe's diamonds locally," reads a report titled: The Second Antwerp tender of Marange Diamonds from the Centre for Natural Resources Governance (CNRG).
CNRG recommends that Zimbabwe seek technical support and joint venture partnerships with Antwerp-based diamantaires in the cutting and polishing industry.
The push by the non-governmental organisation comes at a time when AWDC is warming up to the idea; with its chief executive officer Ari Epstein saying the organisation was ready to take its 'commitment' another step further.
During his visit to Zimbabwe recently, Epstein said Antwerp is ready to work with the Zimbabwe Diamond Technology Centre (ZDTC) to enhance the beneficiation of diamonds mined in Marange.
"The AWDC is aware that Zimbabwe is currently constructing its own diamond centre to establish a diamond trading hub," he said.
"We welcome the initiative and we are prepared to be partners of such an initiative.
"It is our goal that Zimbabwe will have to cut and polish its raw diamonds locally."
Epstein said the AWDC was planning to set up a diamond cleaning and de-boiling institution in the country which will also be co-ordinating with the local diamond centre to enhance a skills transfer model.
Many will ask what is this diamond cleaning and de-boiling.
Diamonds are treated in order to make flaws appear more attractive and marketable
Diamonds often have dark inclusions present, usually consisting of graphite or sulphide, or other iron-containing minerals.
Diamonds with surface-reaching black inclusions are deep boiled under pressure in strong acids, the inclusions are dissolved by the acids without affecting the diamond material.
One would say the process sounds easy.
Can we not clean and de-boil our diamonds without help from outside?
Does Zimbabwe need the technology and skill transfer from AWDC?
It is envisaged that Zimbabwe could create 210 000 jobs and generate about US$14 billion in revenues annually if its rough diamonds were cut and polished locally.
Zimbabwe can partner Antwerp, but most important is the need to ensure that the deal is beneficial to the country.
European companies have a history of hypocrisy and cheating when it comes to partnering with Africans.
They do not see blacks as equals.
Thus Zimbabwe should not loosen its guard on its precious minerals and be clouded by Epstein's plans.
Zimbabwe will have to negotiate a win-win deal.
The deal should comprise about 70 percent local expertise and be in line with the indigenisation and empowerment policy.
Zimbabwe Diamond Technology Centre (ZDTC) chairman Lovemore Kurotwi said a number of investors have expressed interest to invest in the diamond centre.
He said they were prepared to work with Antwerp.
"We are getting enquiries from several companies from all over the world who are prepared to invest in the centre given that we are moving with speed in the construction of our 500 factories," he said.
"We are prepared to welcome Antwerp on board as well as any other partner, as long as such a partnership will be beneficial to Zimbabwe."
According to a recent presentation by Kurotwi before parliamentary portfolio committee on mines, Zimbabwe could reap as much as US$14 billion if it sold cut and polished gems.
He said finished (diamond) product in jewellery form will rake in approximately US$21 billion annually.
Zimbabwe has already realised the benefits of value addition and beneficiation.
During the first auction diamonds realised US$10, 7 million from the 277 803 carats.
The average was US$38,52 per carat.
During the second auction, Marange diamonds raked in US$69 million after 867 308, 40 carats were auctioned at an average price of US$79, 68 per carat.
The increase in the price per carat was attributed to the decision to clean a proportion of the diamonds, a move which resulted in some categories being upgraded to higher value after the cleaning process.
More diamond cutting and polishing firms are expected to come on board following Government's move to slash licence fees from US$100 000 annually to US$20 000 for a period of 10 years.
In 2011, there were 70 diamond cutting and polishing firms operating in the country.
However, due to high licence fees the following year about 10 firms were operational.
Analysts opine that Government needs to vigorously start facilitating completion of the diamond centre.
If the envisaged concept works perfectly, it would help fulfil objectives of the Zimbabwe Agenda for Sustainable Socio-economic Transformation (Zim-ASSET), which recognises beneficiation and value addition as one of the four main clusters.
Six of the factories are nearing completion at the centre and are expected to be operational by June and will create 1 200 jobs for cutters and polishers of diamonds, as each factory will house 200 people.