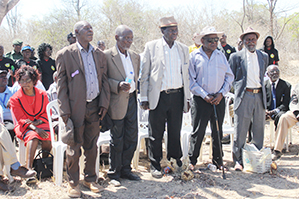 "IF there is something that the Ian Smith regime was good at, it was creating and meting horrible forms of punishments on captured 'terrorists' (freedom fighters) who were fighting for independence," said a former Sikombela restrictee, Cde Kenneth Manyonda.
"The extreme weather conditions at this restriction camp would break even the toughest of characters.
"Spending just a year at this place was horrible punishment.
"From the different types of snakes in the area and the harsh treatment we were subjected to made the place more horrible."
A journey back to Sikombela last week co-ordinated by Cde Raymond Mazorodze brought back the heart-rending memories of the restriction camp.
The restriction camp housed hundreds of liberation war stalwarts, chief among them, President Robert Mugabe, the then secretary-general of ZANU, the then ZANU president Ndabaningi Sithole, Cde Leopold Takawira affectionately known as the 'Lion of Chirumhanzu', the then ZANU vice-president, Enos Nkala, Edson Sithole, Eddison Zvobgo, Simon Muzenda and Morton Malianga, among others.
The only 'crimes' these men had committed was fighting for the independence of Zimbabwe.
Anyone labelled a 'bad person' by the Smith regime or deemed to have some kind of 'bad' influence on the black majority was taken to the awful restriction camps that were dotted around the country.
Cement slabs, canvass tents, in an environment filled with dangerous snakes, mosquitoes and flies, among other things, became home to many nationalist leaders.
Sikombela Restriction Camp was a place meant to break the spirit of freedom fighters.
Many at the camp succumbed to fevers and other diseases caused by insects such as tsetse flies.
On arrival at the camp, restrictees were accommodated in a common room, slept on the floor and shared small portions of food.
However, according to Cde Thomas Ziki, an ex-restrictee at Sikombela, knowing and respecting the party leadership compelled other comrades to build huts for the different leaders of the liberation struggle, including President Mugabe, Leopold Takawira, Enos Nkala, Edgar Tekere, Simon Muzenda and Eddison Zvobgo among others.
"We would take guidance and leadership from our seniors and we had our own Mt Sinai where commandments and statutes were given to us as we were on our way to our 'Canaan', that is a free Zimbabwe," said Cde Ziki.
He said unity of purpose and determination resulted in the powerful Sikombela Declaration of 1965.
The declaration, made to reignite the war, emphasised confrontation.
Interestingly, the Remington typewriter used to produce the declaration is still there.
Cde Ziki said help from outsiders in the form of food, which was smuggled into the camp, eased their plight.
"We would get assistance from the locals who included coloured and Indians who sympathised with us and smuggled foodstuffs into the camp," he said.
"Realising this unity and co-ordination, they (Rhodesians) began transferring us to other prisons around the country.
"It was at that time (that) Advocate Edson Sithole was taken away from Sikombela," said Cde Ziki.
The heroes of the liberation struggle said it was critical to create monuments at historical sites such as Sikombela Restriction Camp.
"Gonakudzingwa and Sikombela need to have schools built on them or named after them which will be ideological schools that teach political science," said Cde Ziki.
"I am saying this because we have a new crop of leaders or young legislators who have Western ideologies, who come and buy the electorate and win elections yet they know nothing about the values of the liberation struggle."
ZANU PF secretary for youth affairs Cde Pupurai Togarepi pledged to support the re-creation of Sikombela Restriction Camp in order for future generations to understand the history of Zimbabwe and the harsh conditions freedom fighters were subjected to in order for the country to gain independence.
"We will harness resources (from) among the youth and come here and do something starting 2016 to ensure that people are reminded of the people who liberated us," he said.
"It is the President's wish that our youths strongly identify with our history and that the history of the liberation struggle is preserved."
National Museums and Monuments Zimbabwe (NMMZ) director, Godfrey Mahachi agreed with Togarepi on the need to re-create the Sikombela site and labelling the different concrete slabs for easy identification.
"There were no permanent structures at Sikombela, but we will re-create something and label the concrete slabs so that whoever comes will easily see the different houses," he said.
"However, others prefer that the names of detention camps be preserved through building of other facilities such as schools and hospitals that would be named after them."
Sikombela Restriction Camp was declared a National Monument in 2013.