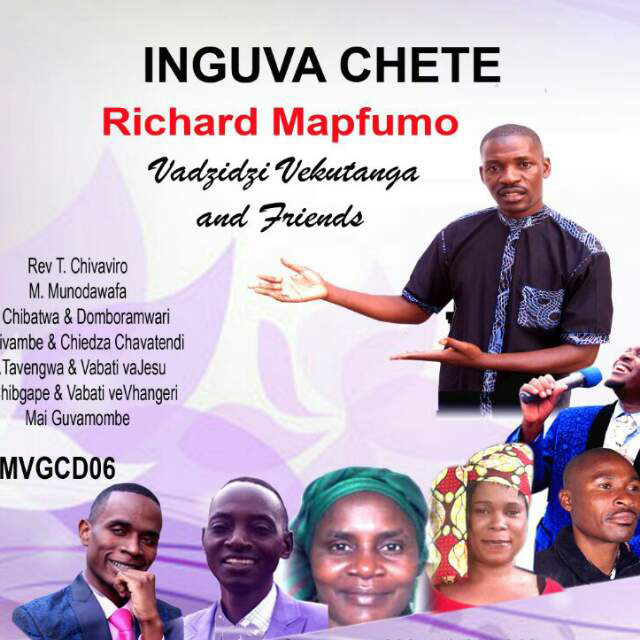 By Rudo Shoko
THE mantra 'Never give up, keep moving' seems to be the driving force behind gospel musician Richard Mapfumo.
Despite not receiving rave reviews and topping charts, the 30-year-old artiste has not stopped releasing albums.
He now has six albums to his name.
For over a decade, Mapfumo has been at it and is convinced he is close to a breakthrough.
In an Interview with Patriot Arts, Mapfumo said failure to find sponsors had resulted in his music remaining 'underground'.
"The economic hardships the country is experiencing have severely affected artistes too and it is really difficult to come up with the money required for production, travelling and other personal expenses," said Mapfumo.
"Without proper and adequate promotion, it is difficult to sell one's music, to get it out to the people."
However, Mapfumo is convinced it is only a matter of time before his unique gospel music explodes and engulfs the industry as well as the nation.
The artiste's music is laced with traditional instruments that include shakers, drums and a blowing horn.
Since 2006, the Shurugwi-born musician has been active in the music circles and experimentation with instruments has been one of his strengths.
"At first my music had the blowing horn (hwamanda) and I later spiced it up with guitars and drums, but still only those close to me are familiar with my music," said Mapfumo.
According to Zimbabwe-Italian researcher, Dr Michelina Andreucci, the blowing horn is one of the most important ancient traditional instruments of heraldry in Zimbabwe and is the largest traditional aerophone (wind instrument) that produces sound by vibrating columns of air.
By using such an instrument, Mapfumo is fusing important cultural aspects with Christianity.
The introduction of Christianity in Africa resulted in African Traditional Religion as well as its instruments being described as barbaric and heathen.
Missionaries to Africa sought to do away with everything that defined Africans and their ways.
But Africans have infused some traditional aspects into Christianity, especially in Christian music.
Father Emmanuel Ribiero, a Catholic Priest, at one time faced criticism for introducing vernacular songs and African musical instruments into the Catholic Church in the 1960s.
But now, the use of instruments such as the thumb piano (mbira) and drums has become common.
The hwamanda which Mapfumo incorporates in his music gives his sound an authentic African feel.
The artiste's music is more than entertainment as it chiefly focuses on evangelism which seeks to uplift and transform lives
"I sing what is directed to me by God to share with his children, not forgetting the hardship which the country is facing," he said.
It would seem Mapfumo is in the group of gospel musicians that put more interest in spreading the word rather than seeking fame and fortune.
His sixth album, Inguva Chete, carries messages of hope and worship, among other themes.
Unlike most gospel musicians who now concentrate on contemporary sound, Mapfumo believes it is the message that his songs carry that is more important.
"Whether I sing in bars or bottle stores and do collaborations with musicians from different genres, it is the message of God that must be shared," he said.
So powerful is his music that he has caught the attention of big names in the industry like Reverend Togarepi Chivaviro who has invited the artiste to share the stage with him.
"Rev Chavaviro has been showing me the ropes by inviting me to some of his shows," said Mapfumo.
"We are looking forward to going to Mozambique together later this year."
While gospel artistes claim they are not in music for competition, the sector is highly competitive.
Gospel presented in the form of dancehall and fast-paced R'n'B beats has become popular nowadays.
A number of gospel artistes have moved away from the lackadaisical and slow-paced church songs by adopting other genres.
One diva of gospel-music, Fungisai Zvakavapano-Mashavave, has successfully transitioned to the dancehall genre.
And the transition has seen her fan base widening to include youths.
Through the genre, Fungisai's message has found its way into territories it might not have reached.
Gospel artistes who have embraced a contemporary sound and gained fame include Blessing Manyangadze popularly known as 'Flame B', Pastor Stanley Gwanzura and Sebastian Magacha, among others.